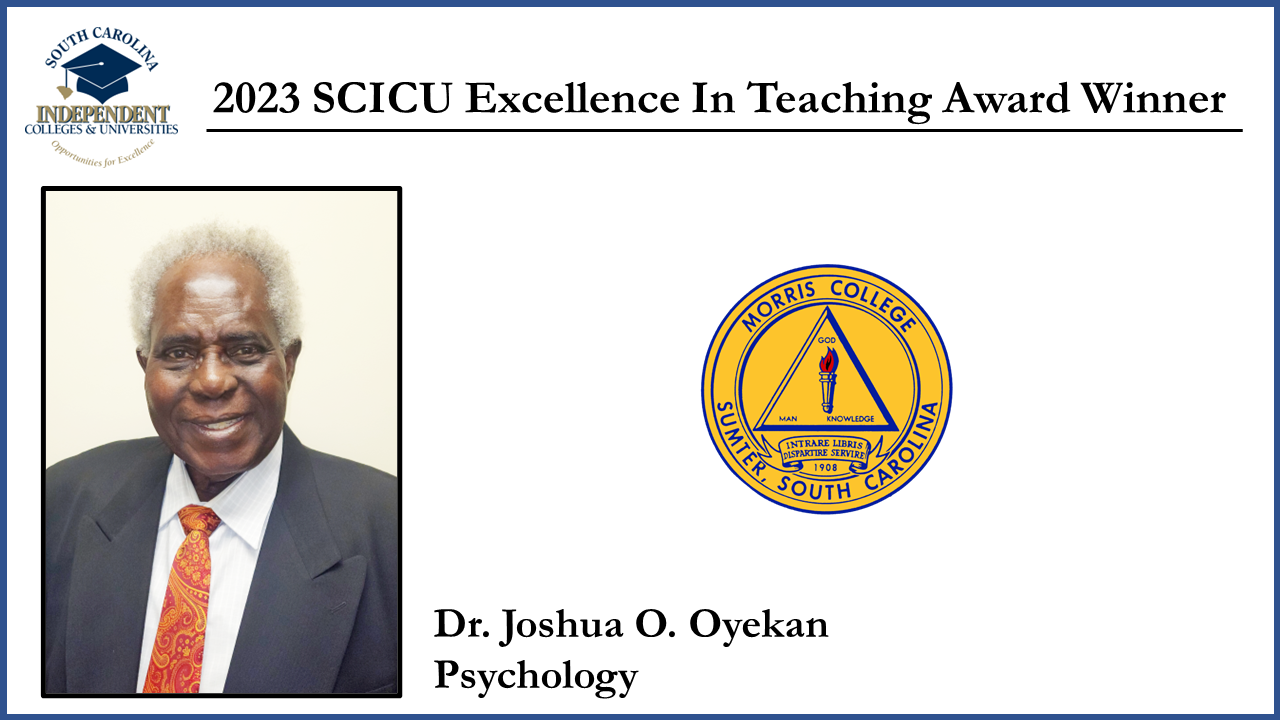 Dr. Joshua Olayiwola Oyekan
, professor of psychology, is the 2023 SCICU Excellence in Teaching award winner for Morris College. He holds two doctorates – a Doctor of Philosophy in clinical psychology from Federal University (Jos, Nigeria) and a Doctor of Ministry in psychology of religion from Luther Rice Seminary (then in Jacksonville, Fla.). Oyekan was awarded a Master of Arts in counseling psychology from Spalding University (Louisville, Ky.) and a Bachelor of Arts in philosophy and religion from William Carey University (Hattiesburg, Miss.).
Oyekan has been a member of the Morris College faculty for 12 years. His course load includes applied psychology, tests and measurements, psychology of African American experience, general psychology, abnormal psychology, industrial/organizational psychology, theories of personality, social psychology, organizational psychology, and social statistics.
A lifelong learner and educator, Oyekan taught psychology for a combined 16 years at Louisiana State University (Baton Rouge, La.) and Voorhees University (then Voorhees College). His previous teaching experience includes professorships at American Baptist College (Nashville, Tenn.) and Baptist College and Seminary in Lexington, Ky.
Morris colleagues note that Oyekan's teaching philosophy, approach, and methods contribute significantly to Morris students' understanding of the mind and behavior, and ultimately to their overall success. Outside the classroom, Oyekan provides annual support to Call Me Mister program participants and lends pivotal expertise to the Morris Senior Capstone evaluation process. His graciousness and demeanor have positive effects on the entire Morris campus.
Oyekan holds professional memberships in the Phi Tau Chi Honor Society in Religion, the Ordained Pastors of the Nigerian Baptist Convention, National Association for Self-Esteem, U.S.A., and S.C. Psychological Association.