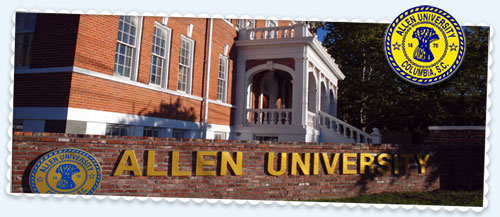 Founded: 1870

President:
Dr. Ernest McNealey
Location:
1530 Harden Street
Columbia, SC 29204
Phone: (803) 376-5700
or (877) 625-5368 (toll free)
Fax: (803) 376-5731
Website: www.allenuniversity.edu
About Us
Allen University has two new living/learning communities (female/male) that house 480 students- The Preston and Deloris Williams' Residential Halls. Allen University also has a new Student Development Center (The Willie H. Johnson Center for Educational Excellence) which houses the following:
1. The Career and Planning Development Center
2. The Counseling Center
3. Dining Facility
4. Print Shop
5. Book Store
6. Alumni Center
Majors
Social Science
English, with concentrations in Literature and Professional Writing
Religion, with concentrations in Christian Education, Church Administration and Organizational Management.
Music, with concentrations in Piano, Voice and Band Instruments.
Business Administration, with concentrations in Accounting, Banking and Finance, Real Estate Management and Organizational Management.
Chemistry, with concentrations in Biochemistry, Forensic Science and Pre- Pharmacy.
Biology, with concentrations in Environmental Biology, Pre-Health and Biotechnology.
Math, with concentrations in Computer Science and Pre-Engineering.
Additional Information
Allen University is fully accredited by the Commission on Colleges of the Southern Association of Colleges and Schools.
Aspiring adult learners can pursue a Bachelor's Degree through Allen University's College for Professional Adults.