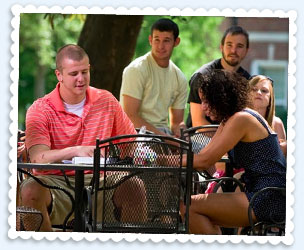 In today's rapidly changing and ever-expanding global community, the need for higher education has never been greater. And next in importance to making a commitment to pursue a postsecondary education is choosing the college or university that meets each student's unique intellectual, financial, and personal needs. Finding a good fit requires time and thoughtfulness.
There are abundant opportunities to obtain an exceptional, affordable higher education at one of South Carolina's independent liberal arts colleges or universities. While each college or university is unique, they all share a common belief that a liberal arts education prepares students not only for a career, but for a lifetime of learning, leadership, and service.
In determining which learning environment is right for you, consider the many advantages and benefits available at any one of SCICU's 21 member institutions of higher learning:
An emphasis on teaching and learning
Classes are taught by professors, most with terminal degrees in their field, whose primary focus is the student
Small classes and laboratories
Faculty-to-student ratio and class size are much less than other schools allowing for more individual attention in a supportive, personal, interactive atmosphere
The opportunity for a liberal arts education
A broad exposure and understanding of the major ideas, individuals, and works of art and science that have shaped our traditions and our world not only prepare students for careers, but also enables them to relate naturally to people different from themselves and to approach technical and social problems with understanding and with confidence
Diversity
Twenty independent colleges and universities each with a unique historical, geographic, cultural, and in many instances, faith background, including five historically black colleges and universities and two women's colleges
Community
Small, close-knit residential communities encourage healthy interpersonal relationships and participation in a variety of campus living, learning, service, athletic, and leadership activities
Success
On average, independent college and universities have very high retention and graduation rates; moreover, the relatively small size and quality of the graduating classes result in a higher percentage of placements in careers and in graduate and professional schools
Value
The cost of an outstanding independent college education is often comparable to that of a public university after consideration of institutional scholarships (academic, athletic, need-based) combined with state and federal scholarships, grants, loans, and work-study programs
Obtaining a postsecondary education is a tremendous investment in both time and money, but one that pays life-long dividends. Students and families are encouraged to use the many resources on this website to help them make the best match based on their own unique circumstances.