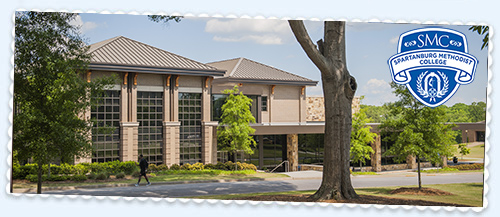 Founded: 1911

President:
Mr. W. Scott Cochran
Location:
1000 Powell Mill Road
Spartanburg, SC 29301
Phone: (864) 587-4213
Fax: (864) 587-4355
Website: www.smcsc.edu
Spartanburg Methodist College is a career-focused liberal arts college providing students with a quality education combined with our unique professional development program to support and prepare students from enrollment to employment.
About Us
Located in Spartanburg, South Carolina, Spartanburg Methodist College is a private, liberal arts college open to students of all religious and non-religious backgrounds. The college serves approximately 1,000 students and offers six associate degrees, a unique customizable bachelor's degree with six concentrations, a bachelor's degree in business administration, and nine 100% online associate and bachelor's degree programs. SMC's unique Camak Core professional development program prepares graduates for successful careers with education in key soft skills that employers value in new hires. Affiliated with the United Methodist Church and established in 1911, SMC students experience the transformative powers of academic excellence, intellectual exploration, social awareness and character development in a supportive environment where they can thrive.
SMC's unique Camak Core professional development program, named for the college's founder, sets the college apart in preparing students for the transition into a career. The program consists of six required courses, providing 18 hours of academic credit toward one of our bachelor's degrees. Students will graduate with the key soft skills employers are looking for, including leadership, professional communications, applied technology, community engagement, and more.
As a liberal arts college, SMC students receive a broad education in a number of subjects. Our associate degree programs provide students with the general studies credits to transfer into a bachelor's degree r to move into an entry-level position to begin their career. Our bachelor's degree programs include our unique customizable bachelor's degree – an interdisciplinary degree in which students choose two concentrations, and our bachelor's degree in business administration provides a business-focused degree in one of four areas of study. SMC's online degree programs provide students the opportunity to earn their degree completely online, studying at their own pace and on a schedule that fits their lifestyle.
SMC offers students a vibrant college experience with seven residence halls, on-campus dining, and numerous clubs and organizations.
The SMC Pioneers are a Division 1 member of the National Junior College Athletic Association. SMC has more than 200 student athletes who compete on 14 athletic teams.
Visit our admissions page to get all the information you need to enroll at SMC. Our Admissions staff is ready to help you with the application process and any other information you need to start or finish your college career today.
SMC provides all the assistance you need to learn about the financial aid opportunities that may be available to you, including our Full Tuition Scholarship Package for South Carolina students who qualify for the state's LIFE Scholarship. Visit our financial aid page to get more information and contact a financial representative to find out what money is available to you.