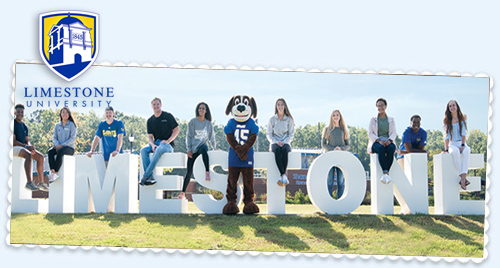 Founded: 1845

Interim President:
Dr. Monica Baloga
Location:
1115 College Drive
Gaffney, SC 29340
Phone: (800) 795-7151
Fax: (864) 487-8706
Website: www.limestone.edu
About Us
Originally established as Limestone College and the third-oldest college in South Carolina, Limestone University is an accredited, independent, coeducational, four-year liberal arts institution chartered by the state of South Carolina. Our programs lead to a Bachelor of Arts, Bachelor of Science, Bachelor of Social Work, Associate of Arts, or Associate of Science degree. Limestone is a NCAA Division II member offering 22 intercollegiate teams. In addition to the "traditional" day program, Limestone University also offers night classes at eight locations in South Carolina and internet classes. These classes are offered through the Extended Campus program.
Majors
Art (studio art, graphic design), Biology, Business (accounting, economics, E business, finance, general business, management, marketing), Chemistry, Computer Science (internet management, computer and information systems security, information technology, programming) Criminal Justice, Elementary Education, English (English education, English/Theatre, English/Writing) History (history/prelaw), Human Resources, Liberal Studies, Mathematics (mathematics education), Music (music education, music/jazz), Physical Education (physical education/strength and conditioning), Athletic Training, Pre-Professional Programs, Psychology, Social Work, Sports Management, Theatre (theatre/musical theatre)
Honors Program- This program offers a challenging academic environment for gifted and special ability students.
Developmental Studies Program- This program offers courses to improve students who have special needs in such areas as reading, writing, and mathematics basic skills.
Program for Alternative Learning Styles (PALS) – The PALS course of study has been developed to enhance the academic success of students with certified learning disabilities.
Additional Information
Limestone University offers a beautiful historic campus in the Piedmont region of South Carolina. Students will experience an excellent student/teacher ratio, diverse student population, and wonderful opportunities to participate in a successful NCAA Division II athletics program and other activities. With 92% of classes taught by full-time faculty and staff, students will know their professors and take advantage of the excellent academic programs.