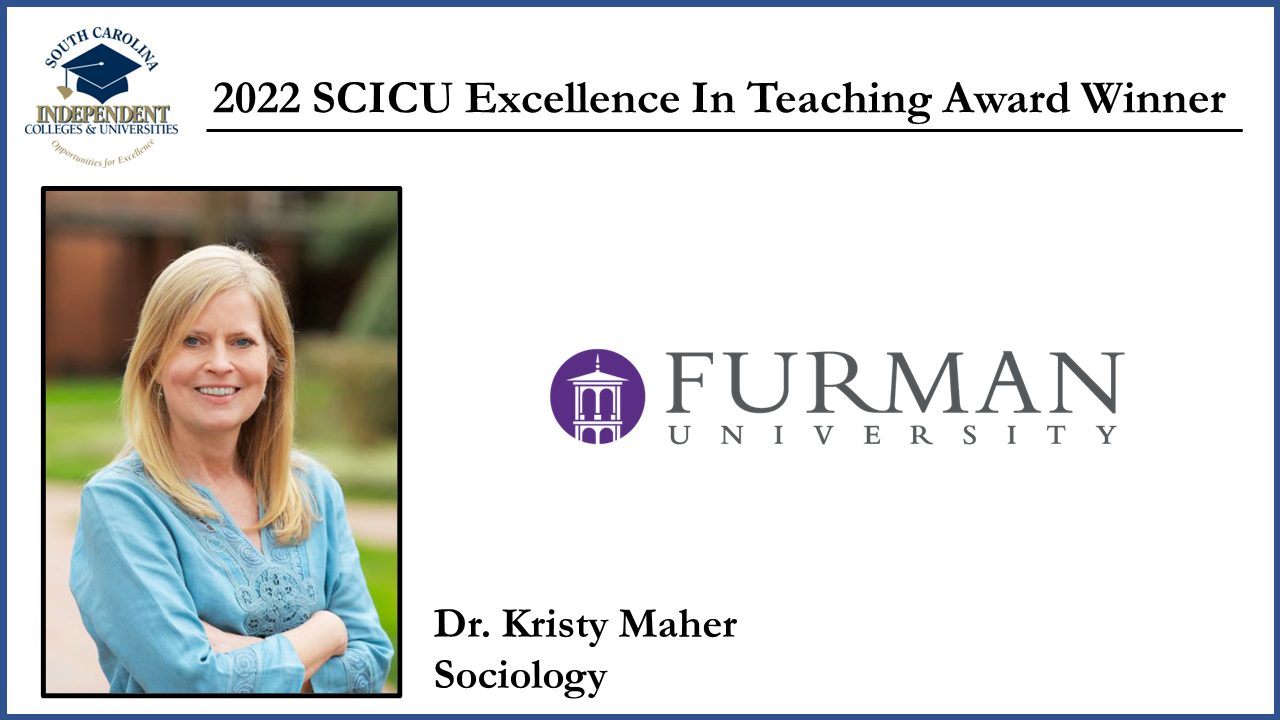 Dr. Kristy Maher
, professor of Sociology, is the 2023 SCICU Excellence in Teaching award recipient for Furman University. She holds a Ph.D. and a Master of Arts in Sociology, both from Yale University. Maher earned a Bachelor of Arts in Sociology from St. Michael's College in Vermont.
Upon graduating from Yale, Maher knew she wanted a career at a small liberal arts college like her undergraduate experience and joined the Furman faculty in 1993. Her main areas of interest include medical sociology, social determinants of health (SDoH), and health disparities.
In her 30 years of teaching at Furman she has created many unique learning opportunities for her students, immersing them in the real world. "The Medicine Program," for example, combines her medical sociology course with a colleague's biomedical ethics course and includes extensive fieldwork in over eleven units of the local hospital system. Students in her SDoH course observe in court to better understand how the local Medical Legal Partnership (MLP) works to remove health-harming legal barriers for patients. Maher has also directed faculty-led study away programs for over a decade taking students to Southern Africa and Cuba to explore global health inequalities and most recently to Denmark to study happiness.
Outside of the classroom Maher chaired the Sociology Department for six years and her most recent research is a qualitative evaluation of the impact of the Medical Legal Partnership on the lives of caregivers of pediatric patients. Finally, she currently serves as Prisma's Health Science Center Director for Furman. In this capacity, she helps foster collaborative research between Furman faculty/staff and Prisma Health partners.