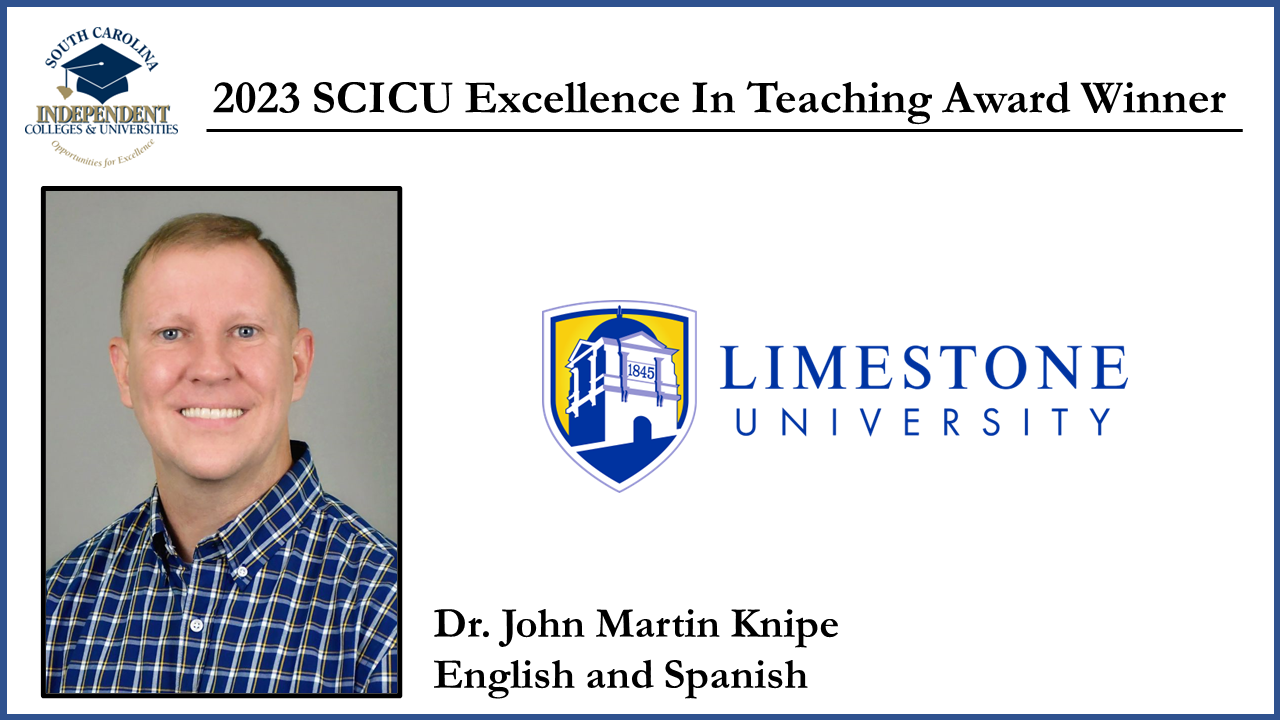 Dr. John Martin "Jack" Knipe
, assistant professor of English and Spanish, is Limestone University's 2023 SCICU Excellence In Teaching award recipient. He holds a Ph.D. in International Education and Linguistics from George Mason University (Fairfax, Va.), a Master of Arts in Spanish from Middlebury College (Middlebury, Vt.), a Master of Education in Curriculum and Instruction from Covenant College (Lookout Mountain, Ga.), and a Bachelor of Arts in Spanish from Bob Jones University.
A member of Limestone faculty since 2017, Knipe has taught classes in English, Spanish, Critical Thinking, and Cross-Cultural Communication. He currently serves on the Global Experience committee teaching related coursework and leading international student trips. Knipe also helps Limestone's international students navigate higher education in the United States through his work as the international student support coordinator for the Office of Equity and Inclusion.
Dr. Knipe's research focuses on the intersection of language, culture, education, and power. He has presented and published on second language acquisition, translanguaging, and the use of endangered (e.g., Scottish Gaelic, Ixil, Māori), minority (e.g., Scots, Spanish), and nonstandard (e.g., African American Language, Spanglish) languages in education. His research has led him to live, teach, and conduct research in a dozen countries.
Limestone recognized Dr. Knipe's contributions with the 2020 Fullerton Foundation Excellence in Teaching Award and the 2022 Fullerton Foundation Excellence in Scholarship Award.
"Dr. Knipe's work has had an inclusive and positive impact on our students and our entire campus community," said Limestone Interim President Dr. Monica Baloga. "We are so proud to have Dr. Knipe as a valued member of our faculty. For everything he has done for the study of linguistics at Limestone, he is certainly in a class by himself. He is undoubtedly deserving of this honor from SCICU.