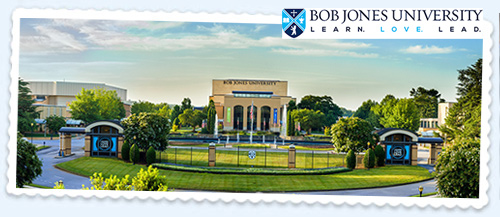 Founded: 1927
President:
Dr. Steve Pettit
Location:
1700 Wade Hampton Boulevard
Greenville, South Carolina 29614
Main Phone: (864) 242-5100
Admissions: (800) 252-6363
Website: bju.edu
Our Mission
Within the cultural and academic soil of liberal arts higher education, Bob Jones University exists to grow Christlike character that is scripturally disciplined, others-serving, God-loving, Christ-proclaiming and focused above.
As a Christian liberal arts higher education institution we:
Educate regenerate men and women of varying educational backgrounds and proficiencies from across the nation and around the world.
Educate the whole person through a biblically integrated liberal arts curriculum.
Equip individuals with a biblical worldview and with the ability to defend that worldview.
Offer programs leading to undergraduate and graduate degrees in a range of disciplines both in a residential environment and via distance learning and professional development opportunities.
Foster spiritual, intellectual, social and physical development and cultural expansion of the individual.
Are committed to excellence in teaching by a godly, competent and professional faculty who are dedicated to furthering the University's mission.
As a Christian higher education institution committed to helping Christian students grow in Christlikeness we:
Emphasize excellence and hold students accountable to pursue it for the purpose of developing character.
Reach individuals to apply the Scriptures to practical Christian living.
Seek to develop individuals who are committed to Jesus Christ as Lord, who are engaged in service and leadership in a biblically faithful local church, and who have a compelling concern for reaching the unconverted with the Gospel.
Are steadfastly committed to remaining faithful to the biblical doctrine and principles in our founding charter.
Develop a constituency of regenerated students who have adequate preparation to profit from a Christian college education.
Bob Jones University At-A-Glance:
Students: Approximately 3,000 total students (undergraduate and graduate) from over 40 countries
Student-to-faculty ratio:13:1
Campus Description: The 210-acre Bob Jones University campus is located just northeast of downtown Greenville, SC (Please click here for customized driving directions.). The campus fosters significant student life and faith opportunities, strong academics, and BJU Bruins sports programs in the NCCAA (National Christian College Athletic Association) and NCAA DIII (provisional). It also features the 90,000 square foot Mack Library.
Important Resources for Prospective Students and Parents:
Visiting Bob Jones University – In-person campus visits and Virtual visits
Applying to Bob Jones University – Apply now and Financial aid – completing the FAFSA, learning about grants and scholarships, and more
Academic Programs of Study
Please click the following links for academic program listings and descriptions:
Undergraduate programs and minors
Graduate programs
BJU Seminary
Top 10 academic programs include:
Additional Resources
Bob Jones University Newsroom – BJU Today
Follow Bob Jones University on social media
Main social media accounts:
Facebook – @bjuedu
Twitter – @BJUedu
Instagram – @bjuedu
YouTube – BobJonesUniv
Bob Jones University also offers other social media accounts covering athletics, academic programs, alumni, and much more. Click here to connect with BJU's other social media messages.