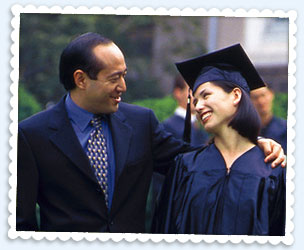 Paying for and obtaining a college education is an investment in the future. Students and families must weigh many factors before deciding which college or university offers the best academic program and learning environment at a cost they can afford. As with any large investment, the best outcome is achieved through self-awareness, in-depth research, and a thorough understanding of all the options.
Many resources are available to you in paying for college
The SCICU College Guide offers you links to extensive information on federal, state, and institutional scholarships, grants, and loans.
The U.S. Department of Education's College Preparation Checklist offers extensive tips and information – including videos – on how to get started on the journey of paying for your college education.
StudentAid.gov – Explains the differences between financial aid you don't have to repay (scholarships, grants, work study, etc.) and aid that does require repayment (federal student loans, federal parent PLUS loans, and other student loans).
Learn about the FAFSA (Free Application for Federal Student Aid). Most colleges and universities require you and your parents to complete this application, as it drives the calculation of your eligibility for federal and state grants. South Carolina college and universities require you to complete the FAFSA in calculating your eligibility for their grants and scholarships.
Grants and scholarships specifically for South Carolina residents – S.C. merit scholarships are awarded by the state of South Carolina to students who meet residency requirements and academic achievements. Additional scholarship and grant opportunities are included in this S.C. Commission on Higher Education resource. S.C. Tuition Grants are available for eligible South Carolina resident undergraduate students who choose to attend private colleges and universities in South Carolina. More information is available from the S.C. Higher Education Tuition Grants Commission.
Things to remember:
A variety of financial aid is available
College financial aid programs help families meet the cost of education that exist beyond their demonstrated ability to pay. Institutional need-based and merit-based student aid combined with state and federal scholarships, grants, loans, and work-study programs comprise a financial assistance package and help defray the cost of attending college.
Apply to colleges that best fit personal and academic needs, regardless of price
The ability to pay for a college education is likely to be an important factor in selecting a college or university. The price of a particular institution, however, should not prevent a student from applying to the schools of his or her choice. A student should apply to colleges that best suit his or her academic, social, and personal needs, regardless of the price, because financial aid can make it affordable.
The South Carolina Advantage
The State of South Carolina provides scholarships (Palmetto Fellows, LIFE, HOPE, and Tuition Assistance) and grants (Higher Education Tuition Grants) exclusively to state residents to encourage the best and brightest to stay in South Carolina and study at one of the state's outstanding public or private institutions of higher learning.
Affordable, High-Quality Education
A common myth is that the cost of a private college or university is out of reach of most students and their families. The truth is that South Carolina's independent colleges and universities make very attractive financial aid and grant offers to all types of students regardless of financial means. South Carolina's independents seek well-rounded student bodies that include students from all regions, all ethnic backgrounds, and all income levels. Each college or university will try to make every effort to compile a suitable financial aid package for the student and family so that the price of a college education does not become an overriding factor in choosing an institution. Because they are smaller and private, independent colleges and universities have more flexibility with admission decisions and are able to work individually with parents and students to create an affordable education.