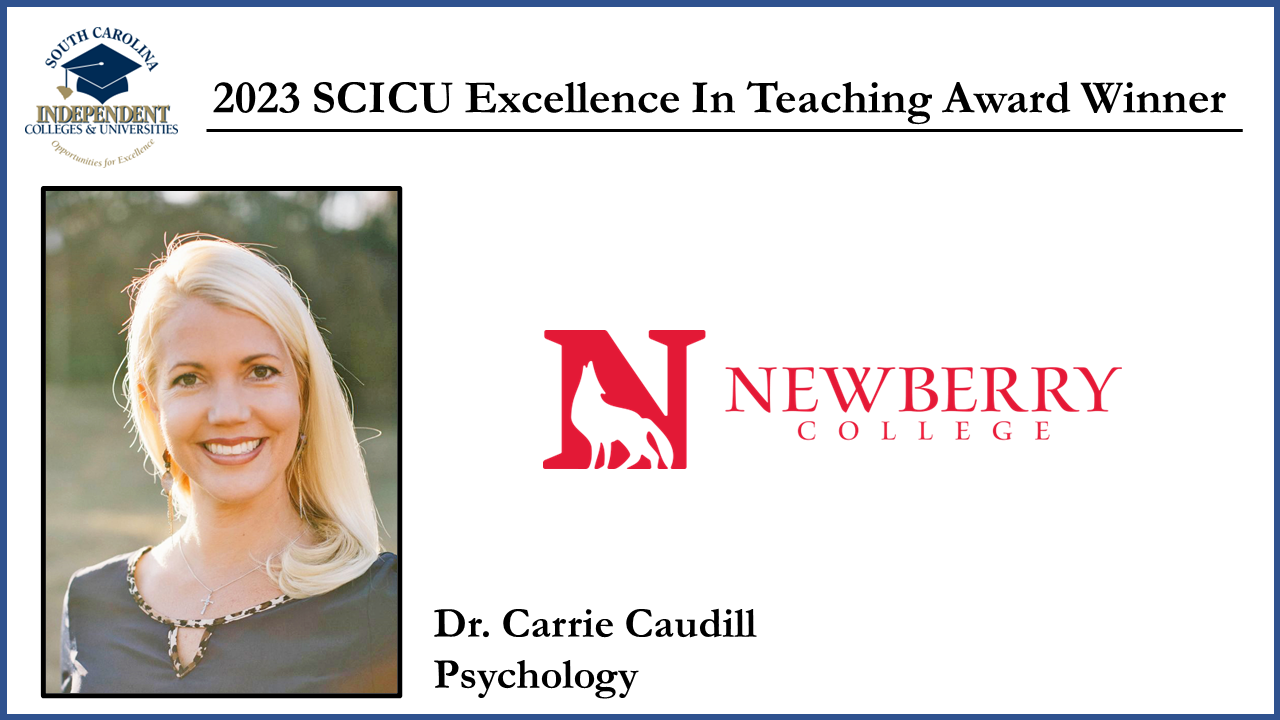 Dr. Carrie Turner Caudill
, associate professor of psychology, is Newberry College's 2023 SCICU Excellence In Teaching award winner. She holds a Ph.D. in counselor education and an Education Specialist degree in marriage and family counseling, both from the University of South Carolina. She also earned a bachelor of arts from Columbia International University in psychology and Biblical studies.
A member of the Newberry faculty since 2017, Caudill teaches a wide range of courses – General Psychology, Abnormal Psychology, Counseling Theories, Personality Theories, Developmental Psychology, Grief and Loss, Social Psychology, Wellness Psychology, and more. In her courses, she fosters peer-partnered learning and engaged learning activities. Students often highlight her enthusiasm for the subject matter and interesting case examples drawn from her own clinical private practice of nearly three decades.
Prior to joining the Newberry faculty, Caudill was an associate professor of psychology at Columbia International University for almost 10 years.
Interest in student development extends well beyond the traditional classroom for Caudill. As an internship coordinator, she is active in the Newberry community placing students in a variety of settings from equine therapy to forensic psychological agencies. Caudill mentors students and collaborates with students at academic conferences. Most recently she co-presented with a senior student on "Meaningful Lives of College Students: An Exploration of Future Values" at the S.C. Counseling Conference Association.
Caudill has served as Newberry Edge Quality Enhancement Plan (QEP) director since 2021 and has worked to develop an advising model. She is a published researcher and academic presenter, and has co-authored multiple studies on college student's mental health, social support, and spirituality. She also writes quarterly articles for Psychology Today relating relevant psychological findings for improved well-being.