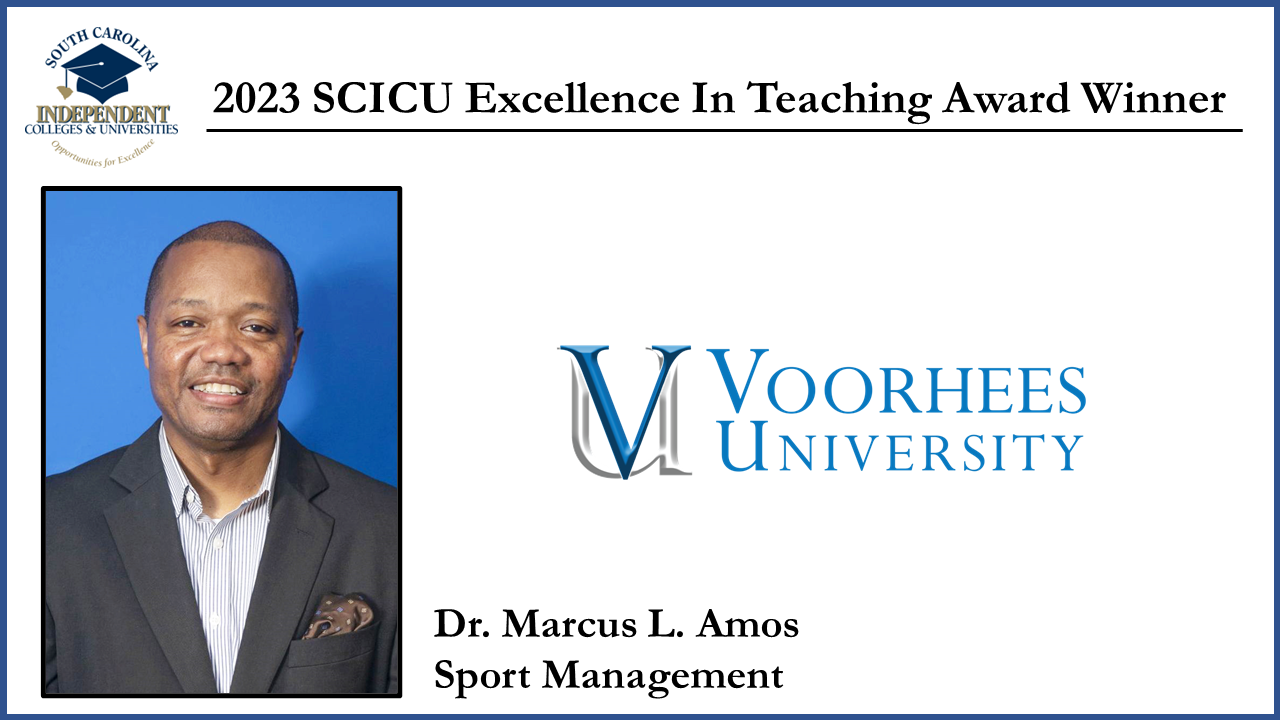 Dr. Marcus L. Amos
, assistant professor of sport management, is the 2023 SCICU Excellence In Teaching award recipient for Voorhees University. He holds a doctorate in kinesiology and sport studies with a concentration in sport management from the University of Tennessee, dual master's degrees in rehabilitation counseling from South Carolina State University and sport management from Louisiana State University, and two bachelor's degrees — one in physical education from Saint Augustine's University (Raleigh, N.C.), and the second in therapeutic recreation from Southern University (Baton Rouge, La.).
In 2015 Amos joined the faculty of Voorhees University and serves as the faculty athletic representative while teaching courses in Sports Marketing and Promotions, Sport Event Planning, Introduction to Sport Management, Role of Sport in Society, Sport Management Internship, Legal Issues in Sports, and Ethics in Sport Management. He has established numerous partnerships with universities and organizations nationwide to provide students with experiential learning opportunities such as internships and job shadowing.
Beyond the classroom, Amos is a certified life skills facilitator and has spent over 20 years working within sports and social services and integrating aspects of life-skill development in athletics. As a registered NCAA health and safety speaker, he has presented at local, state, and international conferences. Recognized as a thought leader, he has provided expert media consultation for HBO Real Sports, ESPN Outside the Lines, ESPN Radio/ESPN News, 60 Minutes, 20/20, L.A. Times, and ABC News. Whether teaching in the classroom or the community, Dr. Amos has touched the lives of students and athletes at all levels.