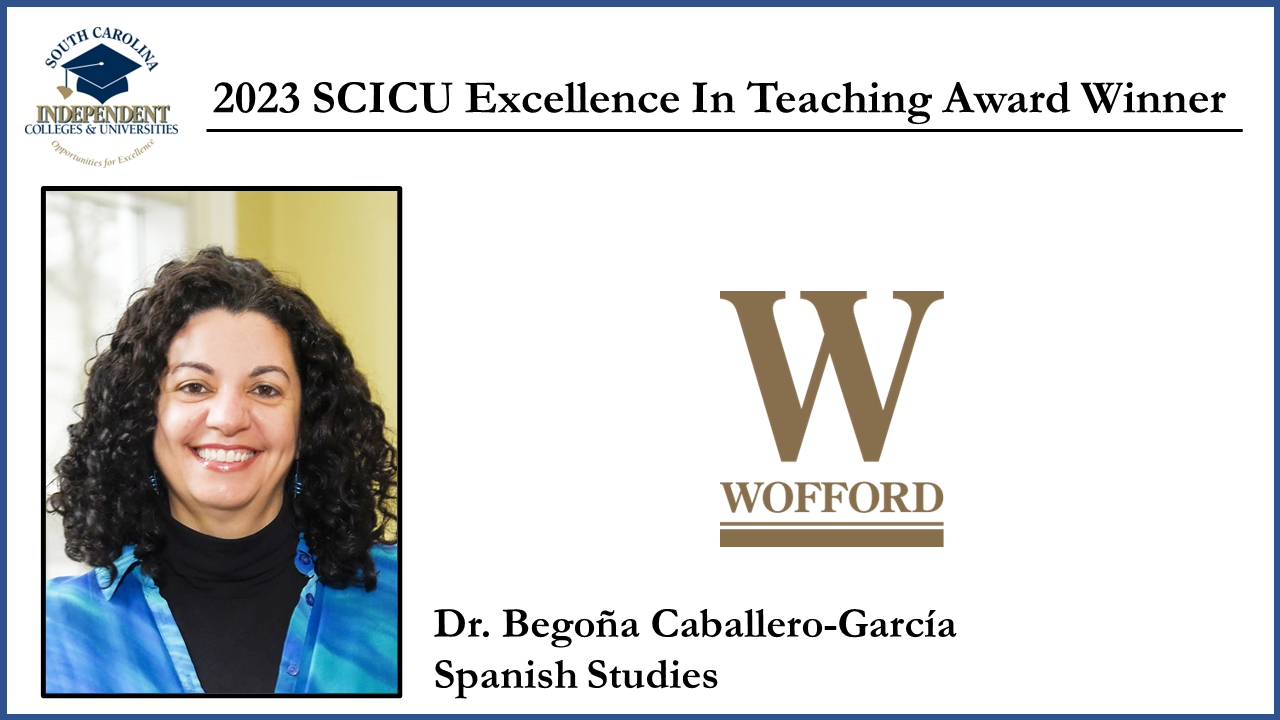 Dr. Begoña Caballero-García
, assistant professor of Spanish Studies, is Wofford College's 2023 SCICU Excellence In Teaching award recipient. She holds a Ph.D. in Literatures, Languages, and Cultures of the Iberian Peninsula and the Americas from The University of North Carolina in Chapel Hill. She earned Master of Arts in Spanish and Latin American Culture from Western Michigan University (Kalamazoo, Mich.), and a Bachelor of Arts in English Philology from University of Extremadura, Spain.
In her 16 years as a member of the Wofford faculty, Caballero-García's course load has included Theater in Spain and Latin America, Cultures of Spain and Latin America, Oral and Cultural Competency in Spanish, and different Spanish language courses.
Serving as Wofford's first dean of Diversity and Inclusion from 2018 until 2020 evidences Caballero-García's two main passions – being an educator and serving as a social justice advocate. She combines these two core values in her research that includes social justice education, diversity, equity and inclusion (DEI), her teaching, and her life as a volunteer with many different organizations. She was recognized with the Wofford College Currie B. Spivey Award for exemplary volunteerism in 2016.
Caballero-García's research on social justice education and DEI in the classroom has been published in peer review journals, such as Transformations: The Journal of Inclusive Scholarship and Pedagogy, and in Dimension's special issue on social justice in language learning. Caballero-García has been invited as a guest speaker in Spanish and English at multiple venues.
Building community, a sense of belonging, equity, and trust happen inside and outside Caballero-García's classes. From cooking and dancing in Spanish with students, to visiting rural places in Peru, Vietnam, Cambodia and Cuba, to speaking about poverty with the local congressman, Caballero-García and her students reflect on cultural differences and try to make our world a better place.