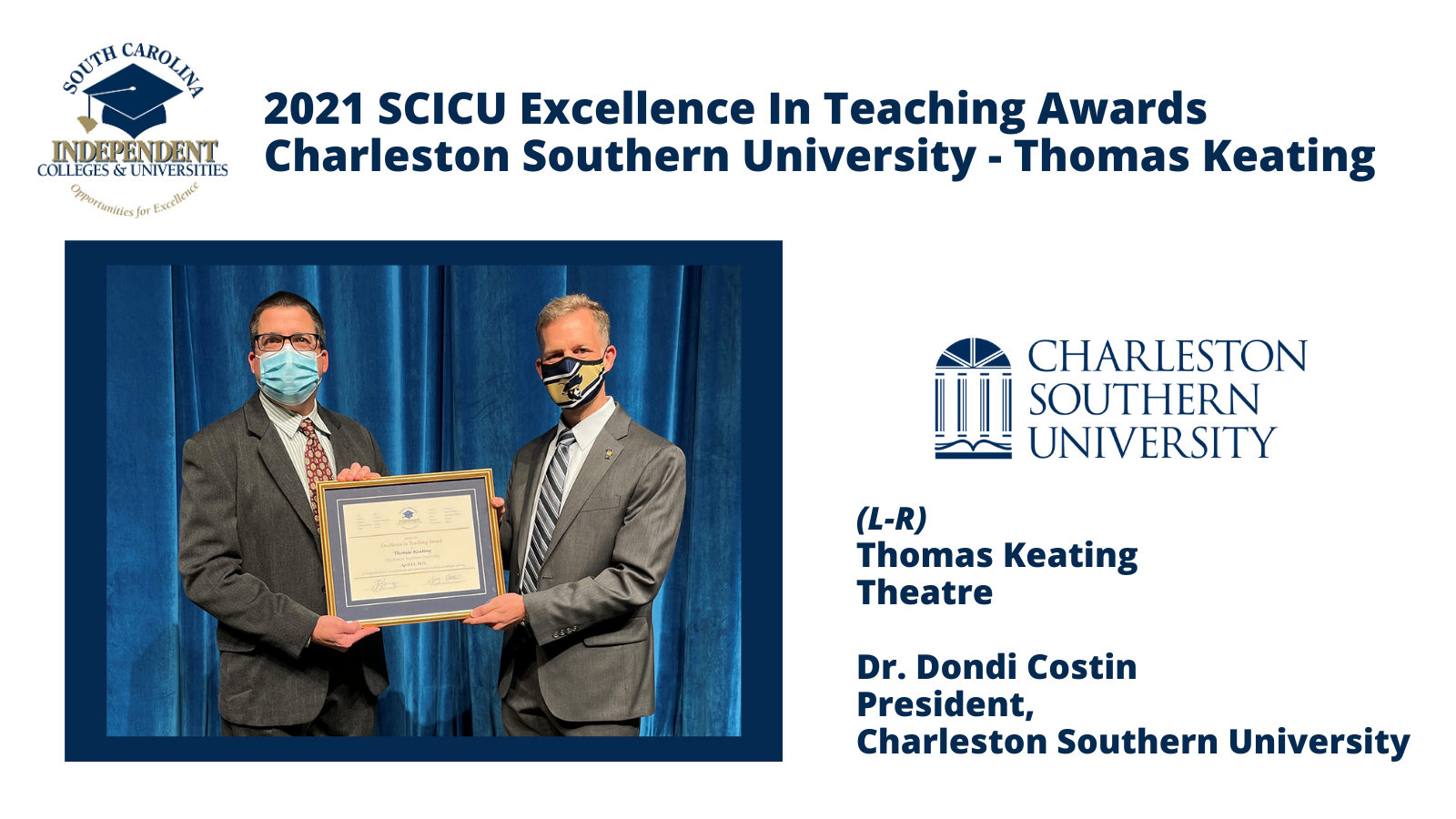 Charleston Southern University congratulates Thomas Keating, professor of Theatre, upon his selection as the university's recipient of the 2021 SCICU Excellence In Teaching award. Keating holds a Master of Fine Arts in Acting from Columbia University (New York) and a Bachelor of Arts in Drama from The University of Georgia. He is also a member of the Actors' Equity Association.
Keating, a member of the CSU faculty since 2007, is the coordinator of the university's Theatre Program. He teaches a wide variety of courses including Acting, Directing, Stagecraft & Design, and Acting for the Camera.
In addition to his teaching course load, Keating directs at least two productions a year. Some favorites include "The Diary of Anne Frank," "West Side Story," and "King Lear." Keating's training with Anne Bogart (movement) and Kristin Linklater (voice) uniquely equips him to encourage and promote excellence in theatre. Professor Keating's work as an actor in various cities, including New York City and Boston, enables him to offer a real-world perspective to Charleston Southern students.
In addition to his acting and directing work, Keating also writes and voices characters for a local animation company, Moondog Animation Studio.
As a member of Seacoast Church in Mt. Pleasant, Keating regularly assists with their productions, most notably, their Easter Passion Play, "The Thorn."
"Thomas brings his skills to the classroom, and his passion for the arts to every aspect of his teaching and university service," said Dr. Jacqueline Fish, Charleston Southern vice president for academic affairs. "He is certainly a favorite among our students, and their successes are directly linked to Professor Keating's instruction and mentoring."