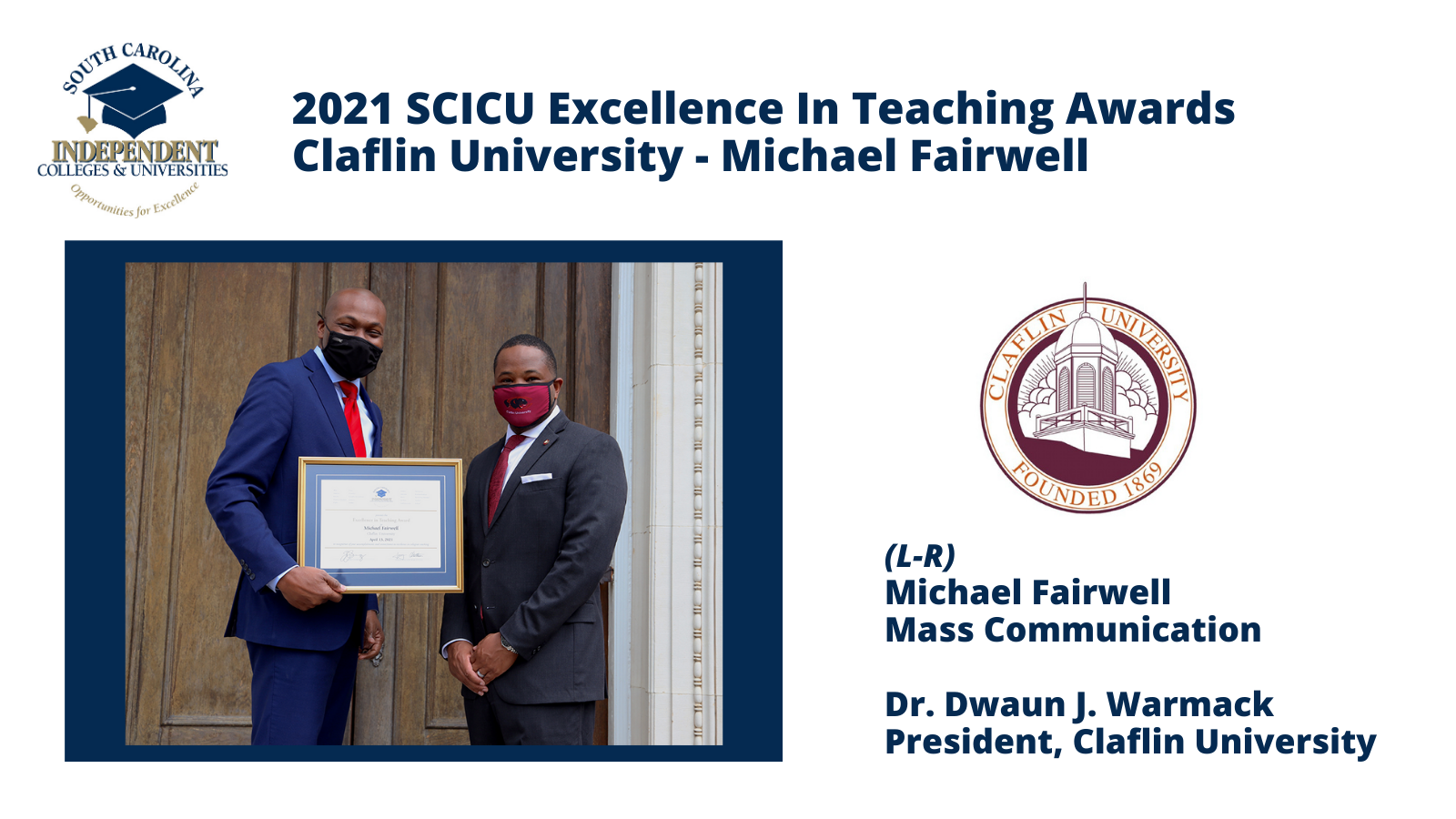 Michael Fairwell, instructor of Mass Communication, is the 2021 SCICU Excellence In Teaching award winner for Claflin University. Fairwell holds a Master of Media Arts with concentrations in television and film and a Bachelor of Arts degree in journalism and mass communications, both from the University of South Carolina-Columbia.
For more than a decade, Fairwell has trained many Claflin students who are now working as producers, reporters, anchors, and media front-runners all over the country. Fairwell supervises more than 60 students each year in the Senior Project capstone course and guides them in the production of a proposal and media project. Fairwell's internship class has launched many students as interns with CNN, ESPN, SCETV, and local national television affiliates.
Claflin has recognized Fairwell's leadership with numerous awards, including Professional Employee of the Year Award, School of Humanities and Social Sciences Faculty Excellence Award, and the Claflin University Quality Enhancement Plan Instructor of the Year. Fairwell has also been named Claflin University Advisor of the Year and has been selected faculty representative to the Claflin Board of Trustees.
Outside of Claflin University, Fairwell owns a production company – the Fairwell Group. He recently produced LIVIC, a documentary about an iconic photographer during the Civil Rights Movement. In addition to the documentary, Fairwell's production company has produced several commercials, infomercials, shorts films, and documentaries.
Fairwell holds memberships in the Broadcast Educators Association (BEA), South Carolina Broadcasters Association (SCBA), Radio Television and News Directors Association (RTNDA), South Carolina Media Educators Association (SCMEA), National Academic Advising Association (NACADA) and Kappa Alpha Psi Fraternity, Inc.