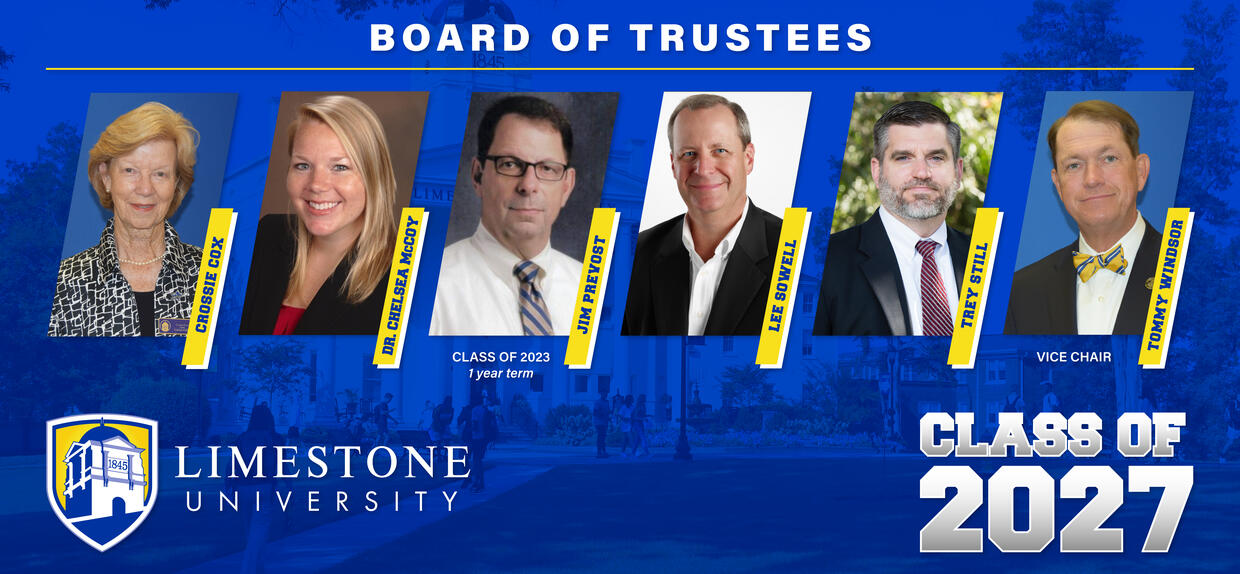 GAFFNEY, S.C. (courtesy limestone.edu) — Five new members were recently elected to the Limestone University Board of Trustees and will serve five-year terms that officially started on July 1.
The Limestone University Board of Trustees Class of 2027 includes Crosland (Crossie) McDowell Cox; Dr. Chelsea Anthony McCoy; Lee E. Sowell; Patrick L. (Trey) Still, III; and Tommy H. Windsor, Jr. McCoy, Sowell, and Still are serving inaugural terms on the Board, while Cox and Windsor are now in their second terms as Trustees.
In addition, Dr. James (Jim) M. Prevost has returned to the Limestone Board of Trustees to fill a one-year vacancy in the Class of 2023. Prevost was selected as a member of the Board of Trustees in July of 2017 and served a full year before stepping down to accept a teaching position in Limestone's Athletic Training program.
Also, Vera J. Mitchell has moved from Senior Trustee to Emeriti Trustee status.
Limestone's governing board now consists of a total of 39 members, including 25 regular members, four Senior members, and 10 Emeriti members (permanent appointments, non-voting).
"We are excited to welcome these outstanding members to our Board of Trustees," said Limestone President Dr. Darrell Parker. "They each bring strong leadership experience and passion to our Board, and I look forward to working with them and the other members in the coming years as we fulfill our mission of being one of the finest comprehensive universities in the region and the nation."
The members of the Board of Trustees are responsible for assisting in legal and fiduciary decisions; approving the mission, strategic goals, and objectives of the organization; establishing policies; and advising those responsible for the management of the institution. Each member also provides the Board of Trustees with guidance on issues and activities related to their areas of professional interest, and elects members to ensure a balance of regional and professional perspectives.
"Crossie Cox and Tommy Windsor have played vital roles in the success of Limestone University, and we are grateful that they are returning to provide their leadership moving forward," said Limestone Board of Trustees Chairman David Riggins. "We are also pleased to have Jim Prevost rejoining and contributing greatly to our Board. This is also an outstanding group of new members including Chelsea McCoy, Lee Sowell, and Trey Still. We appreciate them, and all of our Trustees, giving their time and lending their talents to further strengthen Limestone University. One of the goals of the selection process continues to be to develop a Board with wide-ranging professional and personal characteristics to ensure that we reflect a variety of perspectives. With this latest class, have no doubt achieved that, and I am confident that they will be excellent members of our Board for years to come."
Below is information on the newly elected members of the Limestone University Board of Trustees.
Crosland (Crossie) McDowell Cox, who resides with her husband, Frank, in Clemson, is a 1968 graduate of Limestone College (University). Cox has worked as a legal assistant, in addition to careers in health care assistance and banking customer service. She is also a volunteer and supporter of the American Red Cross and serves as a Deacon at Clemson First Baptist Church. Cox is a past President of what is now known as the Clemson Sunrise Rotary Club. She is a native of Fort Benning, Ga. Cox is a former member of the Clemson City Council. She was the recipient of Limestone's Golden Alumni Achievement Award in 2018.
Dr. Chelsea Anthony McCoy resides in Newberry with her husband, Kevin, and daughter Primrose, and they have another daughter on the way. She is an Internal Medicine Physician with Newberry Internal Medicine and Newberry County Memorial Hospital. McCoy is also the Medical Director of Kindred Home Health in Newberry, and she is an Assistant Professor at Edward Via College of Osteopathic Medicine. She is a 2010 graduate of Limestone College (University) with a Bachelor of Science in Biology and minors in Chemistry and Psychology. She also graduated from the Edward Via College of Osteopathic Medicine in Spartanburg, and the Corpus Christi Medical Center Internal Medicine Residency in Corpus Christi, TX. McCoy was named the Newberry County Memorial Hospital Doctor of the Year in 2020. From 2018-2019, she was the Internal Medicine Chief Resident at the Corpus Christi Medical Center. At Limestone, she was a member of both the volleyball and softball teams.
Dr. James (Jim) M. Prevost, resides in Shelby, NC, with his wife, Mary Ann. He is a retired school administrator for Cleveland County Schools. A member of the Limestone College (University) Class of 1979, Prevost earned a Master's degree from Gardner-Webb University and his Doctor of Education from the University of Phoenix. During his first term on the Limestone Board of Trustees, Prevost was an integral part of the Presidential Selection Committee that ultimately recommended Parker to the full Board to become Limestone's 22nd President. He has an extensive history with the institution. He was a part of Greek life and pledged Lambda Mu Sigma in 1975. In 1985, Prevost began teaching Athletic Training courses at Limestone, first as an adjunct teacher, and then as a volunteer. From there, he became a part of the President's Advisory Council. He served for seven years as an educator and coach with the Cherokee County School District. He would go on to serve at Shelby High School as an athletic trainer and then as the school's Assistant Principal over 20 years later. He received numerous awards there, including Shelby High School Teacher of the Year, Time Warner Cable's Star Teacher Award, Presidential Award for Volunteer Service, and Cleveland County's Distinguished Educator Award. During the two decades he worked in Cleveland County, Prevost taught Physical Education, Health, Mathematics, Sports Medicine, and Science. In 2001, he became the Director of Sports Medicine for Cleveland County Schools and resigned from that position in 2013 to accept the role as Assistant Principal at Shelby High. Prevost served as Assistant Principal for five years before retiring and accepting the position as Assistant Professor for the Department of Athletic Training, Nursing, and Health Sciences at Limestone.
Lee E. Sowell, who resides in Pelzer with his wife, Robin, is the Group President/President-Outdoor Products North America for TTi North America in Anderson, a role he has held since 2006. Prior to that, he served for six years with TTi as the Senior Vice President of Sales, Marketing, and Product-Outdoor Products, Craftsman Power Tools. His previous work experience also includes stints with Electrolux Home Products, Ryobi Outdoor Products, Homelite, and Roper Lawn Products. Sowell serves on the Board of the Outdoor Power Equipment Institute, an outdoor industry association representing the $15 billion outdoor power industry. He also serves on the Advisory Board for AMPEL, a start-up genomic testing company focusing on lupus diagnosis and treatment. He graduated from Armstrong Atlantic University in Savannah, GA, with a Bachelor's degree in Applied Mathematics.
Patrick (Trey) Still, III, resides in Moore with his wife, Jennifer, and daughter Pressley. As an attorney, he is the Owner and Managing Partner of the Greenville Office of Clawson and Staubes, LLC. He has served as an equity owner of the firm since 2019. Previously, he was a non-equity partner with Clarkson Walsh Terrell & Coulter and worked as a Law Clerk and then Associate with Gibbes Burton, LLC. Still graduated from Limestone College (University) in 2003 with a Bachelor of Science in Business Administration & Management Information Systems. He earned his Juris Doctorate from Florida Coastal School of Law in Jacksonville. He also attended the University of South Carolina School of Law as a third-year visiting student. At James F. Byrnes High School in Duncan, he lettered in both baseball and football. He was awarded the Michael Cooley Scholarship for overcoming adversity and was awarded the Deitrich Gaston Scholarship for having the highest grade point average on the football team. At Limestone, he was a four-year member of the baseball team. He was also the recipient of Limestone's Excellence in Business Administration and Economics Award. During his time at Limestone, Still served as the Vice President of the Student Alumni Leadership Council (SALC). He is also a former member of the President's Advisory Council at Limestone.
Tommy H. Windsor, Jr., who resides in Gilbert with his wife, Thresechia, was elected in 2018 to fill an unexpired term on the Limestone Board of Trustees. Now serving as the Vice-Chairman of the Board, Windsor is beginning his first full-term as a Trustee. He is employed with Barr-Price Funeral Home and Crematorium in Batesburg-Leesville. He earned his Bachelor of Arts in Criminal Justice from Limestone College (University) in 2015. Windsor, who served previously as the Director of Boards and Commissions for the Office of the South Carolina Governor, is also a football official for the South Carolina High School League. Organizations that Windsor is a part of include the South Carolina Football Officials Association, the Greater Columbia Football Officials Association, and the Greater Columbia Softball Officials Association. He is a former Board Member of the Central Midlands Council of Governments, Common Cause of South Carolina, and the Epilepsy Foundation of South Carolina Board of Directors. Windsor served in the past on the Board of Directors of the Central Midlands Regional Transit Authority and was Vice-Chairman for two years. He also served as the Governor's representative on the Governor's Council on Physical Fitness and the South Carolina Native American Advisory Committee.