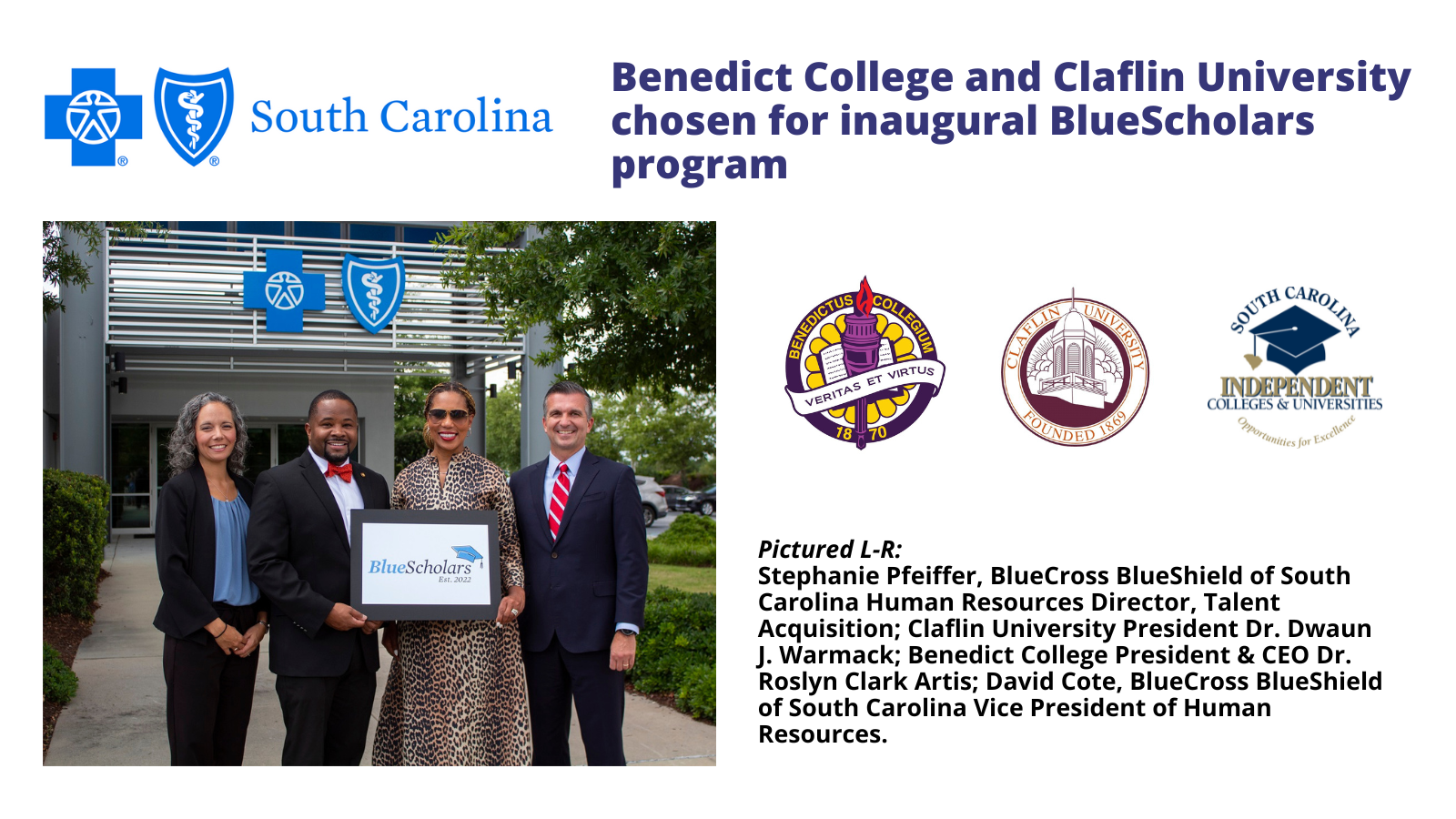 COLUMBIA, S.C. (courtesy southcarolinablues.com) — BlueCross BlueShield of South Carolina is partnering with SCICU member institutions Benedict College and Claflin University to give more students an opportunity to pursue an education while getting a head start on their career paths.
The BlueCross BlueScholars program will select four students from each institution to receive a full four-year scholarship that covers tuition, room and board.
"We are committed to supporting students of our state's historically Black colleges and universities (HBCUs)," said BlueCross President and CEO Mike Mizeur. "Early during the pandemic, BlueCross made a significant investment in several South Carolina HBCUs, and we aim for our support to extend beyond students' academic careers. The BlueScholars program creates a pathway for students to hold leadership roles within our company after graduation. We are committed to support their educational pursuits and their place as future leaders in our workforce."
The eight students selected for the inaugural BlueScholars program will participate in career development workshops and will be able to engage with BlueCross BlueShield of South Carolina representatives during panel discussions and summer internships. These events are designed to prepare the students for employment opportunities at BlueCross.
"Benedict College is pleased to partner with BlueCross on the development of the BlueScholars program, which provides much needed financial support for our scholars. Additionally, and perhaps equally important, BlueScholars will receive ongoing professional development and highly coveted summer internship placements with BlueCross, one of our state's premier employers. These students will have the opportunity to work in a dynamic environment and gain valuable professional experiences that will place them on a path toward a meaningful and rewarding career," said Benedict President and CEO Dr. Roslyn Clark Artis.
Students selected as BlueScholars will have summer internship opportunities at BlueCross beginning the second year of the program.
"We are immensely grateful to be a part of the BlueScholars program," said Claflin University President Dr. Dwaun J. Warmack. "Claflin has produced exceptional leaders in every industry and profession. This program is also an investment in our current scholars who are continuing our proud legacy of exemplary leadership, academic achievement and compassionate community engagement. We applaud BlueCross for expanding access to career opportunities for HBCU students."
About BlueCross BlueShield of South Carolina
Headquartered in Columbia and operating in South Carolina for 75 years, BlueCross BlueShield of South Carolina is an independent licensee of the Blue Cross Blue Shield Association. The only South Carolina-owned and -operated health insurance carrier, BlueCross BlueShield of South Carolina comprises more than 20 companies involved in health insurance services, U.S. Department of Defense health program and Medicare contracts, other insurance and employee benefits services, and a philanthropic foundation that funds programs to improve health care and access to health care for South Carolinians.
About Benedict College
Founded in 1870 by a woman, Bathsheba A. Benedict, Benedict College is a private co-educational liberal arts institution offering 26 competitive baccalaureate degree programs. The Midlands HBCU welcomes students from all 46 counties in South Carolina, 30 states across America and 26 countries around the world.
About Claflin University
Claflin University is a comprehensive institution of higher education affiliated with the United Methodist Church. A historically Black university founded in 1869, Claflin is dedicated to providing a student-centered, liberal arts education grounded in cutting-edge research, experiential learning, state-of-the-art technology, community service and lifelong person and professional development. Claflin is a diverse and inclusive community of students, faculty, staff and administrators who work to cultivate practical wisdom, judgment, knowledge, skills and character needed for globally engaged citizenship and effective leadership.