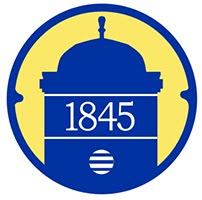 GAFFNEY, SC (courtesy limestone.edu) — The "Drive To University" is officially underway at Limestone College.
Unanimous approval was recently given by the Board of Trustees for Limestone to begin taking steps to move to the status of a university by the fall of 2020, which coincides with the liberal arts institution's 175th anniversary. The Board of Trustees vote was taken at a regularly scheduled meeting on Friday, April 20, and students, faculty, staff, and alumni of the College were officially notified of the upcoming name change on Monday, April 23, before the news was released to the general public.
Limestone President Dr. Darrell Parker recommended the "Drive To University" term as a way to symbolize the steps the school would be taking over the next two years to change its name. Shortly after taking the helm as Limestone's President in January, Parker established several faculty and staff led task forces to study various aspects of the College. The Marketing & Enrollment Task Force, and others, suggested the change from college to university. That recommendation, along with other research on the matter, was shared earlier this month with the Instruction, Academic Policy, and Enrollment Services Committee of the Board of Trustees, which unanimously agreed to endorse the idea and present it to the full board on Friday.
Because it offers both undergraduate and graduate programs, Limestone is well positioned to change its status from a college to a university. The Limestone Master's in Business Administration Program was approved by the Southern Association of Colleges and Schools in December of 2011, and its first MBA graduates were conferred in May of 2014. Limestone's program allows students to earn their MBA in only 20 months, with classes broken out into eight-week courses. It also offers a program that allows its day campus students to take MBA classes in their senior year completing both the undergraduate and graduate degrees in 5 years.
In February of this year, officials announced that starting in April, Limestone would be offering a Healthcare Administration concentration to its MBA Program for students seeking leadership careers in healthcare-related fields. Additional specializations for the MBA as well as other specialized Masters degrees that provide for strong careers and support the economic development of South Carolina are on the horizon at Limestone, Parker said.
The Board of Trustees approved plans to develop a Master's in Athletic Training as the next graduate degree to be launched. Both the National Athletic Trainers' Association Board of Directors and the Commission on Accreditation of Athletic Training Education recently established the professional degree in Athletic Training at the Master's level, instead of a Bachelor's degree.
"The move from a college to a university more accurately reflects who we are, affirms our strategic direction, and positions us for long-term success," Parker explained. "There have been vast changes in student population and demands over the past several years and we must adapt our programs and services to the needs of the students. Our move to a university will align our name with our academic offerings and enable us to attract and recruit more students. "It also reflects the success the school has had expanding graduate programs and its plans to develop new programs in the coming years," he added. "Being a university speaks of the breadth and depth of learning already happening for both undergraduate and graduate students, and of the direction charted by Limestone's strategic plan."
The name change will also create the opportunity to update and improve Limestone's branding, Parker said. He acknowledged that some costs will be associated with the name change, but those will be diminished as printed materials and other college-labeled resources are phased out over the next two years. "There will certainly be new signage and things of that nature," Parker said. "However, we will not be turning our back on our proud history. There will undoubtedly be areas around our campus were you will still see the word 'College' on display." Parker pointed out the success that Anderson University has enjoyed since it announced in 2005 that it was making the move away from being labeled as a college. In January of 2006, Anderson College officially became Anderson University, capping a year of unprecedented growth. The University welcomed its largest ever freshman class in the fall of 2005. "We're excited about the 'Drive To University' that will take place between now and 2020," Parker said. "A lot of momentum is building at Limestone and we believe our change to a university will be one of the driving forces to our continued growth."