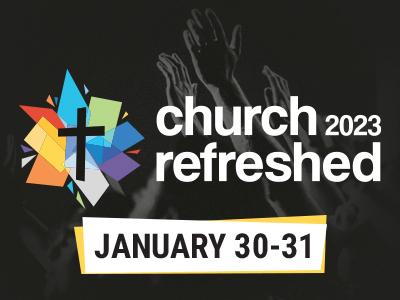 COLUMBIA, S.C. (courtesy ciu.edu) — Church leaders from across South Carolina and the region are registering for the "Church Refreshed 2023" conference at Columbia International University Jan. 30-31. The third annual event is a special one — it's a part of CIU's 100th anniversary celebration that continues throughout the year.
The Church Refreshed conference, hosted by the CIU Seminary & School of Ministry, offers resources and training to pastors, church planters and church staff members, assisting them in overcoming their fears, reigniting their faith and confidently focusing on the future. Expert speakers will present strategies and best practices for Prayer, Evangelism, Discipleship, Leadership and Financial Resources. Over 250 people attended last year's event.
This year's speakers include:
Dr. Dale C. Bronner is a bishop, church planter, author, conference speaker and leadership trainer. He is the founder and senior pastor of Word of Faith Family Worship Cathedral in Austell, Georgia. He was consecrated as bishop by the International Communion of Charismatic Churches.
Dr. Wanda Frazier-Parker serves as co-pastor of Truth Tabernacle Ministries in Rocky Mount, North Carolina. She is also a leadership trainer for the Kellogg Company and a certified John Maxwell coach, trainer, and speaker, as well as the author of the "40 Day Health & Wellness Journal."
Pastor Stephen Splawn is senior pastor of First Northeast Baptist Church (FNEBC) in Columbia, South Carolina. He is a South Carolina native who has served in ministry in various capacities since his youth. Before being called to the pastorate, Splawn served four years as an evangelism strategist for the 2,000+ churches of the South Carolina Baptist Convention (SCBC).
Dr. Nathan Smith is the senior pastor of Heritage Baptist Church in Lynchburg, Virginia. He grew up in Tanzania, East Africa, where his family served as church planting missionaries. It was there that Smith gained a deep love and respect for the cultures and peoples of the world. He has a passion for the rigorous exposition of the Scriptures so that God might be known, His grace in Christ be realized, and the Christian be moved to an obedient, sacrificial mission.
Dr. Benny Tate is senior pastor of Rock Springs Church in Milner, Georgia where he has served for over 25 years. Under his leadership, the church has grown from 60 in attendance to more than 6,000 with five satellite campuses and a variety of ministries to the needy. Tate also serves as president of the Congregational Methodist denomination and is a highly sought-after evangelist and motivational speaker.
Dr. Rick Christman is the acting president of Columbia International University. For three years he served as CIU's executive vice president. Before coming to CIU, Christman was the academic dean and associate vice president for the School of Graduate and Continuing Studies (SGCS) at Trevecca Nazarene University in Nashville, Tennessee. He has ministered for over 25 years in the Wesleyan Church as a pastor and educator.
Mrs. Diane Mull serves as Columbia International University's vice president of Alumni, Advancement and University Communications. Diane arrived at CIU when her husband Andy enrolled in seminary. She then began serving as president of the Wives Fellowship. Mull is a recipient of the Council for Advancement and Support of Education award in Alumni Relations. Her experience includes serving as the assistant director of Alumni Relations and director of the Annual Fund at Messiah College where she received her degree in Communications and a Business Administration minor. She has led Bible studies with internationals and the women's ministry at her church.
This year's Church Refreshed also includes an evening concert featuring Columbia-area church choirs.
Organizing the event is CIU Dean of Students and Campus Unity Dr. Andre Rogers. He says those who attend will never forget the experience.
"Leaders need leaders to inspire them, challenge them, and encourage them," Rogers said. "Church Refreshed is the event that will impact leaders in all three areas. Whether you are a senior pastor or a ministry leader, we have the right speakers to reignite your passion for ministry and enhance your vision."
To register for Church Refreshed, become a sponsor, and for more information visit ciu.edu/churchrefreshed.
CIU is celebrating 100 years of its mission to "educate people from a biblical worldview to impact the nations with the message of Christ." The university consistently ranks among the Top Regional Universities in the South by U.S. News & World Report, as well as a Best Value Regional University in the South. Request information on enrollment by contacting Admissions at (803) 807-5024 or admissions@ciu.edu.