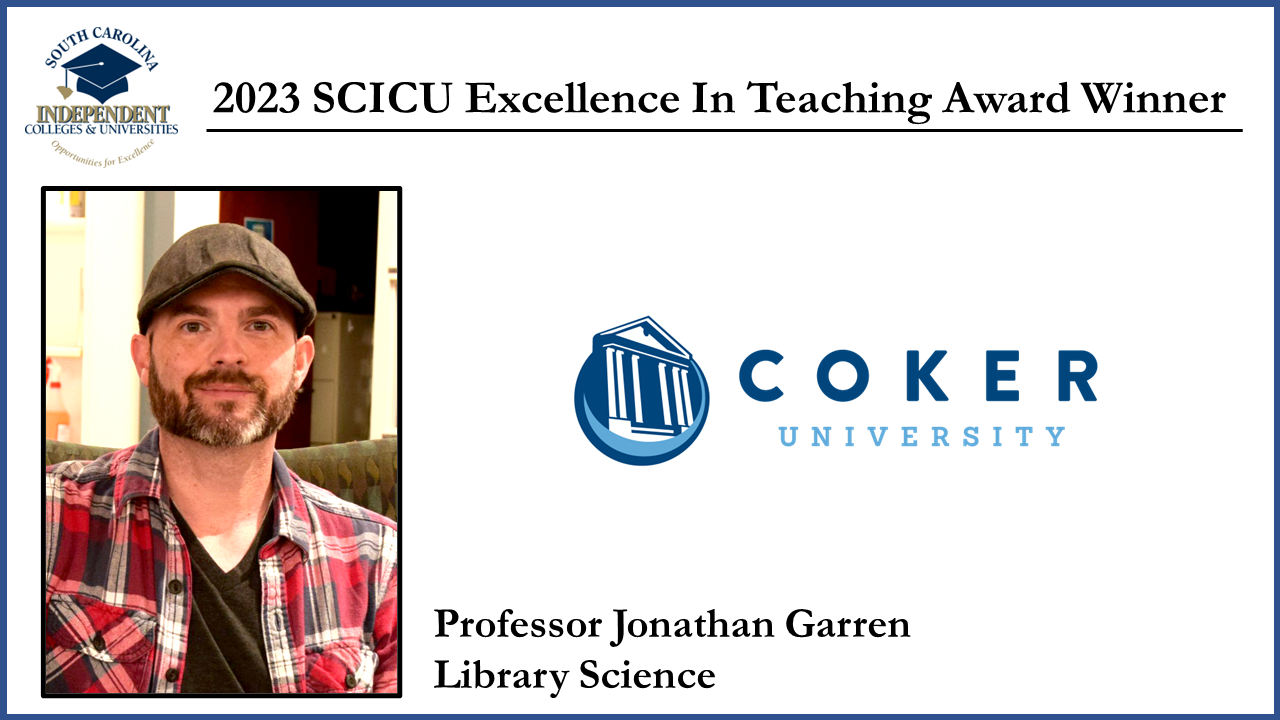 Professor Jonathan Garren
, associate professor of library and information science and instruction/outreach librarian, is the 2023 Excellence In Teaching award recipient for Coker University. He holds a master's degree in Library and Information Science from the University of South Carolina. Garren also earned a Master of Arts in English and Film Studies from the State University of New York at Buffalo and a Bachelor of Arts in English from Clemson University.
Garren's areas of emphasis include library and information science pedagogy, online library instructional modalities, library anxiety and user experience, reference interview methodologies, and library outreach initiatives.
With his experience in humanities and interdisciplinary research as an undergraduate and graduate student, Professor Garren employs an approach to library instruction, reference, and outreach from a student-centered and faculty-liaison perspective. These experiences allow him to quickly adapt Association of College and Research Libraries (ACRL) frameworks to in-person, hybrid, and online variations of the Coker University LIB 101 course, allowing for a fully interdisciplinary approach for first-year and second-year students. His outreach initiatives also seek to integrate library resource knowledge and presence into varying levels of student life which include programmatic collaborations with Coker University Student Success Services and student clubs/organizations.
Outside the classroom, Garren has served as a peer reviewer and a book reviewer for the South Carolina Libraries Journal. He has also presented at numerous conferences, including multiple presentations at the South Carolina Library Association's annual conferences.