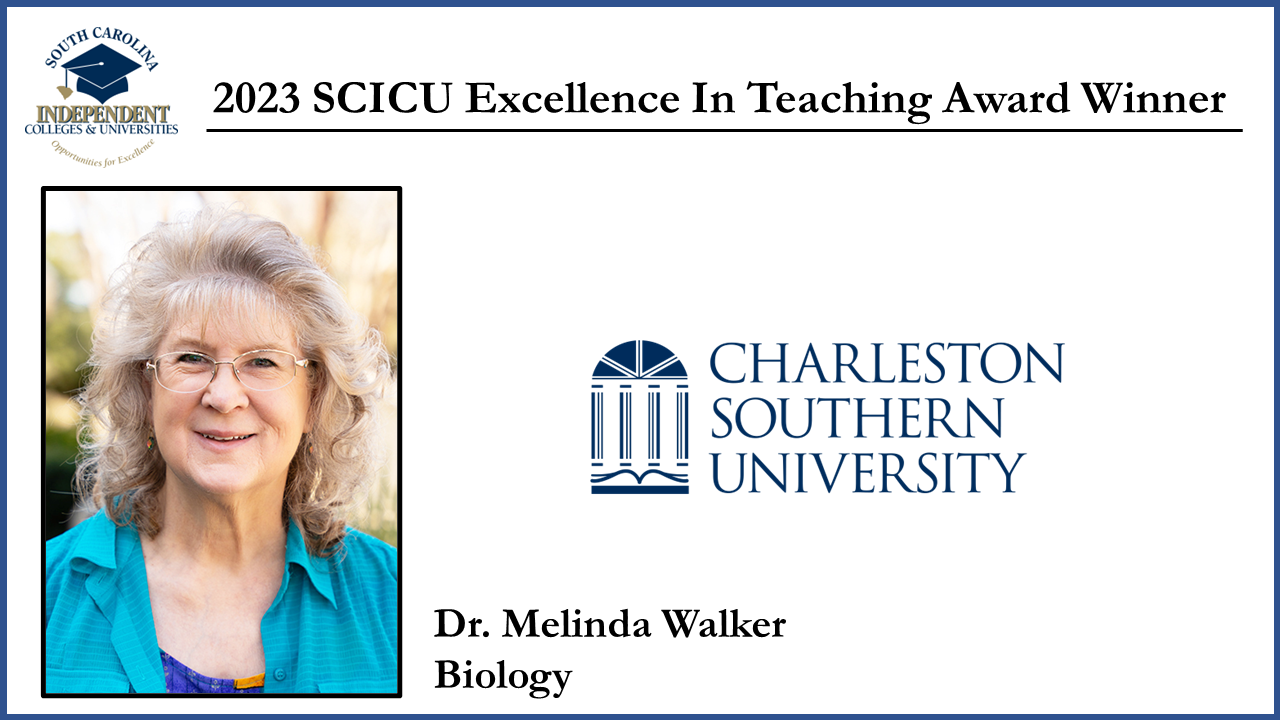 Dr. Melinda Walker
is the SCICU 2023 Excellence In Teaching award winner for Charleston Southern University. She has been a member of the CSU faculty since 1995 and currently chairs the Biology Department. Walker holds a Ph.D. in Molecular and Cellular Biology and Pathobiology from the Medical University of South Carolina. She earned a Bachelor of Science in 1981 from Charleston Southern University, then known as Baptist College at Charleston.
Walker's extensive teaching load includes Anatomy and Physiology, Microbiology, Nutrition, Epidemiology, Human Genetics, Cell Biology, Immunology, and General Biology. She is involved in a wide variety of student research projects, including the development of algae that produce biofuels and the degradation of plastic bags by bacteria.
Outside the classroom Walker serves as advisor for CSU's chapter of Tri Beta Biological Honor Society and has worked with the chapter in several community-based service projects, including Habitat for Humanity, science-based competitions, debates, and hosting science and leadership seminars. She has also led a variety of study trips including a medical mission trip to India, a global education trip to Israel, and local excursions to zoos and aquariums.
"Our students know she cares about their current and future success," said Dr. Jacqueline Fish, Charleston Southern vice president for Academic Affairs. "Her office door is always open for advising students and encouraging professors. She demonstrates true integrity and commitment to her Christian faith both in and out of the classroom. She is an incredibly valuable member of the CSU community and an excellent choice for this award."