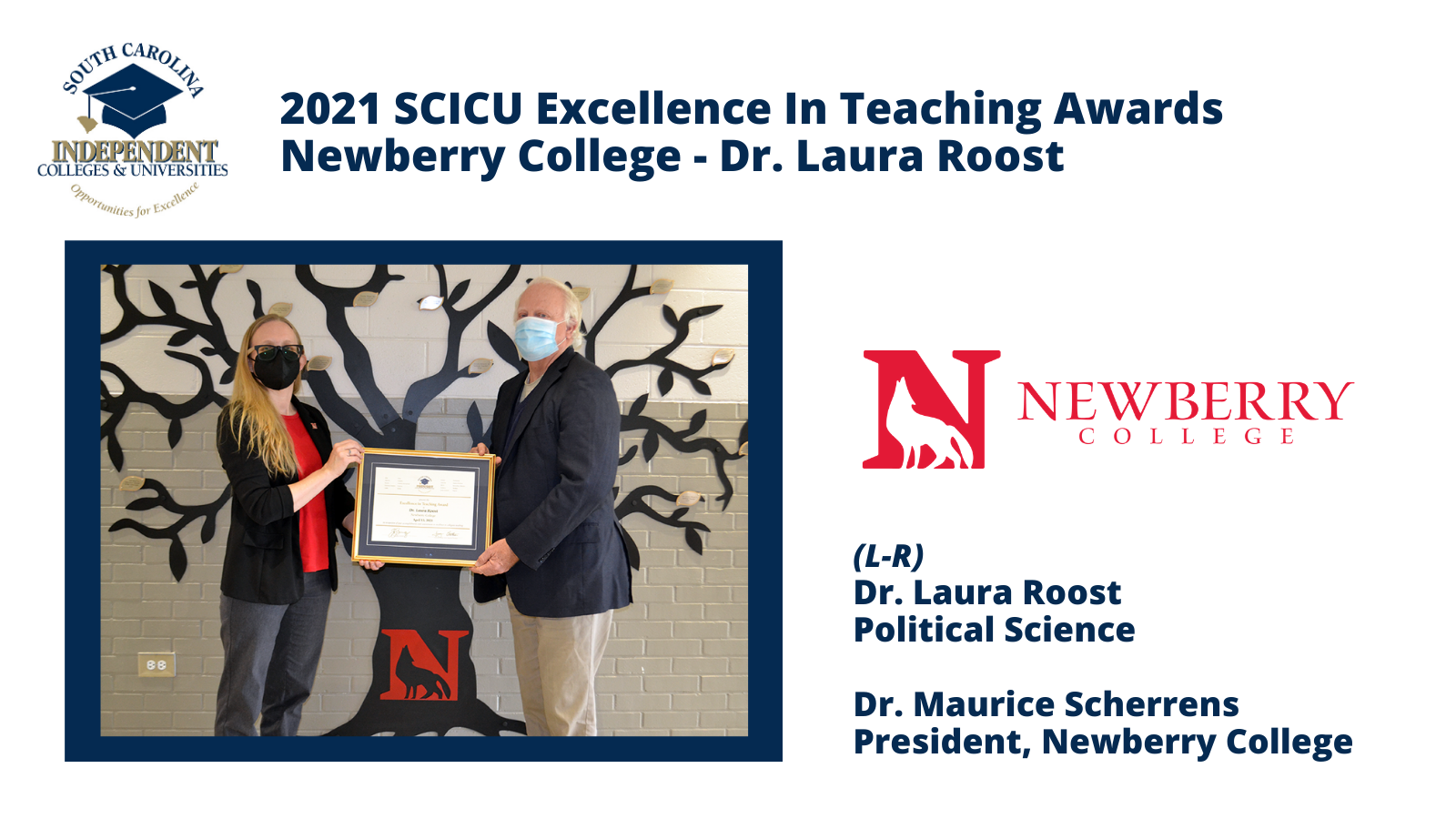 Dr. Laura Roost, Assistant Professor of Political Science, is Newberry College's 2021 SCICU Excellence in Teaching award winner. She holds a Ph.D. in Political Science from the University of Nebraska-Lincoln. Roost also holds a Graduate Specialization in Human Rights and Humanitarian Affairs. A Fulbright Scholar, Dr. Roost spent 10 months in Rwanda studying the impact of women's non-government organizations on post-genocide society. Her academic interests include social justice and healing in Rwanda, the role of civic engagement in higher education, and diversity, equity, and inclusion initiatives in higher education.
Since her appointment to the Newberry College faculty in 2017, Roost has taught a variety of Political Science courses, including Human Rights in Law and Practice, Special Topics in African Politics, War and Peace, International Relations, Comparing Politics Across the World, and U.S. Government. She also serves as the political science program coordinator, Fulbright liaison, and pre-law advisor.
Roost's research examines transitional justice, feminist care ethics, human rights, international law, ethnicized / racialized violence, African philosophy, and civic engagement. Her dissertation, "Justice without Care: Reconceptualizing Transitional Justice through Feminist Theoretical Analysis and Ethical Debate," examined the potential place of feminist care ethics in transitional justice practices, and included comparative data collected from fieldwork in Rwanda (Fulbright) and Bosnia-Herzegovina examining the impact of non-governmental organization (NGO) care activities.
Roost has also published articles in "An African Path to a Global Future and Art from Trauma: Genocide and Healing Beyond Rwanda."