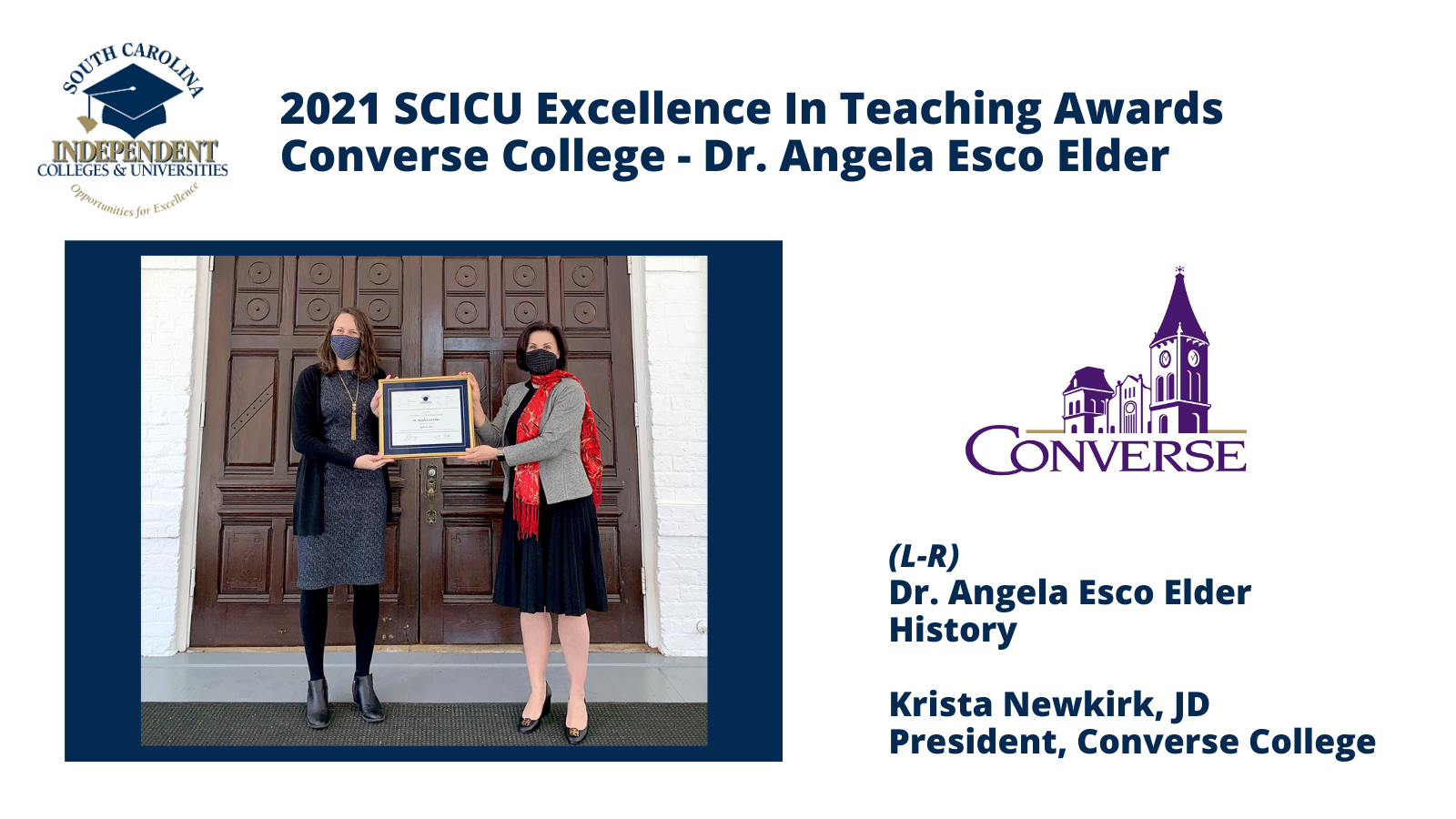 Dr. Angela Esco Elder, assistant professor of history, is the 2021 Excellence In Teaching recipient for Converse College. Her history degrees include a Ph.D., M.A., and B.A., all from the University of Georgia. Elder's 2017 dissertation, "Married to the Confederacy: The Emotional Politics of Confederate Widowhood," was awarded dissertation prizes from the Southern Historical Association and the St. George Tucker Society. The manuscript is currently under contract with the University of North Carolina Press.
Elder's classes span many topics across American history, but a student favorite remains "Timeless: Hollywood, Time Travel, and American History," based on NBC's award-winning show. Converse students and faculty alike recognize Elder's excellence in the classroom and awarded her the 2018 Faculty Involvement and Collaboration Award and the 2019 Joe Ann Lever Award of Excellence.
Elder is involved extensively on the Converse campus, including serving on the Faculty Development Committee and the Diversity Advisory Committee. In 2019, she co-created "Celebrating Courage, Charting the Future: Commemorating 50 Years of Black Women at Converse," a student exhibit including over 35 oral history interviews with Black alumnae, thousands of yearbook images spanning over 120 years of Converse's history, newspaper records, material culture, and more.
"Dr. Elder personally engages each student and teaches them to how to use primary resources to not only learn history, but to contextualize and understand the impact events had on people and communities," said Converse President Krista Newkirk. "She is dedicated to building a curriculum that embraces the diversity of perspectives and experiences. She was an easy selection for this award." Converse Provost Jeffrey H. Barker adds "Dr. Elder is a truly innovative teacher who inspires her students to make history come alive in the classroom and in the community."