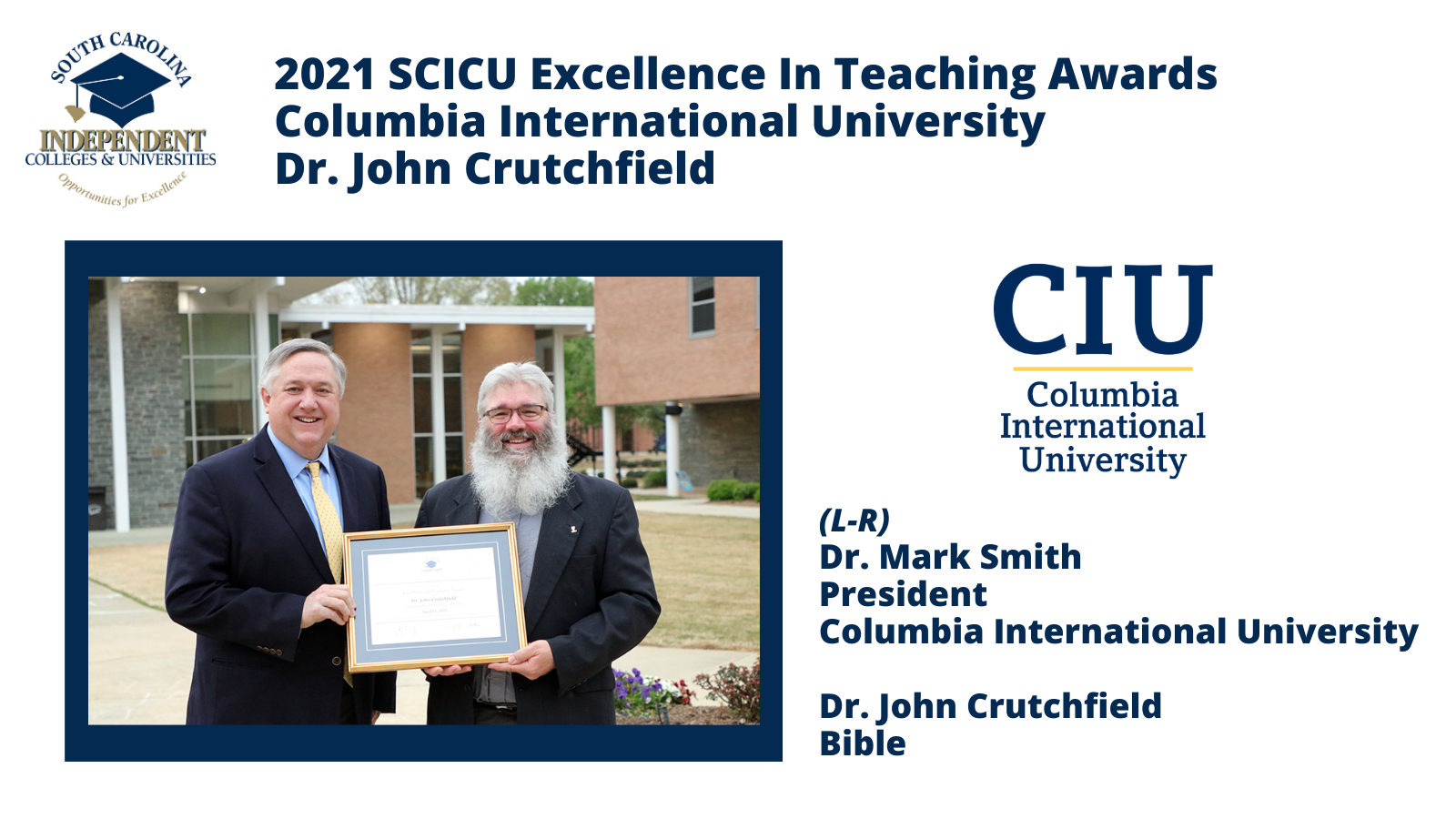 Dr. John Crutchfield, a 20-year member of the Columbia International University faculty, is the 2021 SCICU Excellence in Teaching honoree for CIU. He serves as professor of Bible in the College of Arts and Sciences. Crutchfield holds a Ph.D. from Hebrew Union College-Jewish Institute of Religion (Ohio). His dissertation at Hebrew Union College, entitled "Circles of Context: An Interpretation of Psalms 107-118," was published by Paternoster Press in 2000. Crutchfield also earned an M.A. in Hebrew Old Testament and a B.A. in Bible and Humanities, both from Columbia International University.
Crutchfield's CIU course load includes Survey of the Old Testament, Biblical Hermeneutics, and the Old Testament books of Exodus, Job, Psalms, Proverbs, Ecclesiastes, and Jeremiah and the New Testament book, Gospel of Matthew.
In addition to his CIU teaching responsibilities, Crutchfield's publishing experience includes serving on a committee of the Anglican Church of North America (ACNA), which produced the "New Coverdale Psalter," a revision of the traditional "Coverdale Psalter," for inclusion in ACNA's 2019 "Book of Common Prayer."
Crutchfield is an ordained Anglican clergyman and has served two churches in Ohio. He is currently an assisting priest at Church of the Apostles in Columbia, S.C. Crutchfield was a visiting professor at New Life Bible College in Moscow (Russia) in 2000, and has served as a visiting professor at Lanka Bible College and Seminary (Sri Lanka) on several occasions.