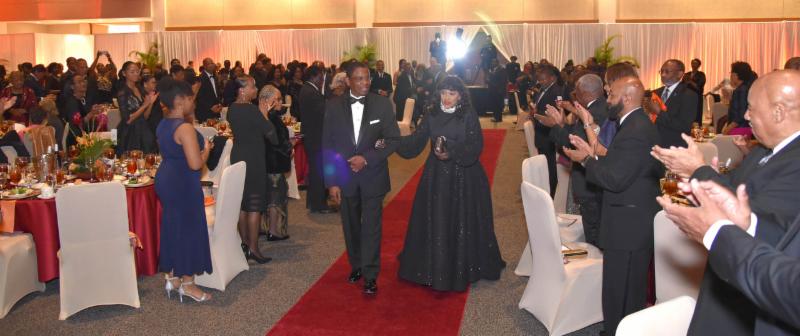 ORANGEBURG, SC (courtesy claflin.edu) — "When I accepted the president position in 1994, I stated and I will reiterate the exact words – my vision is for Claflin to be a premier liberal arts institution in the Southeast Region – an institution of the highest quality that demonstrates its commitment to excellence in carrying out our mission by being and doing the best she can with what she has and by continuously striving for better," said Claflin President Henry N. Tisdale on Monday, April 1, during A Legacy of Visionary Leadership Gala which served as a tribute to the extraordinary leadership and service Tisdale and his wife, First Lady Alice Carson Tisdale provided Claflin for 25 years. Tisdale announced last spring that effective June 30, 2019, he will retire as Claflin's eighth president.
"Today, as we celebrate the University's 150th anniversary, Claflin is experiencing phenomenal transformation in all areas," Tisdale said. "And our commitment to excellence is articulated in our current vision that Claflin University will be recognized as a leading 21st Century institution of higher education that develops a diverse and inclusive community of globally engaged visionary leaders."
Approximately 700 Claflin University alumni, staff, faculty, students, corporate and community supporters attended the affair which was held at the Columbia (SC) Metropolitan Center. A host of elected officials, prominent educators, and leaders of faith-based, and civic organizations were also present to congratulate the Tisdales on their remarkable leadership of more than two decades. In his absence, U.S. Majority Whip, Congressman Jim Clyburn sent a messageexpressing his admiration of the Tisdales.
During the VIP Reception, the Honorable Stephen Benjamin, mayor of the City of Columbia, declared it Henry N. Tisdale Day and presented him with a citation and keys to the city. Senator Reginald Thomas also presented with the Honor of Kentucky Colonel on behalf of the Governor of Kentucky, the Honorable Matthew G. Bevin.
Dwayne Bryant, founder and CEO for Innervision International, Incorporated, was the master of ceremonies. Grammy-nominated jazz and R&B artist Najee was the headline performer. He displayed his versatility and talent on the flute and the saxophone with a broad selection of both soulful and up-beat melodies. Claflin University's Jazz Ensemble and The Friends Band featuring Fred and Bunny Jones, a local R&B, jazz and pop group, were the gala's other musical guests.
"Claflin was an outstanding institution when Dr. Tisdale and Alice Carson Tisdale arrived but they have taken the University to incredible heights," said John Lafitte of Ricoh USA. "They transformed Claflin into one of the nation's best universities not only among HBCUs but among all colleges and universities. Their commitment to the students is what impresses me the most about them. They will do what's necessary in the best interest of the students and the University."
Mrs. Janice W. Marshall, '70, led the audience in a toast to the Tisdales. Marshall, who serves on Claflin's Board of Trustees, was chair of the Gala Planning Committee.
"Claflin's success is reflected in the standards President Tisdale and First Lady Alice Carson Tisdale set for themselves," Marshall said. "Tonight, we are paying tribute to a true standard bearer whose vision positively impacted, influenced and inspired this great institution. We thank the Tisdales for leading the way and charting the course to make Claflin what it is today."
The highlight of the occasion occurred when the members of the Board of Trustees presented Dr. Tisdale and Claflin University an over-sized check which represented the $250,000 raised by the gala to support the Henry N. and Alice Carson Tisdale Endowed Scholarship Fund.
"I thank God for ordering our steps and giving me such a gifted and beautiful partner," Tisdale said. "I want to take this occasion to express my gratitude to my wife of more than 40 years and the director of the Alice Carson Tisdale Honors College for 25 years, and our family for being here to share this special time with us. And, while Alice and I take credit for this fundamental transformation, we know that's due in measure to the unconditional support of the inspired women and men who work for us. Therefore, we accept this very high recognition and honor on behalf of Team Claflin" he said.
Joan Steward Stevens, '70, said that as a member of the Board of Trustees and an alumnus, she is extremely proud of the national recognition and impressive accolades her alma mater has received during President Tisdale's tenure.
"Dr. Tisdale had a vision and he had a plan for accomplishing his vision," she said. "A lot of people have a vision but for some reason they never achieve the goal. Dr. Tisdale knew it was not going to happen overnight, but he had a plan to move Claflin to becoming a premier university – and that's what he did."