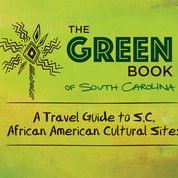 COLUMBIA, SC (courtesy thestate.com) — Allen University, Benedict College, and Claflin University are featured in the newly-released Green Book of South Carolina mobile guide, which guides tourists of all races and cultures to more than 300 historically significant African-American sites in the Palmetto state.
In 1936, the original Green Book guided African-American travelers to safe harbors and welcoming establishments across the United States. The new Green Book of South Carolina mobile guide debuted April 30, 2017.
"Our guide acknowledges the early experience for African-American travelers, but also shares the promise of what African-Americans can find in South Carolina today," said Dawn Dawson-House, director of corporate communications at the S.C. Department of Parks, Recreation and Tourism and a key adviser to the Green Book of South Carolina project.
The Green Book of South Carolina is the first mobile web travel guide to African-American cultural sites across the state, created by the S.C. African-American Heritage Commission.
The purpose is to increase awareness of the state's African-American tourism destinations and encourage travelers to become immersed in compelling stories of African-Americans in South Carolina.
"We want travelers to discover the under-told and hidden gem-type stories," Dawson-House said.
The free mobile travel guide includes hundreds of listings, sites on the National Register or designated with a state historic marker. It covers every county in South Carolina and includes churches (including brush arbors and praise houses), schools, cemeteries, homes and more.
Each entry includes a narrative defining the historic significance of the site, images and directions on how to reach it.
"With the Green Book of South Carolina mobile travel guide, the S.C African-American Heritage Commission is introducing a game changer for cultural tourism to South Carolina," said S.C. Sen. Vincent Sheheen, who championed the project in the Legislature. "This is one of the first statewide mobile travel guides to African- American heritage and cultural destinations to be produced by a state anywhere in the U.S., and it is positioned to increase even further the $2.4 billion annual economic impact of African-American tourism in our state."
Members of the S.C. African-American Heritage Commission have volunteered hundreds of pro bono hours on the Green Book of South Carolina project. It has generated excitement within the commission as well as in the public.
"It resonates with people," said Louis Venters, an associate professor of history at Francis Marion University and a member of the commission.
"This will be something easy to use, something that will bring this rich heritage to life," Venters added. "You can take it with you anywhere you go."
No matter where travelers are in South Carolina, the mobile guide can direct them to an historic African-American site.
"It's not just the places where people are already primed to go," Venters said. "This guides them to find the hidden gems."
African-Americans have played a vital part in South Carolina history. "Black history needs to be at the forefront if you want to tell the whole story of who we are," Venters said. "The diverse experience of black people in South Carolina has to be a part of the discussion."
The South Carolina African-American Heritage Commission, founded as a council in 1993 as an affiliate of the S.C. Department of Archives and History, is tasked with identifying and promoting the preservation of historic sites, structures, buildings, and culture of the African-American experience in South Carolina.
The commission is made up of about 30 volunteer professionals from the fields of historic preservation and interpretation, education, tourism marketing, business development and the arts.
"The richness of South Carolina is related to the diversity of our citizenship, and it's incredibly important that we acknowledge the role that the African-American community has played in the development of our state," said former S.C. Governor Jim Hodges, who established the council as a commission in 2001. "It's made South Carolina a richer place in terms of our culture, and it's made it a special place to live. The Green Book of S.C. mobile travel guide will enable visitors and residents to explore the rich history of South Carolina in a convenient way."
Commission members spent many hours making sure the information in the mobile guide is complete and accurate.
"We want to make sure we send people to the right sites and that the stories we tell are are completely accurate and as compelling as they can be," Venters said.
Some sites are simply markers, and visitors need to use their imagination to envision the history.
"They can get a sense of place but they can't see it with their eyes," Venters said. "So the description we provide needs to be good enough to carry the visitor there to experience it."
While it's an invaluable guide for today's travelers, it's also preserving history for future tourists.
"The appeal is not just to the generation before us, but for generations after us, to understand the full story of South Carolina," Dawson-House said.
HOW TO ACCESS THE GREEN BOOK OF SOUTH CAROLINA:
The mobile guide is free and can be located via the following:
Facebook: https://www.facebook.com/GreenBookofSC/
Read more here: http://www.thestate.com/entertainment/local-events/article147170499.html#storylink=cpy