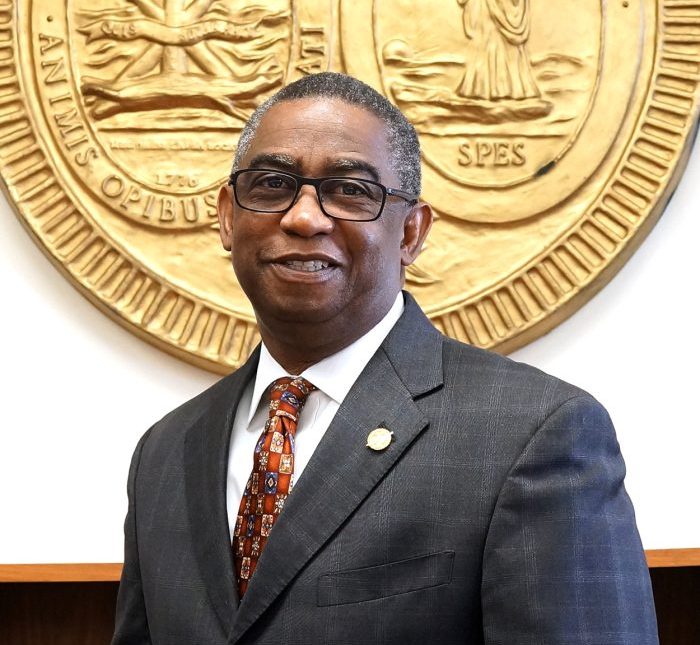 Senator John L. Scott, Jr.
Democrat – Richland County –
First elected to the S.C. Senate in 2009 –
Senate Committee Assignments:
Banking and Insurance, Education, Finance (Higher Education Budget Subcommittee), Labor, Commerce and Industry, Legislative Oversight, and Medical Affairs
Previously served in the S.C. House of Representatives 1990-2008
President – C & S Consulting Group, Inc.
Broker-in-charge – J.L. Scott Realty Company, Inc.
2017 SCICU Legislative Champion
SCICU's 21 member colleges and universities are deeply grateful for the tremendous support we receive from the South Carolina General Assembly. In our newsletter we will feature members of the General Assembly who are notable for their affiliations with and encouragement of independent colleges and universities in the state.

We are honored to feature Senator Scott in this month's SCICU Legislative Spotlight. We asked Senator Scott seven questions about himself, his career, and the role higher education played in it.

1. Why did you go to college?
I'm a fourth-generation businessperson, but the first to attend college. My father was a successful grocer whose goal was for all six of his children to attend college. And his goal was accomplished, because we all attended and graduated from college.
2. Do you have a particular professor or class that made an impression on you? If so, how?
Dr. Barbara Adams was a professor at S.C. State University who taught me accounting. Although she recently retired from teaching, she continues to have a reputation as a strict, but fair professor. She taught all levels and was very demanding but got the best out of us. She helped expand my universe and think about how to operate in the grand scheme of things. And now she will lead S.C. State's Innovation Institute – Business Science, Environmental Science, Communication Studies, and Transportation (BECT).
3. Why did you decide to become a state legislator?
From the start I thought it was important to be involved in the community, through organizations like the Urban League, NAACP, and Boy Scouts.
By the time I was 32 I had realized success in business and felt it was time to give back through public service. First, I was on county council, becoming Vice Chair. I was later elected to the S.C. House of Representatives and then the Senate, where I've been proud to serve for the last 13 years. And I'm proud to represent the community I grew up in. Of all the communities I represent there isn't one I wouldn't live in.
4. Of what achievement in the General Assembly are you most proud?
I'm very proud of the role I played in creating the state Lottery, which I worked on for 20 years, and the legislation expanding broadband coverage in South Carolina — the final negotiation for which took place right here in my office. I would also include the creation of Innovation institutes at HBCUs that will serve to connect big companies with smaller schools, to the benefit of students and the surrounding communities.
5. Why are SCICU member institutions important to the future of South Carolina?
Not all students will succeed at a big university, especially students from rural areas. SCICU colleges and universities offer smaller learning communities that can nurture the success of students and preparing them to work in bigger organizations.
6. You're a prominent legislator and have realized success as a real estate broker and consultant, but if you could pick another job, what would it be?
I've already pursued several business opportunities – when I really wanted to do something, I did it! For example, I've traveled extensively in the United States and abroad.
7. What advice do you have for students attending SCICU member institutions?
You can do anything you want, but you must take your college work seriously. Spend your time researching and learning, and if you want to grow as a person you need to move beyond your social circles and out of your comfort zone. But that doesn't mean you have to be the life of the party. Work hard and you'll be the party.