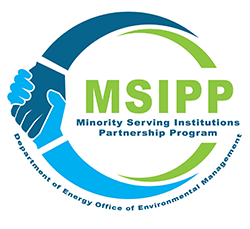 WASHINGTON, D.C. (courtesy energy.gov) — The U.S. Department of Energy (DOE) announced Nov. 7 $30 million in financial assistance grants to Minority Serving Institutions (MSI) in South Carolina, Tennessee, and Washington. These grants, distributed by DOE's Office of Environmental Management's (EM) Minority Serving Institutions Partnership Program (MSIPP), will help develop highly qualified science, technology, engineering, and math (STEM) students and foster a well-trained, technically skilled, and inclusive workforce. By advancing the education and training of a culturally diverse workforce of scientists, engineers, and managers, MSIPP builds upon the Biden-Harris Administration's efforts to increase the participation, leadership, and success of students from underrepresented and historically marginalized communities.
"Leveraging the full potential of America's best and brightest means including students from every pocket of the nation, and of all races and ethnicities," said U.S. Secretary of Energy Jennifer M. Granholm. "With today's investments, DOE is following through with our previously announced commitments to MSIs to remove barriers and unlock opportunities for millions of Americans — inspiring the next generation of science and technology leaders and positioning America to lead the world in the industries of the future, from artificial intelligence and clean energy to quantum computing and advanced engineering."
Established in 2014, MSIPP promotes the education and development of the next generation workforce in critical STEM related disciplines that support EM's mission. MSIPP grants assist MSIs, including Historically Black Colleges and Universities, Hispanic-Serving Institutions, and Tribal Colleges and Universities, efforts to build competitive academic STEM programs and to purchase the tools and equipment necessary for scientific learning. The technical, scientific, and life skills provided to students through MSIPP helps contribute to safe and clean environments in communities across the country and translates into real world experience and good-paying job opportunities. The grants announced today support President Biden's commitment to fulfill our nation's responsibilities to address the Cold War environmental legacy resulting from five decades of critical defense and nuclear research missions and support communities directly impacted by them.
The $56 million received from the Fiscal Year 2022 budget allows DOE to further its mission to build a highly skilled and diverse workforce from roughly 700 MSIs, while removing inequitable barriers to advancement and development opportunities.
The MSIs selected to receive the MSIPP grants include:
Claflin University in partnership with 7 other MSIs in the state of South Carolina (Award amount: $20 million):
Allen University
Benedict College
Clinton College
Denmark Technical College
Morris College
South Carolina State University
Voorhees University
Tennessee State University in partnership with 2 other MSIs in the state of Tennessee (Award amount: $5 million):
Fisk University
Meharry Medical College
Northwest Indian College (NWIC) in Washington (Award amount: $5 million)
The award to NWIC is a major investment in the community and enhances opportunities available to Tribal students. Over 75% of NWIC students come from federally-recognized Indian Tribes, representing over 90 different Tribal nations. To allow for better integration and alignment of the DOE Environmental Management-related work with student efforts, the grants announced today are within proximity to existing DOE Environmental Management sites (the Hanford Site in Washington, the Oak Ridge Site in Tennessee, and the Savannah River Site in South Carolina).
More than 100 research contracts involving more than 450 students in research projects have been granted under MSIPP since 2014. To date, MSIPP has supported 62 universities and colleges across 22 states, Washington, D.C., and Puerto Rico.
EM plans to continue efforts of addressing the need for building and maintaining a well-trained, technically skilled, and diverse workforce by promoting the education and development of the next generation workforce in STEM, cybersecurity, and additive manufacturing disciplines through MSIPP.
Learn more about MSIPP and how DOE is working to develop the next generation of leaders here.