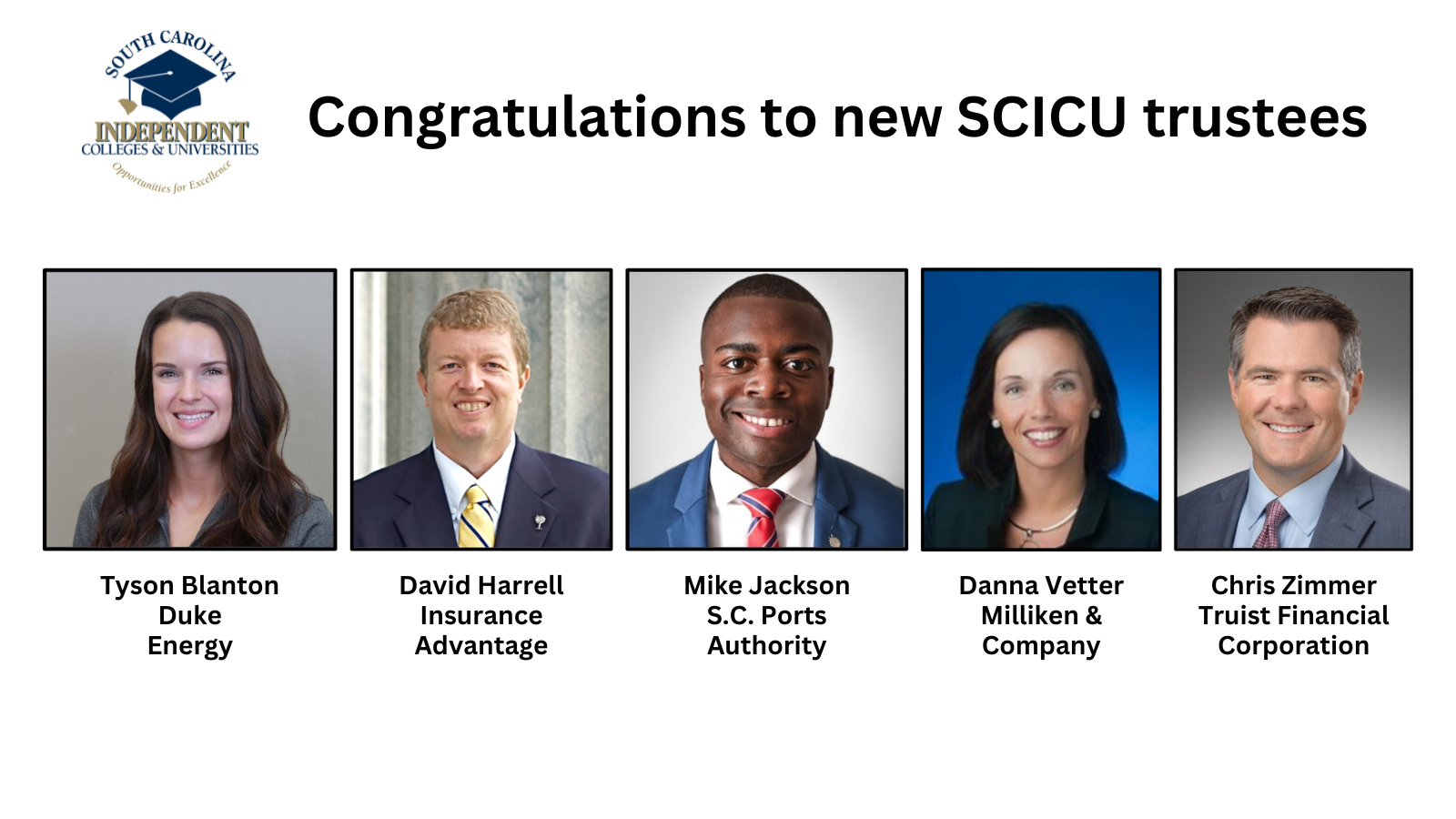 COLUMBIA, S.C. — The SCICU board of trustees elected five new trustees and re-elected its board chair and chair-elect at its Oct. 13 board meeting hosted by Benedict College.
Lucy Grey McIver, deputy general counsel with BlueCross Blue Shield of South Carolina, began her second year of a two-year term as board chair. Willis Cantey, president and CEO of Cantey Tech Consulting, started his second year of a two-year term as the board's vice chair and chair-elect.
The five new trustees represent diverse South Carolina industries ranging from global manufacturing and chemicals to financial services.
"The Class of 2025 trustees brings an expansive depth and breadth of expertise and community service to the SCICU board," said Jeff Perez, SCICU president and CEO. "We look forward to adding their engagement and enthusiasm to the board."
The Oct. 13 board meeting marked SCICU's first in-person fall meeting since 2019. Spring and Fall board meetings were held virtually in 2020 and 2021 due to Covid-19 precautions. Bob Jones University hosted SCICU's return to in-person board meetings in 2022 with a March 10 meeting on their campus.
The five newly-elected trustees will serve a three-year term and will select committee service in the areas of development, finance, or public policy. SCICU is pleased to announce the following new board members:
Tyson Blanton – Duke Power, District Manager-Government and Community Relations (Kershaw)
David Harrell – Insurance Advantage, Founding Partner (Lexington)
Mike Jackson – S. C. Ports Authority, Manager-Federal and State Government Strategy (Columbia)
Danna Vetter – Milliken & Company, Chief Marketing Officer and Senior Vice President-Communications (Spartanburg)
Chris Zimmer – Truist Financial Corporation, Columbia Market President and Senior Vice President (Columbia)
Bios and photos for the new trustees may be read and viewed here.
Six existing trustees were nominated and elected for a second consecutive three-year term on the SCICU board. These trustees will continue to serve on the board through August 31, 2025 and include:
Scott Hagler –Security Federal Bank, Midlands Market President (Columbia)
Annie Ham – Sonoco Products Company, Business Development Manager (Florence)
Spencer Jordan – S.C. Independent Schools Association, Executive Director (Orangeburg)
Robert McKie – Dominion Energy, Technology Consultant (Columbia)
Brent Weaver – Wells Fargo, Vice President-Government Banking (Lexington)
Sharon Williams – S.C. Bar Association, Consultant (Columbia)
SCICU is grateful for the service of the following outgoing trustees:
Valerie Harrison – Harrison EdSource, Educational Consultant (Orangeburg)
John Moore – MTM Investment Management, President/Chief Compliance Officer (Spartanburg)
Leigh Ann Puryear – Duke Energy-South Carolina, Community Relations Liaison (Greenville)
Chris Ruh – Williams & Fudge, Executive Vice President (Rock Hill)
Candace Shiver – The Shiver Group, CEO (Columbia)
Please click here to review the SCICU Board of Trustees roster for Fiscal Year 2022-2023.
North Greenville University President Gene Fant will a serve two-year term as chair of the SCICU Council of College Presidents. The SCICU Council of College Presidents comprises the presidents of the 21 SCICU member institutions.
Dr. Fant will serve on the SCICU Executive Committee with the following college and university presidents appointed at-large for two-year terms:
Dr. Dondi Costin, Charleston Southern University
Dr. Darrell Parker, Limestone University
Dr. Leroy Staggers, Morris College
Lucy Grey McIver, SCICU board chair, also announced the following committee appointments:
Development Committee
Chair: Trey Simon – S.C. Student Loan Corporation, President and CEO (Columbia)
Vice Chair: Michael Allen – MOA Architecture, Inc., Founder and CEO (Greenville)
Finance Committee
Chair: Ben Porter – First Citizens Bank, Senior Vice President-Commercial Banking (Spartanburg)
Vice Chair: Steve Hall – FGP International, Vice President-Business Development (Greenville)
Public Policy Committee
Chair: Ted Gentry – Attorney, Wyche, P.A. (Greenville)
Vice Chair: Brandolyn Pinkston – Retired Consumer Affairs Administrator (Columbia)
Pursuant to the SCICU By-Laws, Lucy Grey McIver will serve as chair of the Audit Committee and Immediate Past Chair Jerry Cheatham will chair the Nominating Committee.
"I am honored to serve as chair of SCICU, which, for nearly 70 years, has been advocating for and championing the success of private colleges and universities in South Carolina," said Lucy Grey McIver. "I am deeply grateful for the committee leadership, and new and current trustees, for their commitment to SCICU. We have important tasks ahead of us in FY 2022-23, and with our campus presidents, trustees, and the SCICU staff, I trust that we will meet and exceed our goals."