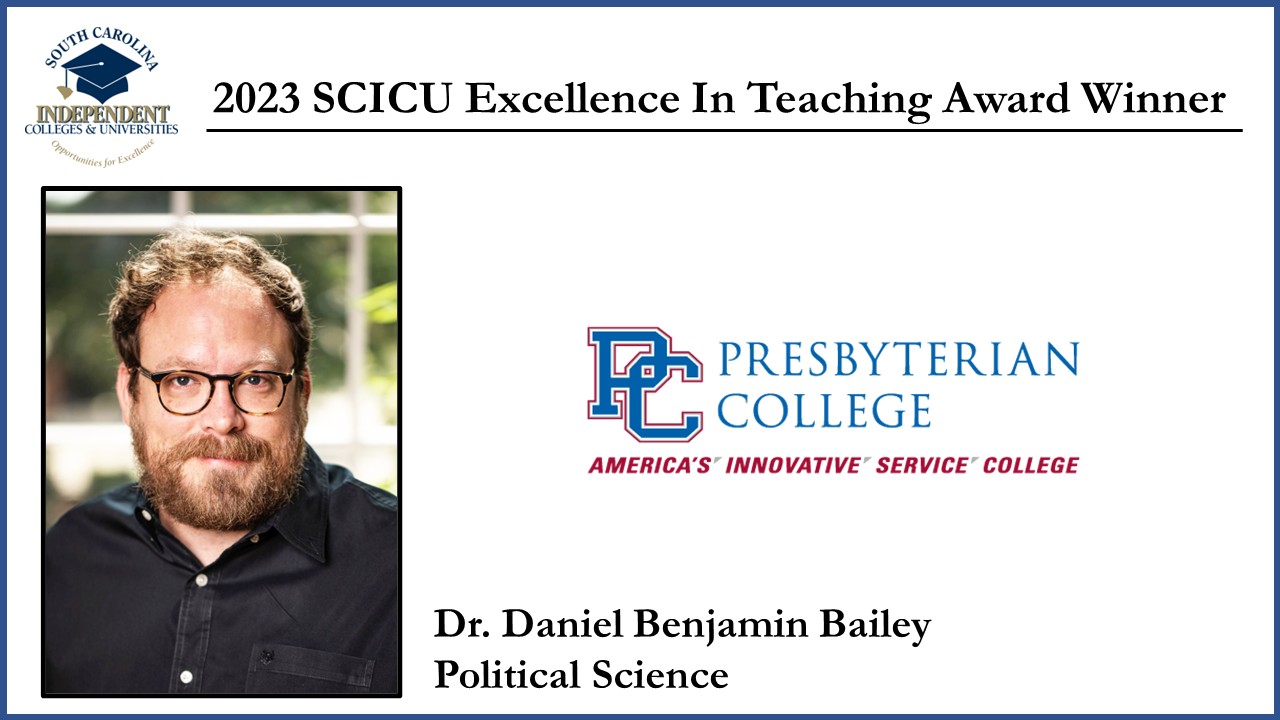 Dr. Daniel Benjamin Bailey
, an associate professor of political science and the director of public health studies, is Presbyterian College's 2023 SCICU Excellence in Teaching award winner. He received his Ph.D. in political science from Texas Tech University (Lubbock, Tx.) in 2017, a Master of Arts in political science from Northeastern Illinois University (Chicago) in 2011, and a Bachelor of Arts in German from Texas Tech University in 2003. Bailey's dissertation examined the political, economic, and social factors that influence groundwater conservation policy on the Great Plains of the United States.
Bailey joined the Presbyterian College faculty in the fall of 2018. At PC he teaches courses in the areas of state and local politics, public policy and administration, methodology and analysis, and public health. Bailey's research focuses primarily on the intersection of local sustainability policy, public health, land use, and politics. His work has been published in the Review of Policy Research, the Journal of Environmental Planning and Management, Political Behavior, The Social Science Journal, and others.
Getting students out of the traditional classroom and engaging with the local Clinton community in various projects are among Bailey's passions. Bailey has collaborated with PC President Matt vandenBerg in teaching the Service Entrepreneurship in Action class. Recognizing that the success of PC and the City of Clinton are intertwined, Bailey, vandenBerg, and students are working on a service/social entrepreneurship incubator in downtown Clinton. Redevelopment of area public parks is also a goal.
Outside the classroom Bailey is Presbyterian's S.C. Student Legislature faculty advisor and he serves on the Faculty Scholarship Committee and Honor Council. Bailey's community involvement includes serving as the chair of the Laurens County Commission on Alcohol and Drug Abuse since 2021.