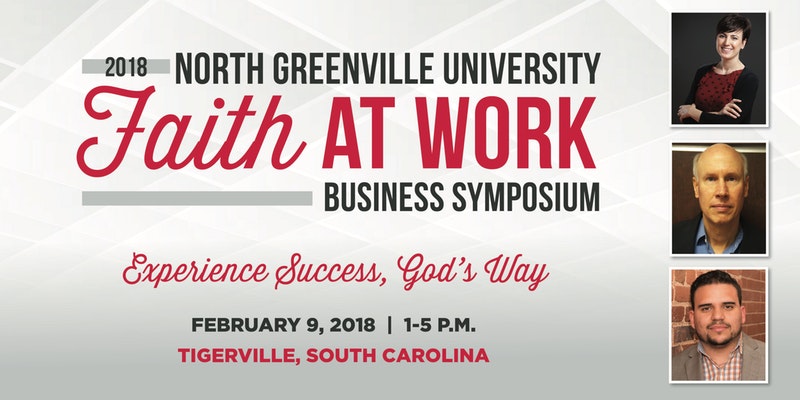 North Greenville University is pleased to host its third annual Faith at Work Business Symposium to be held on the NGU campus from 1:00 p.m. to 5:00 p.m. on Friday, Feb. 9, 2018. Open to all students, faculty, and community, the Symposium is comprised of a series of lectures by three Christian business professionals.
Speakers for the 2018 Symposium include Brandy Hart Amidon ('02), First Female Mayor of Travelers Rest, SC, David Barge, CEO, Barge Timberland Management, Inc., and Ramon Nieve-Lugu, Principal, Unicomm Media Group.
Faith at Work gives the speakers an excellent opportunity to share their experiences as Christian business professionals who integrate Christ-centered values in business with students and local business leaders.
"We are delighted to again share this event with all students, faculty, and the community inasmuch as it is a significant part of North Greenville University to not only prepare young men and women to excel within society and within their professional lives," said Dr. Ralph Johnson, Dean of the College of Business and Sport Professions. "It is of paramount importance to us that we also empower these young men and women as graduates to make their faith walk an important component of the way in which they interact and make a difference within their spheres of influence."
The event is free and registration is available on Eventbrite. For more information contact Symposium organizer Jason Ross at 864.977.7026.