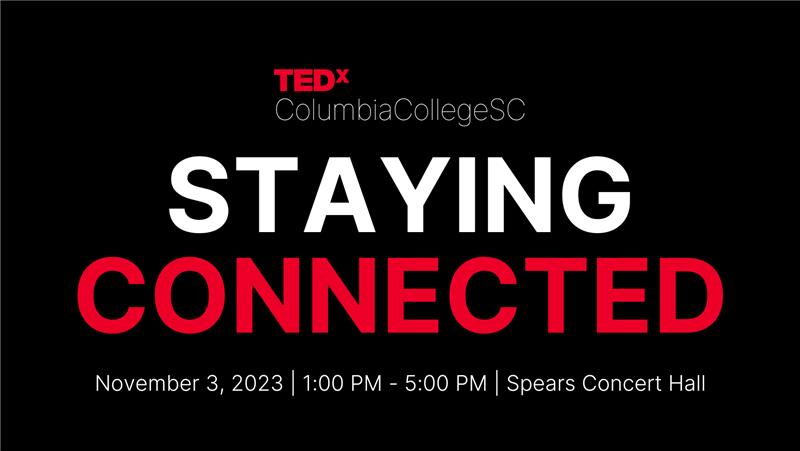 COLUMBIA, S.C. (courtesy columbiasc.edu) — Get ready for an incredible lineup of speakers at TEDxColumbiaCollegeSC! TEDxColumbiaCollegeSC is a local, independently organized event curated by the Columbia College TEDx team. Our goal is to create a TED-like experience here in Columbia with an event consisting of student, faculty, staff, alumni, and local speakers giving their own TEDx talks to an eager audience. At its core, the fundamental goal of TED and TEDx is to spread great ideas, mostly through TED talks. We hope these talks will touch upon topics that impact our local community directly while also being of interest to a global audience.
On Friday, November 3, 2023, from 1:00 PM – 5:00 PM in Spears Concert Hall, join us and 11 speakers who will share their inspiring ideas on the theme of "Staying Connected." Brace yourself for thought-provoking talks that will ignite your curiosity and challenge your perspectives. These incredible individuals are ready to take you on a journey of discovery, exploration, and connection. They'll shed light on the power of staying connected in today's fast-paced world.
The lineup:
Dr. Wendy Harriford Platt: Mastering Life's Rhythm: Embracing Success and Failure
Wendy Johnson: Breaking Free from Anxiety: Cultivating Egalitarian Relationships for a Brighter Future
Stephen Campolo: Perfection is Killing Your Progress
Amanda Ling: Unveiling the Spirit Realm: A Journey Through Ghost Stories and Dance
Matthew Wooten: Life As A Black Autistic Male
Angelica Gantt, MBA: Embracing Financial Manifestation
Dr. DeShanna Reed: Exposure without Exclusion: Capitalizing on Concentric Circles of Post-Secondary Support for the Differently-Abled
Marta Ravin: Connection is the New Currency: Unlocking Human Potential in the Workplace
Connie Johnson: From Crisis to Catalyst: Embracing Solutions in Disenfranchised Communities
Dr. Jennifer Raasch & Emily Hall: From Funneling to Flourishing: Cultivating Servant Leaders Among Students
Don't miss this opportunity to be part of a transformative experience! Secure your spot and join us on November 3rd for a day of enlightenment and connection. Get ready to be inspired, motivated, and connected!
Click here to reserve your spot.
This independent TEDx event is operated under license from TED.
What is TEDx?: In the spirit of ideas worth spreading, TED has created a program called TEDx. TEDx is a program of local, self-organized events that bring people together to share a TED-like experience. Our event is called TEDxColumbiaCollegeSC where x = independently organized TED event. At our TEDxColumbiaCollegeSC event, TEDTalks video and live speakers will combine to spark deep discussion and connection in a small group. The TED Conference provides general guidance for the TEDx program, but individual TEDx events, including ours, are self-organized.
About TEDx, x = independently organized event
In the spirit of ideas worth spreading, TEDx is a program of local, self-organized events that bring people together to share a TED-like experience. At a TEDx event, TEDTalks video and live speakers combine to spark deep discussion and connection in a small group. These local, self-organized events are branded TEDx, where x = independently organized TED event. The TED Conference provides general guidance for the TEDx program, but individual TEDx events are self-organized. (Subject to certain rules and regulations.)
Team
Student Committee Members
Argyro Bofilios
Payton Brookover
Lee Catoe
Xavier Linen
Lisa Londono
Jzurnee Myers
Rion Skinner
Staff Committee Member