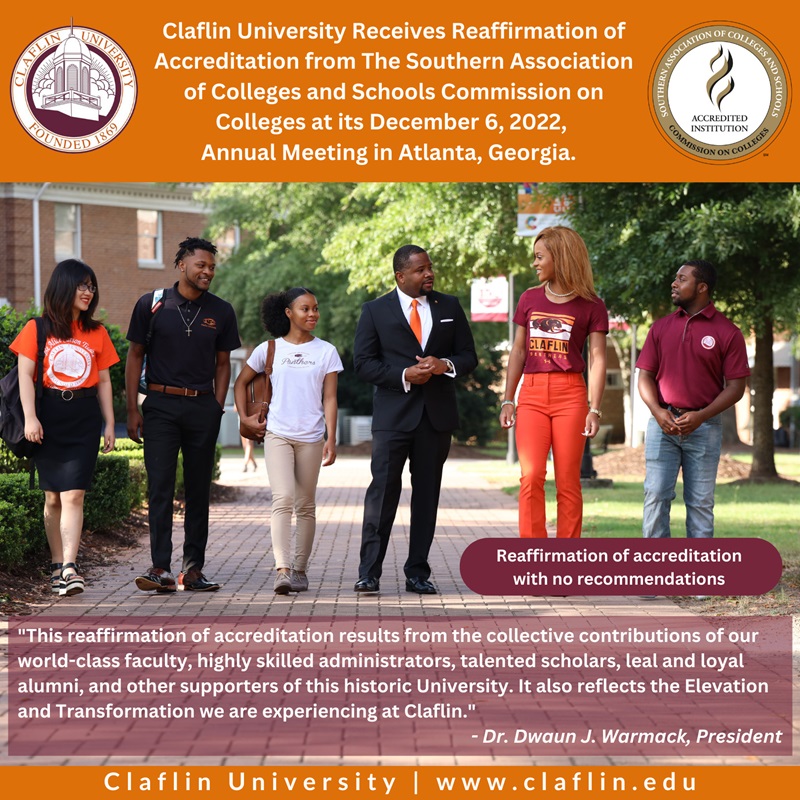 ORANGEBURG, S.C. (courtesy claflin.edu) — Claflin University has received reaffirmation of accreditation from The Southern Association of Colleges and Schools Commission on Colleges (SACSCOC) following a rigorous evaluation of the university's on-campus and online academic programs. SACSCOC is the body for the accreditation of degree-granting higher education institutions in the Southern states.
"This reaffirmation of accreditation is the successful culmination of a process that began in January 2020," said Claflin President Dr. Dwaun J. Warmack.
"This reaffirms that Claflin is fulfilling its mission of providing students access to an exceptional academic, cultural, and spiritual experience that will prepare them to become globally-engaged visionary leaders. Our re-accreditation results from the collective contributions of our world-class faculty, highly skilled administrators, talented scholars, loyal alumni, and other supporters of this historic university. It also reflects the Elevation and Transformation we are experiencing at Claflin."
After being granted initial accreditation, new member institutions are reviewed for reaffirmation of accreditation after five years, then every 10 years thereafter. Claflin last received SACSCOC reaffirmation of accreditation in 2012. U.S. News and World Report has ranked Claflin in its list of the Top 10 HBCUs (Historically Black Colleges and Universities) for 12 consecutive years. The prestigious publication ranked Claflin No. 1 in Annual Alumni Giving Percentage for all HBCUs. Claflin was also ranked No. 20 in the Top Performers on Social Mobility category among national liberal arts colleges/universities. Claflin is among the colleges/universities that are more successful than others at advancing social mobility by enrolling and graduating large proportions of students awarded Pell Grants.
"I applaud the Reaffirmation Steering Committee and the Quality Enhancement (QEP) Committee for their diligence and commitment to organizing and submitting the necessary documentation during this process," Warmack said. "They also did an extraordinary job of preparing the campus community for a visit by members of SACSCOC's On-Site Review Committee."
Dr. Zia Hasan, vice president for institutional effectiveness, was chair of the Reaffirmation Steering Committee. Dr. Bridgette Dewees, assistant vice president for institutional effectiveness, was the chair of the QEP Committee.
SACSCOC serves as the common denominator of shared values and practices primarily among the diverse institutions in Alabama, Florida, Georgia, Kentucky, Louisiana, Mississippi, North Carolina, South Carolina, Tennessee, Texas, Virginia, and Latin America, and specific international sites approved by the SACSCOC Board of Trustees that award associate, baccalaureate, master's, or doctoral degrees.
To gain or maintain accreditation with the Southern Association of Colleges and Schools Commission on Colleges (SACSCOC), an institution must comply with the standards of the Principles of Accreditation: Foundations for Quality Enhancement and the policies and procedures of the Commission.