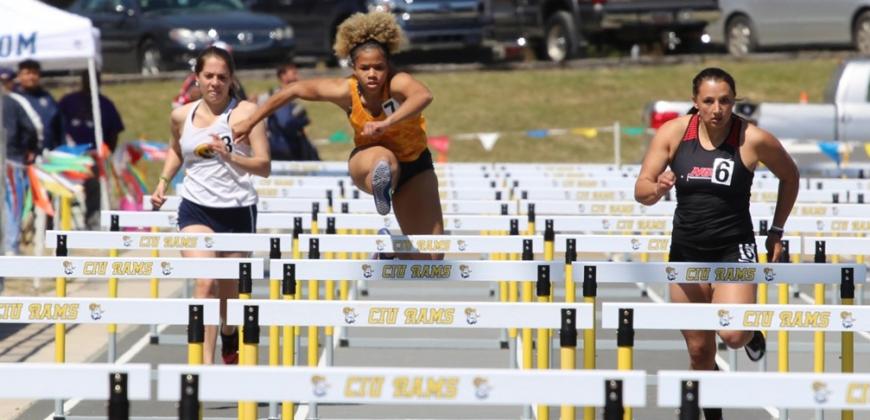 COLUMBIA, SC (courtesy ciu.edu) — The CIU Rams Invitational, Columbia International University's first home track and field meet in school history, embodied dedication, new beginnings and progress for CIU and its athletes. Athletes from 16 colleges and universities from around South and North Carolina travelled to Columbia March 23 for the historic event, including North Greenville University, Benedict College, Coker College, USC-Beaufort, St. Andrews University, Bob Jones University, Claflin University and Columbia College. For the competitors, a highlight was running on the new Olympic-style Mondotrack, designed to minimize injuries and increase athletic performance.
It was truly a momentous day for the Rams. Distance runner Janna Imes, a junior from Greenville, South Carolina was excited to be a part of something new.
"We are thankful for the top-of-the-line track and even more thankful for the encouraging community around us," Imes said. "Being on the track team is truly a blessing all around."
The seniors on the track and field team were honored with a framed team picture signed by all of the team's members. Sam Wammock, Michaela Warner, Blake Guillozet, and Michael Knight received their gifts amidst the cheers of family and friends.
Another runner, senior Michaela Warner from Colorado had mixed feelings as her college career draws to a close, but was excited to be running on the new track.
"On one hand, I'm sad that I won't be a part of this next adventure that's launching for the CIU cross country and track teams," Warner said. "On the other hand, I'm ready to move on, thankful for the lessons I've learned both on and off the track."
During an opening ceremony, CIU Track and Field Head Coach Jud Brooker said he is thrilled at how his team helped to make the day possible.
"They've been fundamental in getting this track built and by helping with fundraising for equipment and also by being a huge part of helping to build the track and field program," Brooker said. Turning to his team, he added: "We're so proud of each one of you."
The Rams men's team finished fourth at the meet, including Michael Knight running the best 5k in his collegiate career and breaking the school record with a time of 17:29. The women finished in seventh place.
CIU Assistant Athletics Director Kim Abbott prayed for the new track facility and for the program. It was under Abbott that the CIU athletics program began in 2012. She gathered all the team members around her, saying to the Lord:
"We thank you for the men and women who worked so hard to bring this facility to fruition. I thank you for the coaches, for the administration, and just for your church. We're so humbled and grateful to be the recipients of this great gift. Be with us especially today. May we glorify You in all that we do, in all that we say, and to You be the glory."
"We're excited to see how God uses this track and this team for His glory in the future," said Coach Brooker as the gun signaling the start of the first race rang out across campus.
Want to run with the Rams? Find your sport at rams.com including CIU's first baseball program.
Columbia International University is ranked #1 among colleges and universities in South Carolina by BestColleges.com. Request information on enrollment or call (800) 777-2227, ext. 5024.