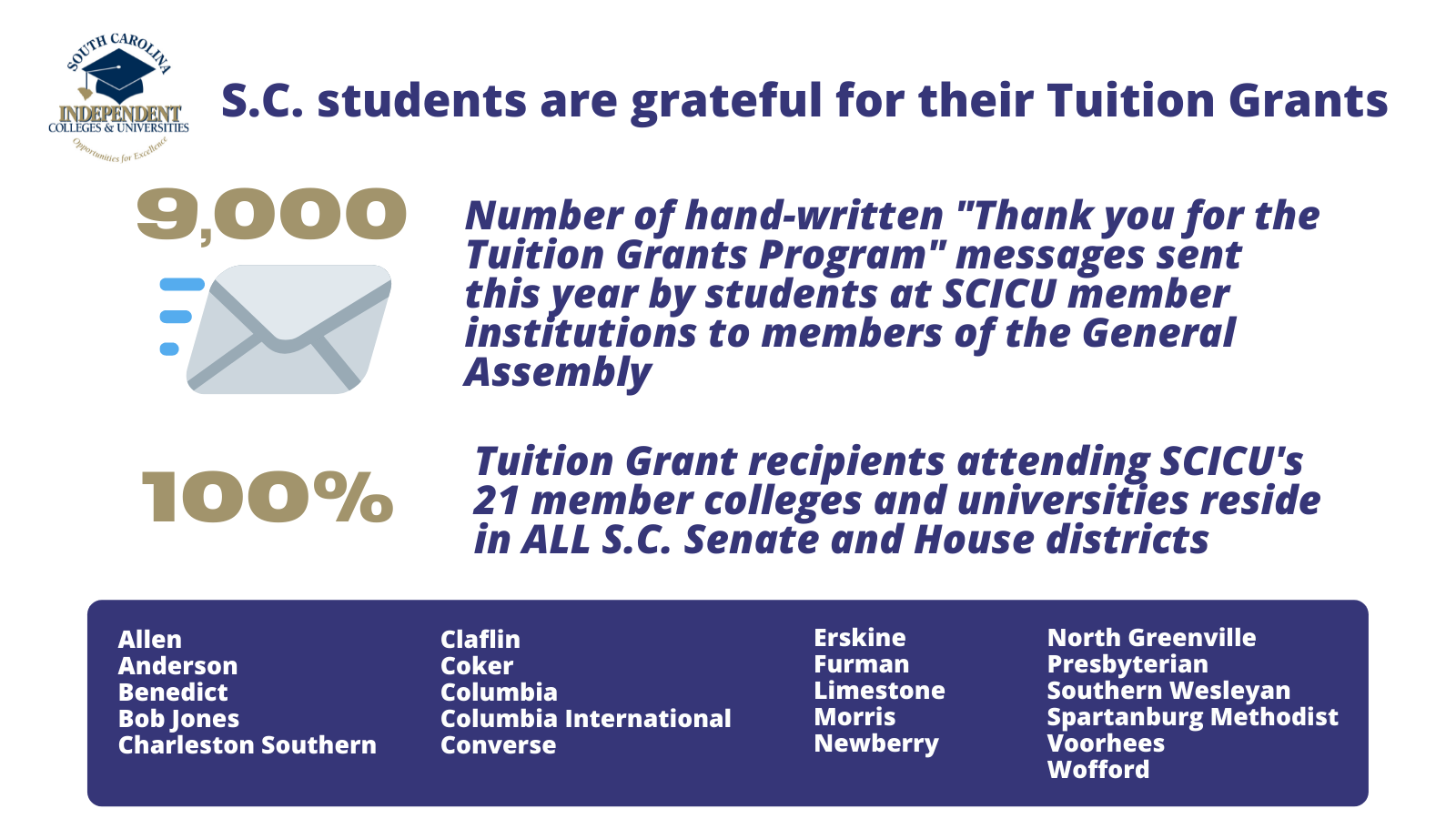 COLUMBIA, S.C. — Tuition Grant recipients and state merit scholarship recipients at SCICU's 21 member colleges and universities joined forces to send 9,000 thank-you letters to members of the South Carolina General Assembly during the 2022 session.
Allen University and Anderson University were honored Dec. 9 at the SCICU campus legislative coordinators luncheon in Columbia for their 2022 letter-writing campaign leadership. Allen achieved the highest percentage participation with 100 percent of their Tuition Grants recipients sending thank-you letters to their members of the S.C. House and Senate. Anderson students wrote 1,770 letters to their respective members of the General Assembly, higher than all other SCICU member colleges and universities.
The Tuition Grant letter-writing awards were a part of the Dec. 9 gathering that featured messages from S.C. Representative Chandra Dillard (D-Greenville), Jake Scoggins, assistant budget director for the S.C. Senate Finance Committee, S.C. Tuition Grants Executive Director Katie Harrison, and other guests.
"Our power is in the hand-written letters of appreciation from your students," said SCICU President and CEO Jeff Perez to campus legislative coordinators during the luncheon. "Rep. Chandra Dillard (D-Greenville), who also serves as Furman's director of community relations, will attest to the large impact of 9,000 letters. With funding pressure possible at any time, it's critical that we keep the message of thanks front-and-center with members of the General Assembly."
Campus legislative coordinators will begin working with Tuition Grants recipients in late January writing letters to their respective members of the House and Senate.
The letter-writing campaign will culminate with the 2023 Joint Higher Education Day at the S.C. State House on April 19. Learn more about the inaugural Joint Higher Education Day held in 2022 and enjoy photo highlights from the history-making collaboration between SCICU private colleges and universities, South Carolina's public two-and four-year universities, and the S.C. technical college system.