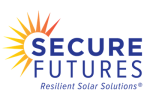 Short Business Description
Secure Futures combines state-of-the-art solar technology with an innovative business model to make commercial-scale solar power readily affordable in the Mid-Atlantic and Southeast, helping customers to realize the economic, environmental and community benefits of solar energy.
Long Business Description
Our solar energy systems protect against future electricity price increases through power purchase agreements and solar service agreements. We pass along tax savings to our tax-exempt customers and provide opportunities to purchase on-site solar arrays at fair market value after an initial period. We use high quality solar panels and other equipment while seeking to source labor and professional services locally.