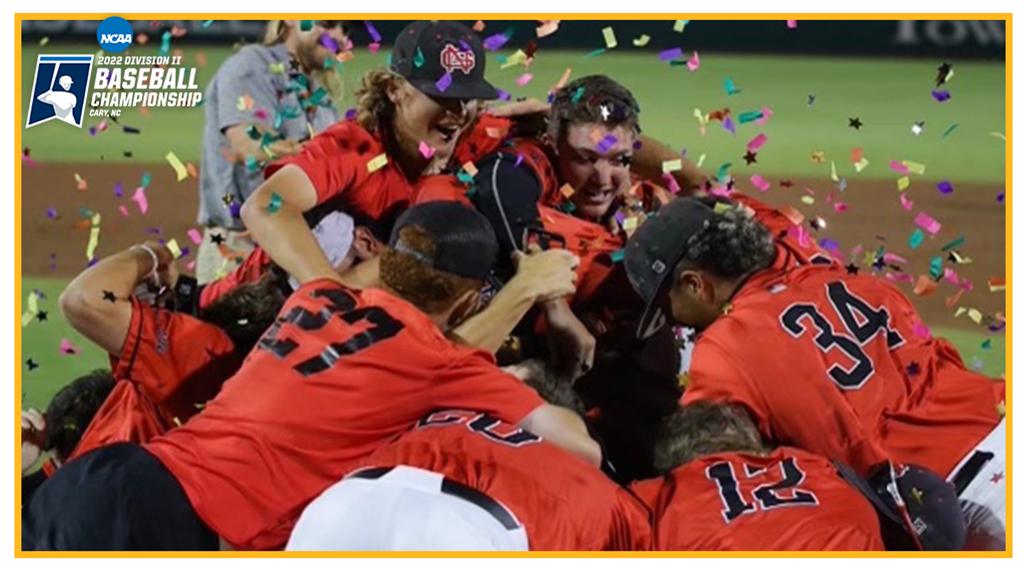 TIGERVILLE, S.C. (courtesy nguathletics.com and NCAA.com) — The North Greenville University Crusaders won their first-ever NCAA national championship in baseball with a 5-3 victory over the Point Loma Nazarine University Sea Lions on June 10 in the 2022 NCAA Division II national championship game held at the USA Baseball National Training Complex in Cary, North Carolina.
The Crusaders went into the DII national championship tournament as the number one seed. Before advancing to championship game, North Greenville went undefeated in tournament play against West Chester (3-1 and 8-5 rematch) and Angelos State (18-3, record-setting tournament game). Carrying tournament losses from Southern Arkansas and Rollins, the June 10 game was do-or-die for Point Loma. The Sea Lions would have to win June 10 and force another game with North Greenville to win the championship.
In the championship game, the Crusaders never relinquished the lead. They jumped off to a quick 1-0 lead in the second inning and added another unanswered run in the third inning. The Sea Lions finally got on the board in the fifth inning, bringing the score to 2-1. NGU added three more unanswered runs in the seventh and eighth innings, and the score stood at 5-1 at the top of the ninth inning. Despite a rally in the ninth inning, Point Loma fell 5-3 to North Greenville in the championship game.
Winning the 2022 national Division II championship capped a historic season for North Greenville. In the regular season, the squad ranked in the top 10 nationally in eight categories, including hits and ERA. The Crusaders posted an overall 54-10 regular season record and won the Conference Carolinas title with a 25-5 record. 2022 also marked the fifth Conference Carolinas baseball championship for the Crusaders.
Four Crusaders were named to the All-Tournament Team, led by NGU pitcher Reece Fields as the tournament Most Valuable Player. Also named to the All-Tournament Team were NGU's Gehrig Octavio (2nd base), Pat Monteith (3rd base), and John Michael Faile (designated hitter).
The national championship game also marked the 300th career win for Landon Powell, now in his eighth year as head coach for the Crusaders.
The NCAA's full replay of the national championship game between North Greenville and Point Loma is available on the NCAA website. The game's box score, play-by-play, and composite stats are available on the North Greenville University Athletics website.
North Greenville University is one of 21 member colleges and universities in SCICU – South Carolina Independent Colleges and Universities. Learn more at scicu.org.