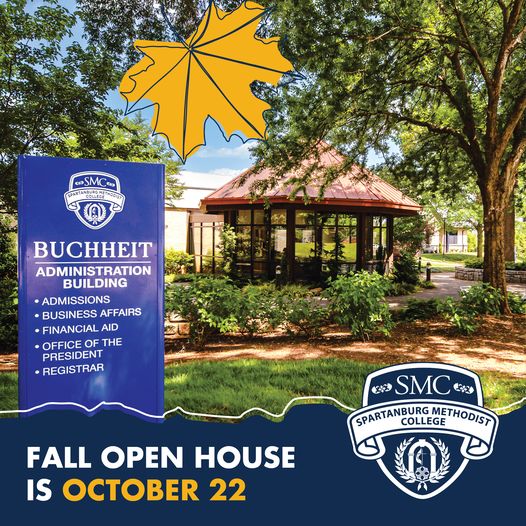 SPARTANBURG, S.C. (courtesy smcsc.edu) — The 2022 SMC Fall Open House is your one-stop shop for all things SMC! Get excited about YOUR college future while you experience the beautiful campus and meet your future friends and professors.
SMC's Fall Open House will be held on Saturday, Oct. 22. Here's what you can accomplish by attending the Open House:
See what there is to see at SMC on a campus tour
Take a campus tour and learn all about the great amenities SMC has for our students – whether you live on campus or commute.
Get to know SMC's incredible atmosphere and beautiful setting and see where your future education will take place.
Learn what there is to learn by meeting faculty and current students
Meet and chat with current students to get the real deal on what it's like to attend SMC.
Chat with faculty and staff and learn just how much they care about you and your education at SMC.
Finish what you need to finish with SMC staff helping you complete your paperwork
Sit down with our admissions counselors to finish up your paperwork for admission or start your application if you're ready to choose SMC.
Financial aid staff will also be ready to provide tips for completing your FAFSA and important info on scholarships available to future Pioneers.
Get an enrollment decision
Want to know whether you're accepted to SMC?
Once you finish your paperwork, we'll give you an answer before you leave!
And eat what there is to eat!
No good open house takes place without food!
Join us for the SMC Fall Open House and lunch will be on us!
The 2022 SMC Fall Open House is your one-stop shop for all things SMC. We look forward to showing you around this fall and hopefully welcoming you to our freshman class next fall. Roll Neers!
Click here to view the Oct. 22 Open House schedule.
Important! Click HERE to sign up!