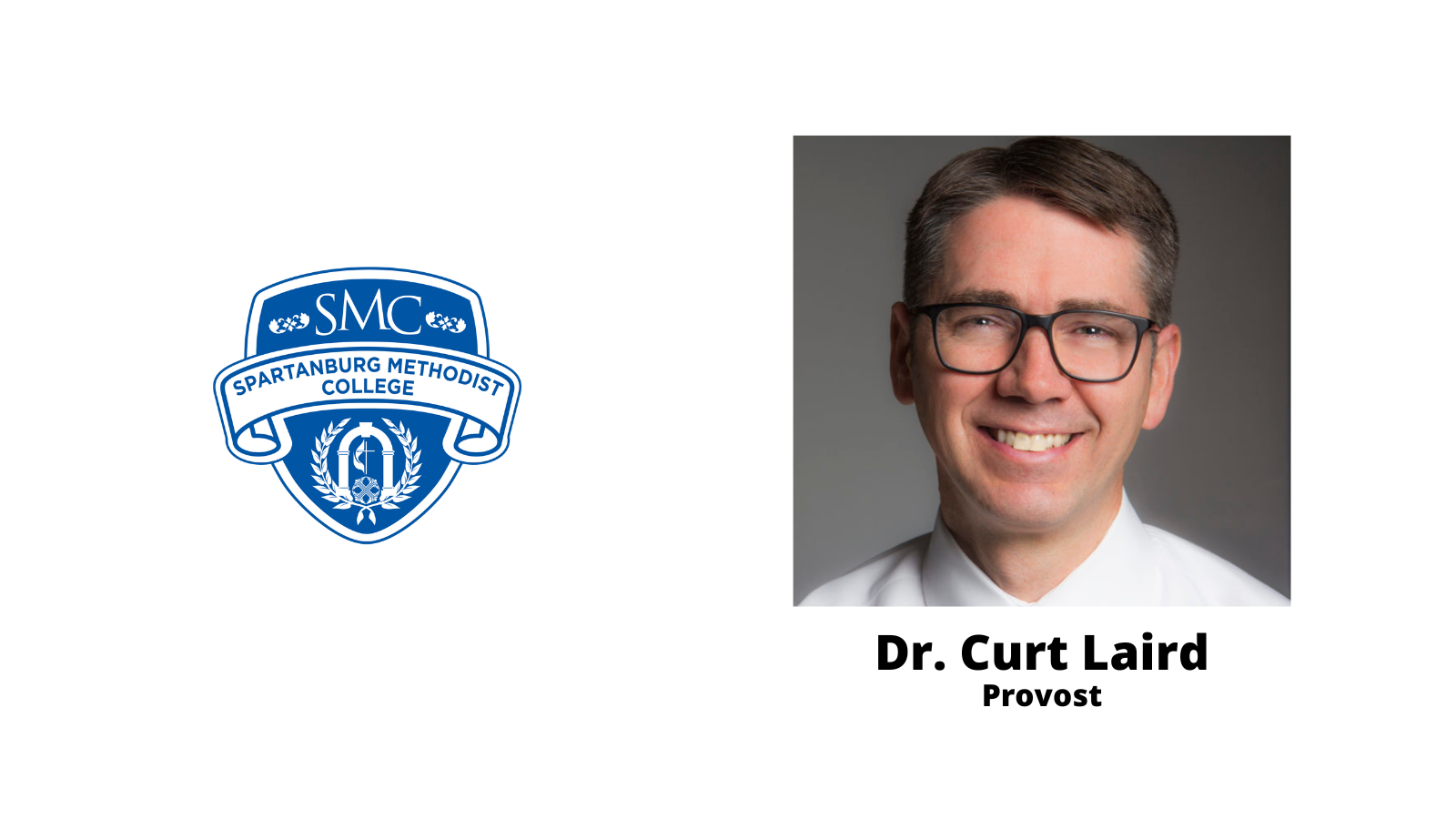 SPARTANBURG, S.C. (courtesy smcsc.edu) — Following a national search that turned up several qualified candidates, Spartanburg Methodist College selected Dr. Curt Laird as the new provost and executive vice president (EVP), succeeding interim provost Kris Neely on July 1, 2022.
"I am honored and grateful to join Spartanburg Methodist College. I look forward to working with the faculty and administration to serve their amazing students," Dr. Laird said. "I'm excited to get to know the campus community and help to advance the goals of SMC."
When starting his search for a new position, he said he was interested in small, liberal arts institutions. SMC stood out to him because of the institution's focus on serving students of all backgrounds and placing high value on helping the students as individuals.
Dr. Laird comes to SMC with more than 20 years of experience in both faculty and administration roles on the collegiate level. Most recently he served as the associate vice president for academic affairs at Columbus State Community College in Columbus, Ohio, one of his alma maters. He looks forward to bringing his leadership to SMC and getting involved with the campus community.
"I would describe my leadership style as participative," Dr. Laird said. "I place a high value on gaining the opinions of the team around me in leading. I do a lot of Management By Walking Around (MBWA) as a means of building rapport with people."
SMC began its search for a new provost and EVP in 2021, following a delay due to the COVID pandemic. Following the departure of Dr. Mark Gibbs, the previous provost who stepped down to return to the classroom, Kris Neely was named to the interim post and guided the College's academics until Dr. Laird was hired. Neely returned to the classroom to continue teaching art.
"We are extremely grateful to Kris for the tremendous job he did in the provost role. He helped lead continued growth in our academic programs and we're grateful for his hard work," said SMC President Scott Cochran. "We are excited to welcome Curt to the position. I look forward to his leadership and ideas for continuing that academic growth."
Dr. Laird said he is looking forward to developing positive relationships with the faculty and leadership at SMC to collectively move the College in the right direction. He is excited to get involved with the day-to-day experiences and learn more about SMC and its varying stakeholders to have a positive impact.
"My first priority is to learn. There are people, processes, and histories that must be observed and respected if one is to integrate into a learning community," he said of his objectives in his first year. "There are so many intricacies at an institution of higher learning. I intend to dedicate substantial time to learn as much as I can about SMC."
Dr. Laird brings a wealth of experience to SMC beyond his role at Columbus State. He previously served as an associate professor and director of undergraduate sports management at Wingate University, assistant chair of the department of physical education, sport and human performance at Winthrop University, and assistant professor and program director at the University of Charleston, among other positions.
He has a Doctor of Philosophy from Ohio University, a Master of Science in sport management from West Virginia University, a Bachelor of Science in sport studies from Shawnee State University, and an Associate of Applied Science in sports and fitness management from Columbus State Community College.
The Groveport, Ohio, native enjoys spending time exercising, reading, and listening to music during his free time.