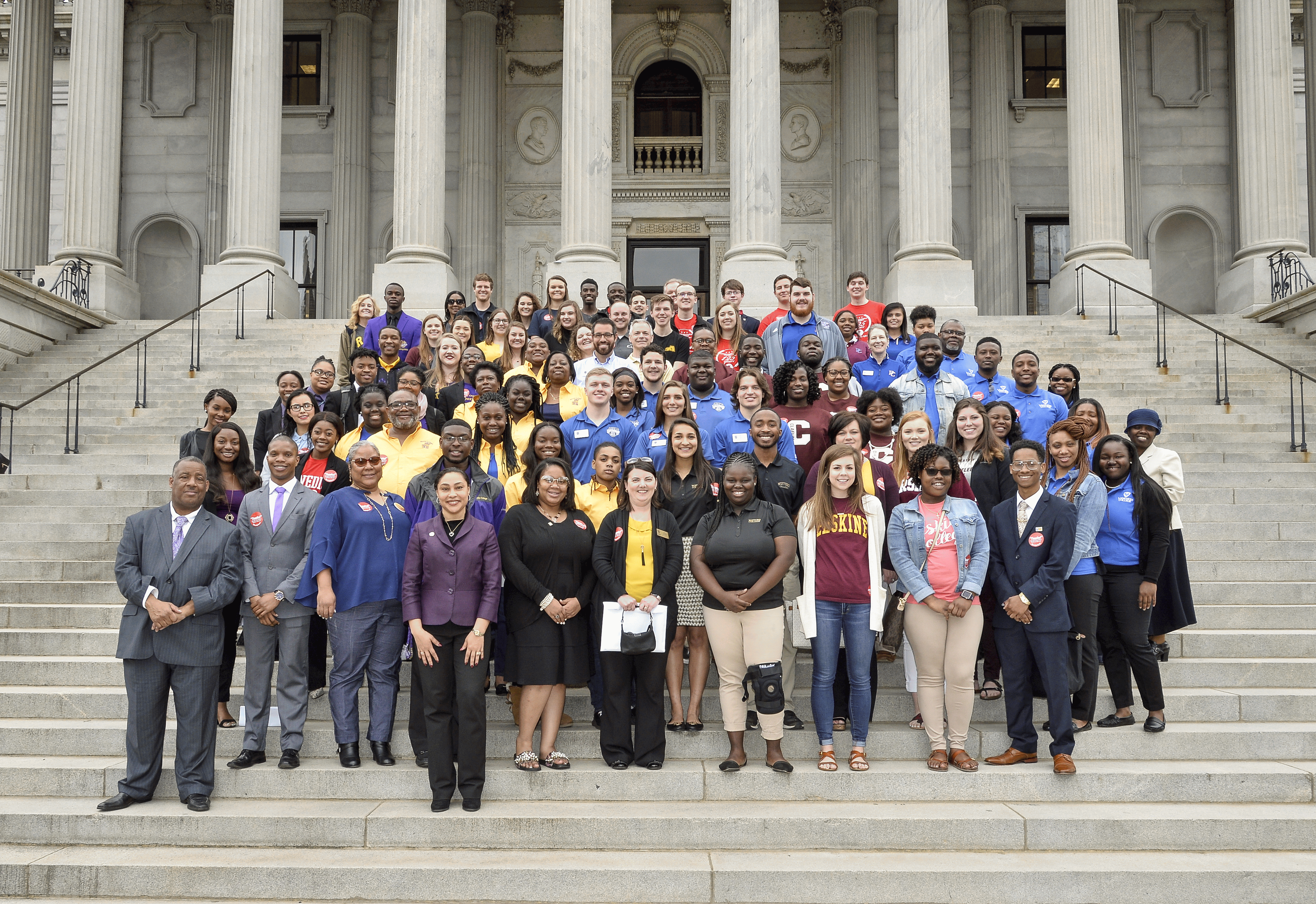 Please click here to view a photo gallery for the 2018 South Carolina Independent College and University Day.
COLUMBIA, SC — SCICU college/university students converged on the SC State House April 11 for a single purpose–support of continued funding of need-based tuition grants and merit-based scholarships. With increasing pressure on all state appropriations, student advocacy and support are more important and critical than ever.
Students from the twenty SCICU member colleges and universities traveled to Columbia on Independent College and University Day to present a unified voice in support of independent higher education in the South Carolina General Assembly.
This annual rally represents the culmination of a four-month statewide letter-writing campaign in which SCICU students thank members of the South Carolina General Assembly for their tuition grants and merit scholarships.
The April 11 rally started with a warm-up session at Trinity Episcopal Cathedral, just across Sumter Street from the State House. The first order of business in the pre-rally gathering was the honoring of Sen. John L. Matthews, Jr. as the 2018 SCICU Legislative Champion. Sen. Matthews has been a staunch advocate for higher education throughout his 43+ years in the South Carolina General Assembly.
Katie Harrison, Executive Director of the SC Tuition Grants Commission, presented attendees with an update on tuition grants funding and support.
SCICU Lobbyists Derial Ogburn and Darrell Campbell then presented students with suggestions and recommendations for talking with their Senators and Representatives.
SCICU EVP Eddie Shannon recognized the colleges and universities for their efforts and participation in the annual letter writing campaign. In total, SCICU students wrote over 7,300 letters to their respective Senators and Representatives in the 2018 SCICU SC General Assembly Letter Writing Campaign. With a total of 1,762 letters written, Anderson University won the contest for the most total letters written among SCICU colleges and universities. Erskine College and Allen University again tied for the highest percentage of tuition grants recipients writing letters to their respective members of the General Assembly. Both institutions are to be commended for having 100% of their respective tuition grants recipients participating in the 2018 Letter Writing Campaign.