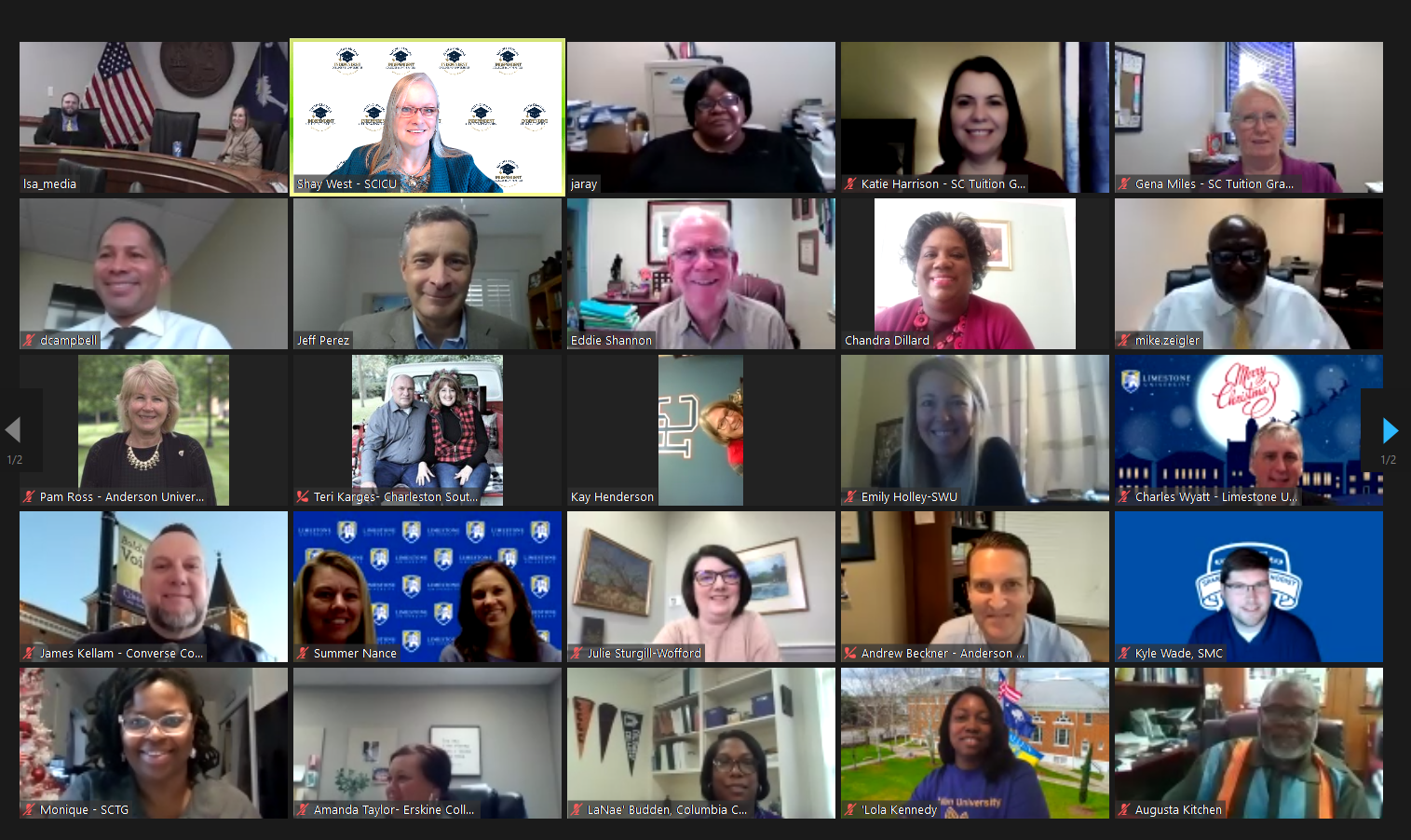 COLUMBIA, S.C. – SCICU campus legislative coordinators from across the state gathered for their first-ever virtual kickoff for the annual student letter-writing campaign on Dec. 9.
"Our previous years' in-person kickoff meetings were high-energy gatherings of legislative contacts from SCICU member campuses," said Jeff Perez, SCICU president and CEO. "COVID-19 may have changed the venue for our kickoff, but it did not steal our group's enthusiasm for student-led grassroots advocacy."
With COVID-19 forcing all colleges and universities to go remote in March, the 2020 student letter-writing campaign did not achieve the mass of previous years' campaigns. Students from SCICU member colleges and universities sent about half of the 9,000 letters sent in 2019, in which they thank their state representatives and senators, for supporting the Tuition Grants program and the lottery-funded state merit scholarship programs.
In the Dec. 9 Zoom meeting, S.C. Senate Finance committee senior budget analysts Jake Scoggins and Brenda Hart presented a state budget review for FY 2020-2021 and an outlook for FY 2021-2022.
"Pre-pandemic, we were looking pretty strong budget-wise for FY 2020-2021," said Scoggins. "But March comes along with COVID-19 impact, and the proverbial bottom dropped out. We moved to an almost continuous state budget process, with mini-budgets and continuing resolutions taking care of specific and extenuating COVID-19 needs as they arose. The FY 2019-2020 budget was carried over for FY 2020-2021 by a continuing resolution passed in May."
According to Scoggins the General Assembly will have an addition $1 billion in revenue for the 2021-22 fiscal year, though all except for about $100 million is "non-recurring" that can only be spent once.
"One bright spot in state revenues this year is education lottery revenue," added Scoggins. "FY 2020 actual lottery collections were nearly $497 million, exceeding state Board of Economic Advisors (BEA) projections by more than $26 million. The S.C. Commission on Higher Education estimates that $318 million will be needed to fully fund Palmetto Fellows, LIFE, and HOPE scholarships in FY 2021-2022. In November, the BEA projected $523 million in lottery revenues for that same period. Lottery revenues have posted strong growth for a number of years, hopefully making full funding possible for state merit scholarships and other need-based tuition assistance, including Tuition Grants."
"It's good to see our state budget numbers in the black," said Perez. "It's very good news that South Carolina isn't having to look at budget cuts right now like other states."
Rep. Chandra Dillard (D-Greenville), newly appointed to the House Ways and Means Committee, gave campus representatives a from-the-ranks legislative overview. Dillard also serves as director of community relations for Furman University.
"We have 21 new lawmakers in the General Assembly," said Dillard. "It is important to build relationships and bring these new General Assembly members into the fold with independent colleges and universities."
"Things will be different because of COVID-19, and we have to figure out how to bring the General Assembly back in session and keep legislators safe and healthy," Dillard said. "Teacher salaries, redistricting, and Santee Cooper will be huge issues for the 2021 session."
"With all the pressures on the General Assembly now, we have a real story to tell in the letter-writing campaign about how independent colleges and universities have taken extraordinary care of students in the pandemic," said Dillard. "It is critically important to emphasize the need for continuing funding support of the Tuition Grants Program."
Katie Harrison, executive director of the S.C. Tuition Grants Commission, explained that the commission's FY 2021-2022 budget request includes a $1.1 million increase for the Tuition Grants Program. If the request is passed, the maximum Tuition Grant would increase by $100 to $3,700 for the 2021-2022 academic year.
Harrison also informed campus legislative coordinators that she will present the Tuition Grants Commission's FY 2021-2022 budget request on Jan. 6 to the House Ways and Means Higher Education Subcommittee.
Eddie Shannon, SCICU executive vice president, presented the campus leaders with suggested sample letters for sharing with students.
The student letter-writing campaign runs throughout the time of FY 2021-22 budget hearings in the General Assembly 2021 session. The 2021 letter-writing campaign will culminate with Independent Colleges and Universities Day at the S.C. Statehouse on April 14. SCICU will host a student rally at the Statehouse on that date.