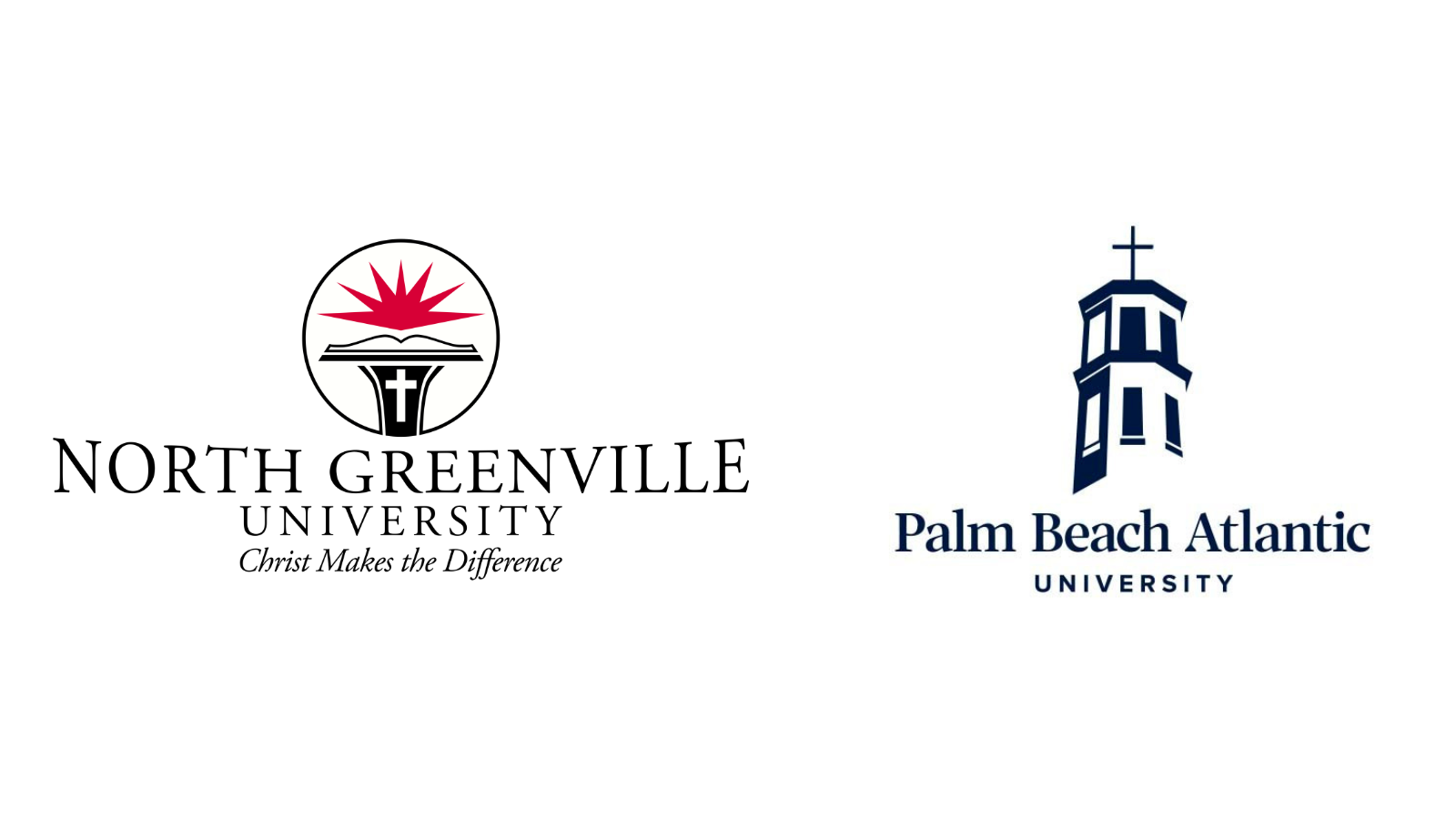 TIGERVILLE, S.C. (courtesy ngu.edu) — North Greenville University (NGU) recently celebrated its partnership with Palm Beach Atlantic University's (PBA) Lloyd L. Gregory School of Pharmacy in West Palm Beach, Fla. University leaders gathered to mark the occasion with a public signing event on the Tigerville Campus.
The partnership, which began in 2019, allows NGU biology majors interested in a career in pharmacy to earn a bachelor's degree from NGU by completing their final undergraduate year as a first-year student in the Doctor of Pharmacy program at PBA. Students will continue with the three remaining years of the pharmacy program at PBA to earn a Doctor of Pharmacy (Pharm.D.) degree. Because of COVID-19, the schools were unable to come together to celebrate the joint venture until this month.
Students can serve, teach, and bring healing to those in need while continuing their education in a program that integrates faith into the learning process and offers small class sizes and life-changing medical mission trips in a Christian environment set in beautiful West Palm Beach.
NGU President Dr. Gene C. Fant, Jr., is thrilled with this partnership.
"The faculty at the Gregory School of Pharmacy are an incredible group of scholars and teachers, and they are also genuine Christ-followers and mentors; it was my privilege to work alongside them when I served as Provost at PBA," said Fant at the event. "Our institutions not only have shared values but a shared vision of what it means to be believers in the marketplace. We look forward to students having this great opportunity to serve patients back here in Upstate and in a global context."
Also in attendance at the signing event were Palm Beach Atlantic President Dr. Debra A. Schwinn, Gregory School of Pharmacy Dean Dr. Dana Strachan, NGU Provost and Dean of the University Faculty, NGU Executive Vice President Rich Grimm, NGU PA Director Dr. Jordan Hairr, NGU Dean of the College of Humanities and Sciences Dr. Paul H. Thompson, and NGU's Associate Dean of the School of Science and Math Dr. Jeff French.
Commenting on this partnership, Schwinn said, "I am confident that this partnership will produce graduates who are compassionate, servant-hearted healthcare providers that our nation and world desperately need. Here at PBA, we will continue to awaken students' hearts to their God-given purpose in the world."
Qualified NGU students who meet all admissions criteria as described in PBA's academic catalog and identified by NGU will be invited to apply in their junior year. NGU will then provide an approved list of students to be entered annually into the Gregory School of Pharmacy before Dec. 1 for an August start date.
"At the Lloyd L. Gregory School of Pharmacy, we remain dedicated to our mission of Pharmacy with Faith. We are committed to training servant leaders who are patient care advocates," said Strachan. "Undoubtedly, high caliber, missionally-aligned students coming from NGU will further strengthen the quality of our pharmacy program. In turn, the pharmacy profession is made even stronger by training up pharmacists through a Christ-first curriculum."
Identified students with completed applications who meet the standards of the dual degree program will be guaranteed an interview, conditional on final and successful completion of all prerequisites, and if applicable, entrance examination.
"We are excited to partner with Palm Beach Atlantic to increase the ways that NGU students can be equipped to become transformational leaders in our society for the glory of God. This new Pharm.D. agreement is only one of several '3 + 1' programs we have, and more are being negotiated even now," said Dean of the College of Humanities and Sciences Dr. H. Paul Thompson, Jr. "The College of Humanities and Sciences will continue to leverage our relationships with other universities and like-minded institutions to increase opportunities for our students and prospective students to pursue the variety of callings on their lives."
Career opportunities available to Pharm.D. graduates are chain pharmacy, community pharmacy, compounding pharmacy, health system pharmacy, ambulatory care, community health center, long term care, specialty pharmacy, research and development, pharmacy law, and government/federal pharmacy.
"I could hardly be more excited about this new partnership with Palm Beach Atlantic. Their pharmacy program has an excellent reputation, and as a sister school committed to Christ-centered education, we know they share with us a desire to root the health sciences in the Christian worldview," said NGU Provost and Dean of the University Faculty Dr. Nathan A. Finn. "I believe many of our students will benefit from this partnership and learn how to care for others, including the underserved, as pharmacists."