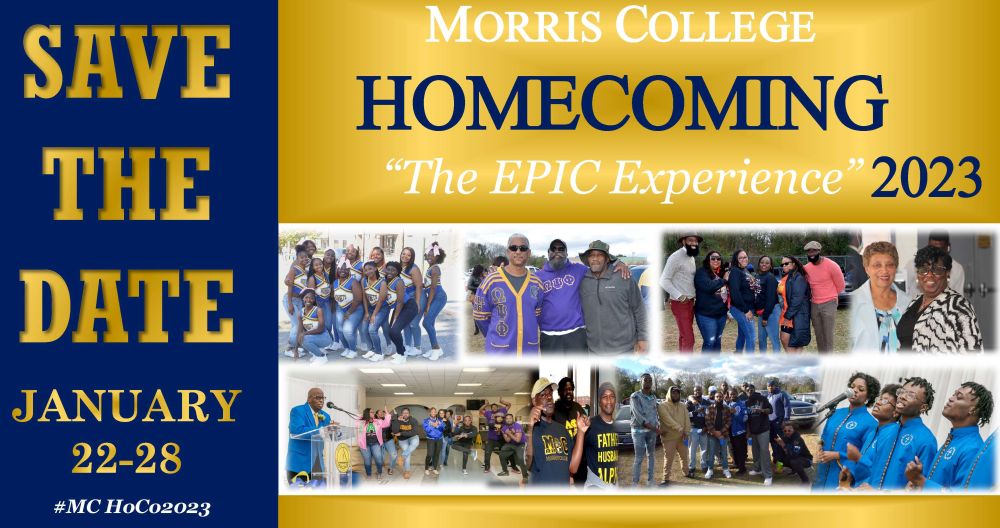 SUMTER, S.C. (courtesy morris.edu) — Morris College will celebrate the Epic Homecoming Experience Jan. 22-28 with the following highlighted scheduled events:
Gospel Choir Concert – January 22, 2023 at 6:00 p.m. (Neal-Jones Auditorium)
MoCo Got Talent/Fashion Show – January 23, 2023 at 7:00 p.m. (Neal-Jones Auditorium)
Pig Pickin'/Bonfire – January 24, 2023 at 7:00 p.m. (Campus Athletic Field)
Late Night Brunch, Hot Chocolate/Karaoke – January 25, 2023 at 10:00 p.m. (Daniels Dining Hall)
Silent Headphone Party/360 Booth – January 26, 2023 at 8:00p.m. (Student Center)
Alumni Reacquaintance Mixer w/ Live Band – January 27, 2023 at 5:00 p.m. (Student Center)
Homecoming Concert – January 27, 2023 at 8:00 p.m. (Garrick-Boykin Human Development Center – "Gym"), Featuring "Travis Porter"
Homecoming Basketball Game (SC Faith) – January 28, 2023 at 2:00 p.m. (Garrick-Boykin Gymnasium)
A printable full schedule of Homecoming events can be viewed here.
Other important information:
Tailgating – The games will be featured via jumbotron on the Campus Athletic Field. Tailgate spots will require a $100.00 deposit, and tailgate sponsors will be permitted to have only (4) persons to assist with setting up, cooking, etc. For individuals not sponsoring a tailgate spot, the general admission fee is $25.00 per person to attend this year's events; the fee grants access to the tailgate party, the dining hall, and the basketball games. Please click here to review the tailgating rules and application.
Vendor application – Click here for the vendor application.
Homecoming swag and memorabilia – Click here to view the Morris College online bookstore.
Important reminders – Currently enrolled students and faculty and staff will enter the campus through the College Street entrance; other attendees will enter the campus through the Stark Street entrance.

Please be mindful that the college is under a mandatory mask policy while indoors in any facility on campus.