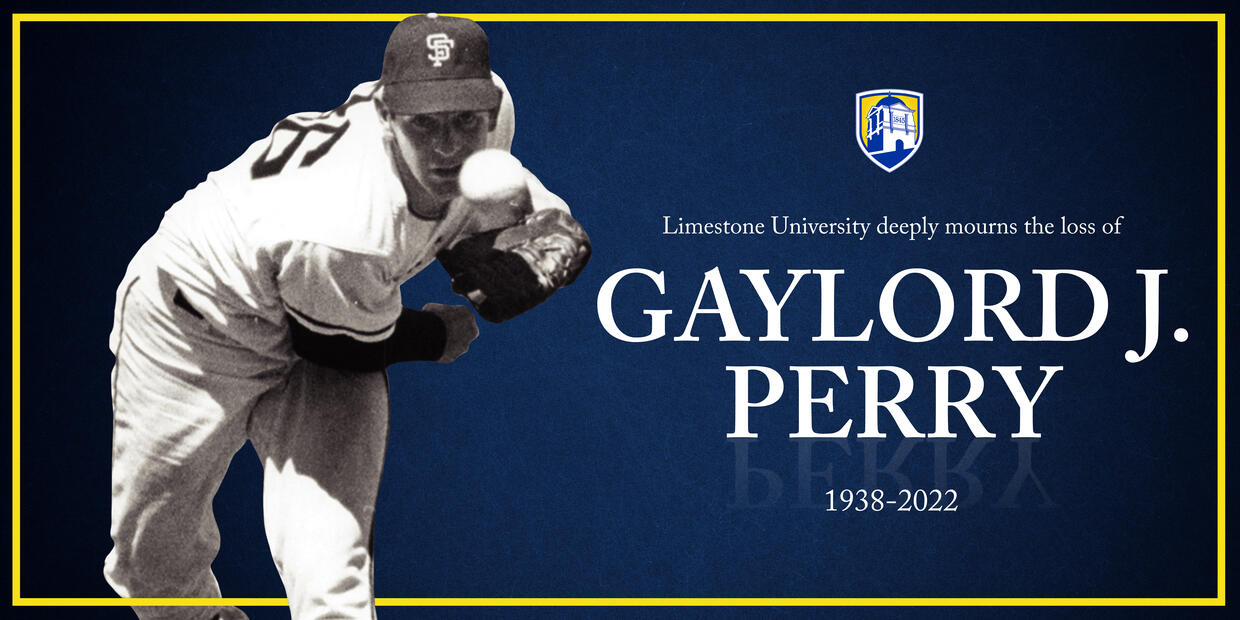 GAFFNEY, S.C. (courtesy limestone.edu) —Limestone Universityand the Cherokee County community are mourning the loss of the university's inaugural baseball coach and friend Gaylord Jackson Perry. Founding Limestone's baseball program in 1987, Perry died on Thursday, Dec. 1, at the age of 84.
With great sorrow and love, the Perry family officially announced the death of a cherished husband, father, friend, teammate, coach, and Major League Baseball legend. Perry passed away peacefully at his home in Gaffney after a short illness.
Funeral services were held December 4 in the Camp-Swofford Chapel at Limestone University.
Perry led the Saints baseball team for four seasons, compiling an overall 81-57 record and three 20-win seasons. As part of developing the program, Perry also helped secure the funding for the baseball field still being used by the Saints.
He was officially inducted into the South Carolina Athletic Hall of Fame earlier this year for his accomplishments as the head coach of the Saints baseball team.
In 1991, Perry was inducted into the Major League Baseball Hall of Fame, and seven years later, he was inducted into the Limestone University Athletics Hall of Fame.
Perry played a significant role in the $4 million renovation process for Limestone's Winnie Davis Hall of History. He was an honorary chair of that fundraising campaign because he was instrumental in securing funds to protect the building from deterioration in the late 1980s and early 1990s.
"We are deeply saddened to lose our cherished friend and coach Gaylord Perry," said Limestone President Dr. Darrell Parker. "While so many remember him as a great Major League Baseball pitcher, we will never forget the impact he made at Limestone and the effect he had on the lives of our students. We are truly blessed that he will forever and always be a special part of this institution. We are keeping his family and friends in our prayers during this difficult time."
Perry was voted into the South Carolina Athletic Hall of Fame in 2020 as Limestone's baseball coach, but the official induction ceremony was postponed until May of this year due to the COVID-19 pandemic.
Born on September 15, 1938, in Williamston, N.C., Perry is known for his incredible Hall of Fame career as a right-handed pitcher in Major League Baseball. Pitching at the highest level over 22 seasons, he recorded several remarkable career figures, including 690 starts, 303 complete games, and 314 wins. He also registered 3,534 career strikeouts and a 3.11 lifetime earned run average.
Perry was a five-time MLB All-Star and the first MLB pitcher to win the Cy Young Award in both the American and National League, with his second award coming at age 40. He led the MLB in wins in three different seasons and recorded a no-hitter in 1968.
Outside of Major League Baseball, Perry had an immeasurable impact on the lives he touched throughout his journey. He proudly served as a member of the United States Army.
After his retirement, Perry took pride in his role as the head coach of the Limestone's baseball team, which provided him an opportunity to continue doing what he loved while giving back to the game of baseball and developing young men into upstanding citizens, providing guidance on and off the field.
He is survived by his wife, Deborah, and his three children, Allison, Amy, and Beth. He is predeceased by his son Jack and wife Blanche.
"We are forever appreciative of your love and support as we mourn the passing of our beloved Gaylord," said Deborah Perry. "He was an esteemed public figure who inspired millions of fans and was a devoted husband, father, friend, and mentor who changed the lives of countless people with his grace, patience, and spirit."