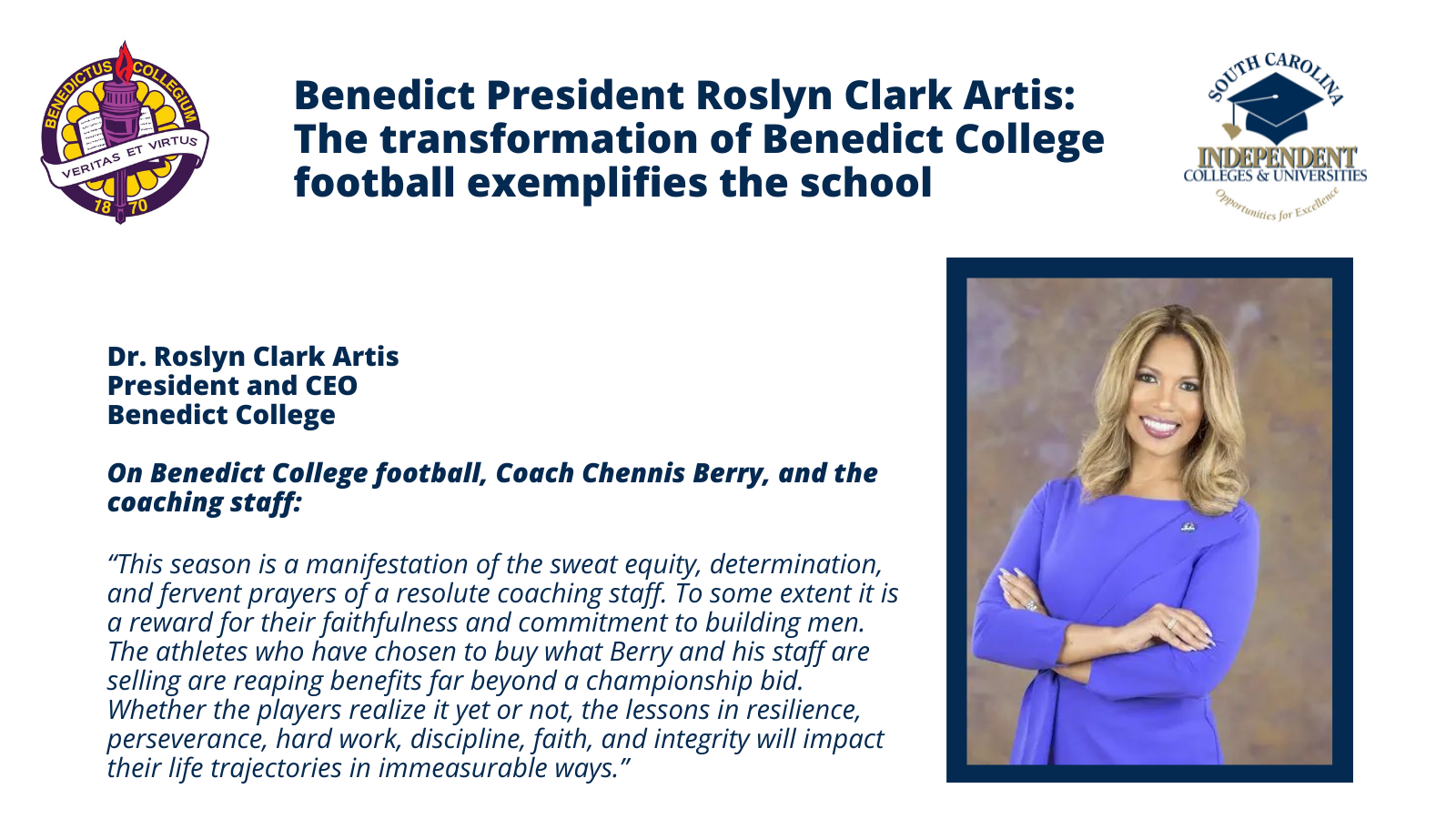 COLUMBIA, S.C. (courtesy benedict.edu) — Nov. 11 message from Dr. Roslyn Clark Artis, Benedict College president and CEO:
UPDATE: The Benedict Tigers defeated the Tuskegee University Golden Tigers 58-21 on Nov. 12, winning the 2022 SIAC conference championship. Benedict is now 11-0 on the season and 7-0 in conference matchups.
On Saturday, Nov. 5, the Benedict College Tiger football team concluded its season with a perfect 10-0 record. This is the first undefeated season in Tiger football history. Moreover, it is the first time Benedict has broken into the national rankings, finishing at #8 among Division II programs. The team will compete for the SIAC Championship and are favored to win. On many fronts, and by any statistical measure, this is a history making season for BC Tiger football. However, the full story of this phenomenal transformation has yet to be told.
In spring 2020, Benedict College hired then-offensive coordinator at Southern University, Chennis Berry, as its new head coach. While COVID-19 would ultimately rob Berry of his inaugural season, the hiatus afforded the new head coach the opportunity to build his program both literally and figuratively. Prior to Coach Berry's arrival on campus the college secured the largest philanthropic gift in its history — $4.88 million — of which nearly half was earmarked to make significant investments in the football program at Benedict College. One might say, the stars had aligned in Berry's favor. Over the course of the next two years, the Tigers' home stadium would be fully upgraded, including a new roof, scoreboard, and turf. The locker rooms were updated, and the coaches' office complex was overhauled, including the buildout of conference space, offices, film room and a world class weight training facility. These upgrades signaled strongly that the development of a competitive football program was an institutional priority.
While the college was busy building out the infrastructure to support the football program, Berry was assembling an exceptionally talented and deeply committed coaching staff to support his vision. Using his "gas tank" methodology i.e., recruiting within a gas tank's distance from the college, Berry and his staff hit the road to find players interested in competing for a spot on his team.
For Berry, being on the team was bigger than understanding of football fundamentals and plays. His articulated vision for the program included prioritizing academics, as evidenced by the development of the "Smart Cats" program. Each semester, players earning a 3.0 or better are celebrated both as a reward for hard work in the classroom, and as a way of incentivizing teammates to aspire to higher heights. In support of this effort, the team's academic coordinator collaborates closely with the players to provide academic support, tutoring and scheduling of mandatory study hall for players.
Outside the classroom, Berry and his staff stress the pursuit of faith and character development. During training camp, players attended church together every Sunday. Additionally, they are greeted in the weight room by gospel music for morning workouts. Berry has made no secret of his faith and strongly encourages his players to deepen their spiritual grounding. Simply stated, they not only play together, but they also pray together. More than the 10-game winning streak, the more than ten players who have accepted Christ as their savior this semester should be the headline for this program. That is what I call a winning season!
The faith focus of the program manifests itself in countless other ways around the campus. Berry's players are easy to distinguish from their peers because of the consistent positive greeting extended to everyone they encounter — Go Tigers! These young men open doors, greet one another with smiles, daps, and hugs regularly. In short, they are a family. For many of these young men, Berry and his coaching staff are surrogate fathers, a role they embrace without complaint and with a large measure of enthusiasm.
Like any father, Berry is protective of his players. Rather than risk sending some of his less fortunate players back into unstable environments during summer breaks, he arranged for several of his players to work with campus facilities over the summer in exchange for housing. These young men were a welcome addition to the staff and made an appreciable positive impact on campus, demonstrating a strong work ethic and developing new skills through the experience. Thus, Berry fashioned a mutually beneficial solution and taught his players valuable lessons in the process.
Despite his tremendous success, the journey to this point has not been charmed. Berry and his staff suffered the loss of one of their players in a tragic car crash during his second season. However, in true form, the team turned triumph into tragedy by resolving to win in honor of their fallen teammate.
Additionally, the staff has had to work through issues with housing for both coaches and players on a campus with significant deferred maintenance needs. Outdated HVAC units resulted in players suffering through the hottest months of the year without the benefit of air conditioning. Broken ice machines, lack of access to medical supplies and the like have plagued the team despite the college's best efforts to meet their needs. The reality is, there simply are not always enough resources to go around at a small, private, tuition-driven institution that serves a population of overwhelmingly low wealth, first generation students that can scarcely afford to pay tuition.
Additionally, unlike many of its Division I peers, the college does not have a nutritionist on staff. Berry and his coaching staff must work creatively to ensure appropriate calorie intake, hydration, and electrolyte replacements for the team despite resource limitations. Still more challenging are the needs of players who live off campus and lack the means to purchase a meal plan. Once again, Berry worked with the administration, the campus food service provider, and generous community supporters, including Berry's own fraternity, Omega Psi Phi, to ensure that the needs of his players were met. To be sure, it has not been easy, yet the staff remained steadfast in support of the program and the players.
I share all of this because Chennis Berry and the coaching staff have been publicly gracious about their challenges and are far too humble to express how phenomenal they really are. I share this background because it contextualizes the winning season in ways that the stats and scores do not. This season is a manifestation of the sweat equity, determination and fervent prayers of a resolute coaching staff. To some extent it is a reward for their faithfulness and commitment to building men. The athletes who have chosen to buy what Berry and his staff are selling are reaping benefits far beyond a championship bid. Whether the players realize it yet or not, the lessons in resilience, perseverance, hard work, discipline, faith, and integrity will impact their life trajectories in immeasurable ways.
Similarly, Berry's history-making transformation of the Benedict Tiger football program has impacted the trajectory of Benedict College. As the college continues to evolve and grow, this is precisely the kind of transformational staff commitment that is necessary to fuel student success. Those who choose to work at HBCUs — particularly smaller, under-resourced institutions like Benedict — understand that. Berry's success demonstrates what is possible when vision, hard work, and faith intersect. It does not just happen, and it certainly is not easy. It is more than wins and losses, yards, and downs. It is about the relentless pursuit of excellence against all odds. This is the essence of the HBCU experience and certainly exemplifies the Benedict College that I dream of, and work toward daily.
For that, I am eternally grateful. Go Tigers!