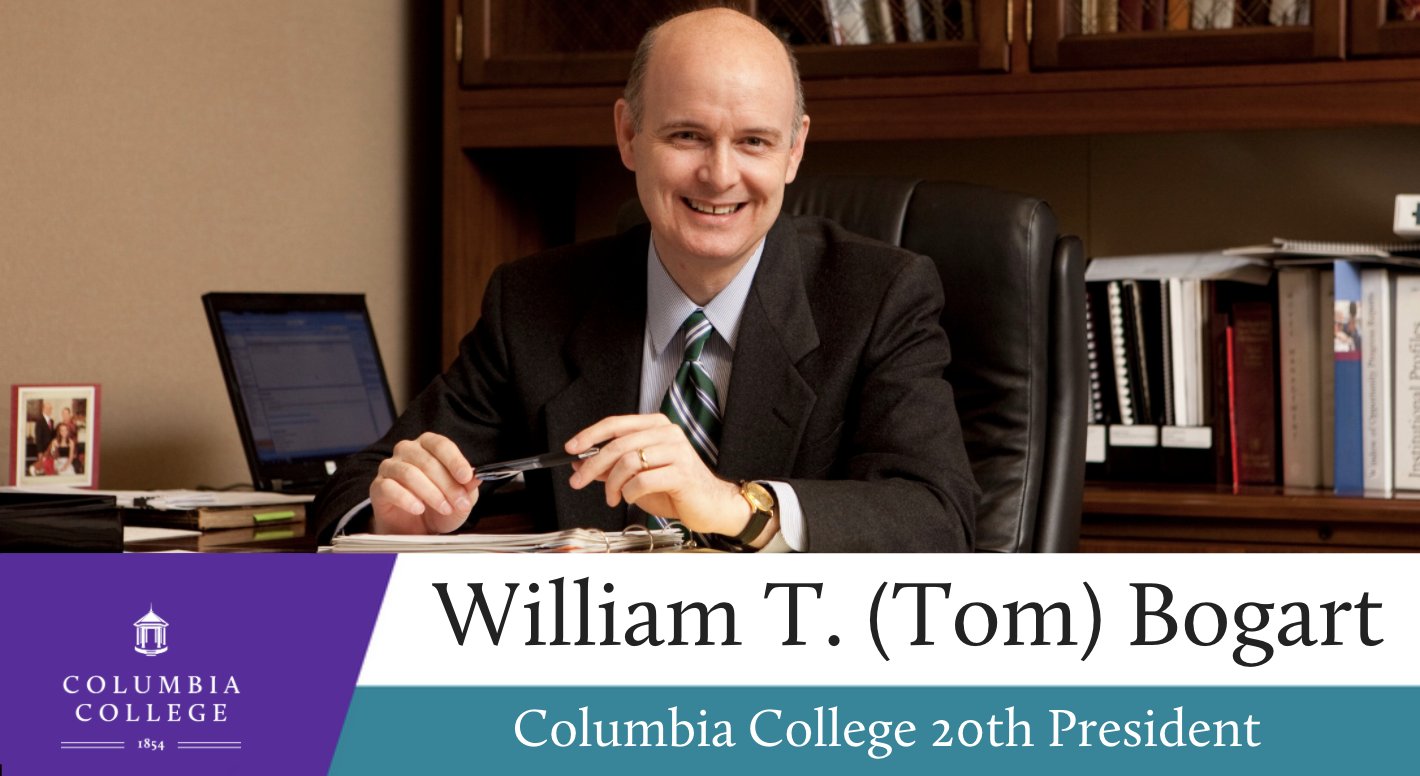 COLUMBIA, S.C. (courtesy columbiasc.edu) – Dr. William T. (Tom) Bogart, an accomplished leader at multiple independent colleges and universities, has been named by the Columbia College Board of Trustees as the college's twentieth president, effective October 1, 2020.
"As Columbia College transitions to its new coed status and expands its role in the Capital City, Dr. Bogart is well-positioned to lead the college into the future," said Columbia College Board Chair Thomas C. Keith. He has been an effective, innovative, and collaborative higher education leader for 30 years. His academic focus on urban economic development will be valuable to the college and to the City of Columbia."
Bogart's career has focused on independent colleges and universities, both as a senior campus leader and professor. Most recently he served for 10 years as president of Maryville College (TN) and was a board member with Tennessee Independent Colleges and Universities. Bogart's college leadership also includes eight years as dean of academics and chief academic officer at York College (PA). His 12 years at Case Western Reserve University (OH) culminated in chairing the university's economics department.
During Bogart's decade-long leadership at Maryville College, the institution experienced a 40 percent increase in annual fund giving and grew the endowment to $91 million from $51 million. Bogart was instrumental in securing the college's largest gift in history and led two campus-wide strategic planning initiatives. Under Bogart's leadership, Maryville received multiple awards for beautification, sustainability and climate change initiatives, and increased student diversity through the Scots Science Scholars program (funded by NSF) and "Dreamer" initiatives in partnership with Equal Chance for Education.
Mirroring his 30-year tenure in independent colleges and universities, Bogart earned all degrees at leading independent institutions. He holds a Ph.D. and master's degree in economics, both from Princeton University. Rice University (TX) awarded Bogart a bachelor's degree in economics and mathematical sciences.
"Tom is very well equipped to lead through the challenges faced by Columbia College," said Dr. Peter Mitchell, Columbia College's interim president. Mitchell began his interim leadership at Columbia College in March 2020 after the retirement of former President Carol Moore. Mitchell is a familiar face to Columbia College, as he served as the institution's fourteenth president (1988-1997).
"SCICU welcomes Dr. Bogart to the distinguished group of presidents leading South Carolina's independent colleges and universities," said SCICU President and CEO Jeff Perez. "We are also very thankful for Peter Mitchell's leadership of Columbia College through the COVID-19 pandemic."