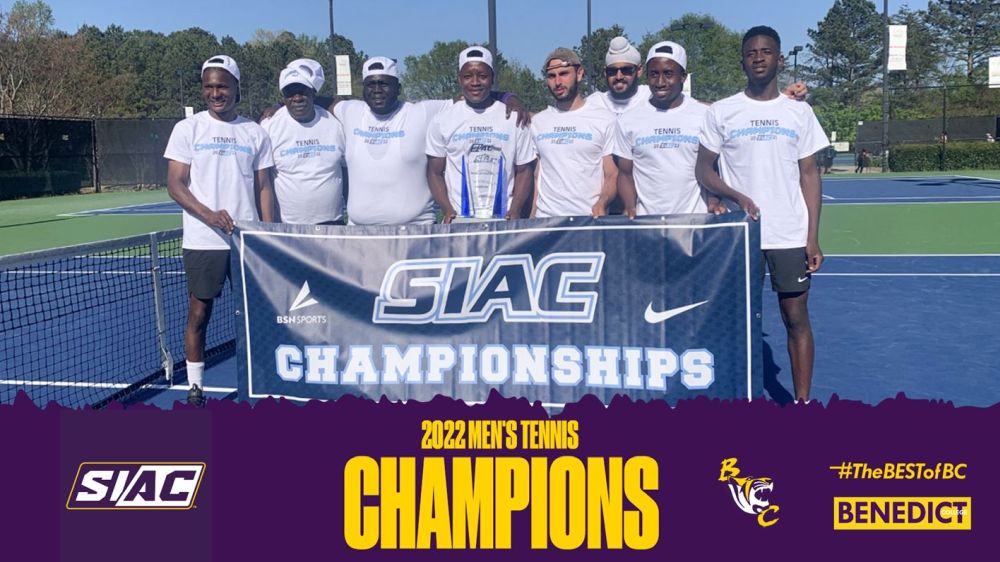 COLUMBIA, S.C. (courtesy benedicttigers.com) — The Benedict College Tigers won their sixth consecutive SIAC Men's Tennis Championship with a 4-3 victory over Spring Hill College on Sunday at the Peachtree Tennis Center in Peachtree City, Georgia.
With the match tied at 3-3, Killian Surmont clinched the match for the Tigers with a 7-5, 5-7, 6-4 victory at No. 2 singles over Spring Hill's Rafael Lima.
Spring Hill took the early lead by winning the doubles point after winning at No. 1 and No. 3 doubles.
Mark Chigaazira knocked off Fergus O'Rourke, the SIAC Player of the Year, 7-6 (9-7), 6-3 at No. 1 singles. Divgurjot Singh took a 6-3, 6-3 victory at No. 4 singles, and Jason Chigaazira took a 7-5, 6-4 victory at No. 5 singles.
Benedict, now 15-4 on the season, will advance to the NCAA Division II Tournament May 9-10 at a site to be determined.