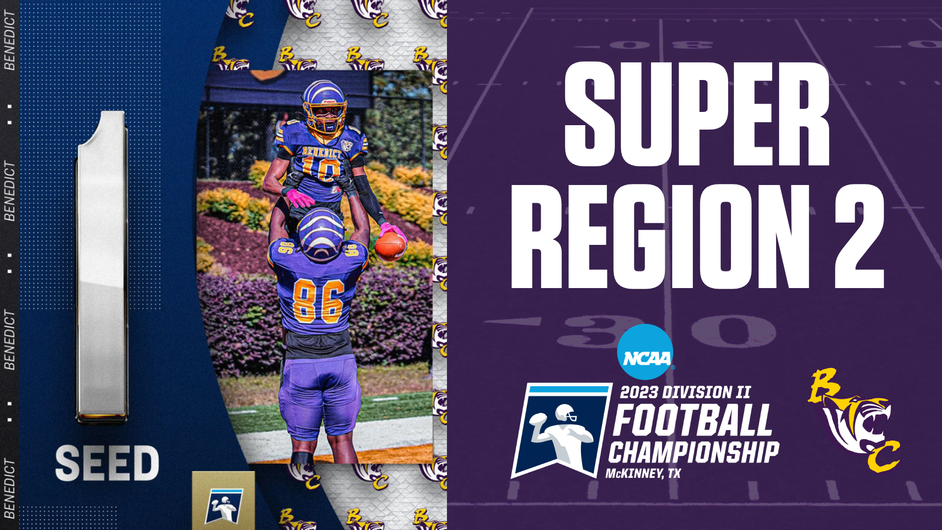 COLUMBIA, S.C. (courtesy benedicttigers.com) — For the second year in a row, the Benedict College Tigers have earned the No. 1 seed in Super Region 2 in the 2023 NCAA Division II Football Championship.
With the No. 1 seed, the Tigers will earn a bye until the second round on Nov. 25.
Benedict will face the winner between Shepherd (9-2) and fourth seed Lenoir-Rhyne (10-1). Lenoir-Rhyne, located in Hickory, N.C., won the South Atlantic Conference championship on Saturday with a 48-7 victory over Tusculum. Shepherd, from Shepherdstown, W.Va., is 9-2 and competes in the Pennsylvania State Athletic Conference (PSAC). They were moved from Super Region 1, while Virginia Union University from the CIAA was moved from Super Region 2 to the Super Region 1 bracket by the NCAA.
The other teams advancing in the region are second seed Delta State, which will face West Florida, and third seed Valdosta State, which will face Limestone. First rounds games will be Nov. 18.
The second round is Nov. 25. Benedict's game will kick off at 1 p.m. Ticket information will be announced soon.
Games will be streamed on the new NCAA Championships Pass, available on Apple TV, Roku, Fire TV and Google TV devices. Fans will have the option of paying $9.95 per contest, or can purchase a package for all Division II football games through the quarterfinal round for $19.95.
The NCAA D2 Championship tournament consists of 28 teams divided into four Super Regions. The quarterfinal round is Dec. 2, and the semifinals are Dec. 9. The national championship game is Dec. 16 in McKinney, Texas.