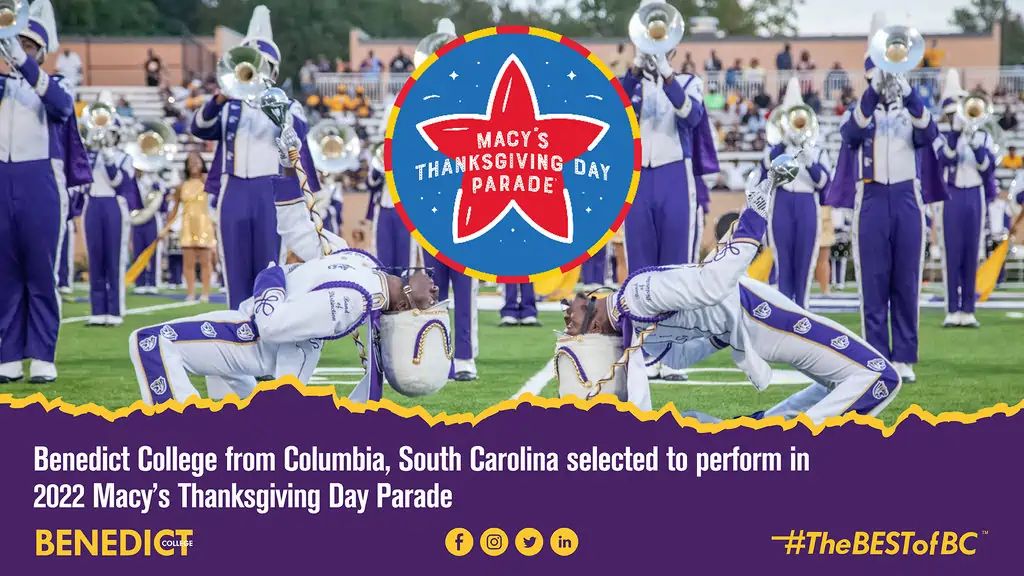 COLUMBIA, S.C. (courtesy benedict.edu) — The Benedict College Marching Tiger Band of Distinction will perform in the 2022 Macy's Thanksgiving Day Parade, representing the state of South Carolina. This will mark the first parade appearance by the band.
Each year, the Macy's Parade Band Committee looks for bands that have the stage presence and musical expertise to captivate the streets of New York City and millions of viewers across the country. The Benedict College Marching Tiger Band of Distinction was selected from more than 100 applicants as one of 9 bands selected to march in the 96th edition of the annual parade.
The Benedict band has spent the last 18 months planning for their Macy's parade appearance. Students and the local community held creative fundraising events for the trip to New York. To help kick-start the band's fundraising goal, Macy's made a $10,000 donation in support of their participation.
On Monday, Nov. 21, the band participate in a "Day in Harlem" on at Sylvia's Restaurant from 1 p.m. to 6 p.m. The owner of Sylvia's, Kenneth Woods, along with his wife wife Sylvia Brown Woods, are graduates of Benedict College. Brown Woods is the Vice President of the Northern Region of the Benedict College National Alumni Association.