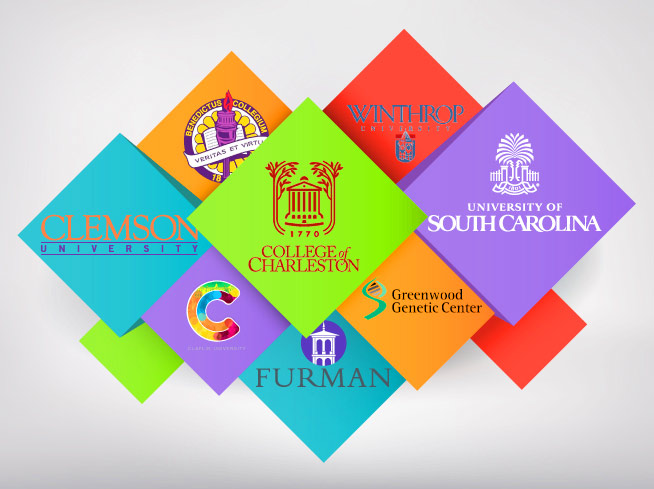 Six research faculty members at Benedict College, Claflin University, and Furman University are part of four teams that have been awarded funding by the SC EPSCoR/IDEA's Stimulus Research Program (SRP).
This program was developed to strengthen South Carolina's research capacity and research competitiveness and encourage collaboration between comprehensive research universities and predominantly undergraduate institutions in South Carolina.
SC EPSCoR (Established Program to Stimulate Competitive Research) receives funding for SRP proposals from the National Science Foundation, Department of Energy, and NASA.
SC EPSCoR's independent evaluators reviewed 29 proposals for SRP funding in late 2017, and announced the four winners in early January 2018. The four proposals are each eligible for up to $300,000 for two years of project team research.
The four projects selected for 2018-2019 funding are as follows:
Data-driven optimization of bioengineered vascular scaffolds as an advanced material for small diameter blood vessel replacement
Primary Investigator: Wayne Carver, USC School of Medicine
Co-PIs: Derrick Swinton, Claflin University; John Eberth, USC; William Richardson, Clemson University; and Matthew Stern, Winthrop University.

Anaerobic membrane bioreactors as a next-generation technology to address the food-energy water nexus
Primary Investigator: Scott Husson, Clemson University
Co-PIs: Jessica Ferrer, Benedict College; Brannon Andersen, Furman University; Nicole Berge, USC; Sudeep Popat, Clemson University; and Gary Amy, Clemson.

High Performance Li-S Batteries
Primary Investigator: Apparao Rao, Clemson University.
Co-PIs: Marlena Washington, Claflin University; Ramakrishna Podilla, Clemson University; Simona Onori, Clemson University; John Weidner, USC; and Narayanan Kuthirummal, College of Charleston.

Intersection of epigenetic regulation and mitochrondrial function in autism
Primary Investigator: Jeff Twiss, USC
Co-PIs: Omar Bagasra, Claflin University; Linnea Freeman, Furman University; Luigi Boccuto, Greenwood Genetic Center; Kevin Champaigne, Clemson University; and Sofia Lizarraga, USC.
SC EPSCoR/IDeA will hold their 2018 State Conference on April 7, 2018, and more information will be presented about these four projects at the event. The conference will also include presentations that address research topics from Vision 2025: Advancing South Carolina's Capacity and Expertise in Science and Technology and the NSF Big Ideas. This event is free and open to the public, and will be held at the Columbia Metropolitan Convention Center (Click here for customized driving directions.). Conference presentations will also include updates on MADE In SC, which includes NSF-funded, multiple-year initiatives at Claflin University and Furman University.