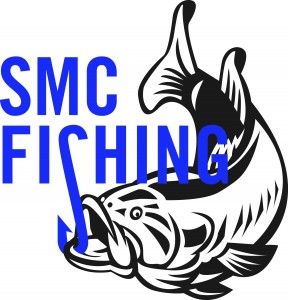 Spartanburg, SC – Next Fall on the campus of Spartanburg Methodist College you can expect to find political-science and philosophy majors sitting side by side in the water, not just the classroom. These academic anglers will be soaking up the sun and trading tips such as "use rock salt to calm your fish for the weigh-in, or pour Coca-Cola on a bass that bleeds."
Fishing at Spartanburg Methodist College?   Yes, America's oldest tradition, fishing, is one of the fastest-rising organized activities among college students. As you read this, a college team may be traversing the rivers and streams in your county. According to FLW Outdoors, an organization that runs pro fishing tournaments and started a college division in 2009, there are now 610 bass fishing clubs at campuses across the country. Five years ago, there were 90.
"Our fishing program is attracting a wide range of students, said Wells Shepard, College Retention Officer and Athletic Recruiter. "We know there are some 'reel prodigies' out there and we know there are simply students who shared this past-time with their parents or grandparents and want to now relish this hobby with students their own age." The youth fishing movement is exploding. But make no mistake, this is a sport. "There's no sport that compares to it for the agility you have to have, the knowledge you have to have and the thinking on the ground you have to do," Shepard added. Skills involve finding and deciding what combination of lure, depth, location and retrieval is going to attract a fish. An approach that lands pounds of fish on a sunny day will fail on a cloudy one. Wind and air pressure matter. So do seasons and the time of day.
"SMC will offer a mix of competitive and recreational fishing, and in addition to weekly meetings and fishing excursions, SMC's anglers will promote great habits against pollution of in-state and out-of-state bodies of water such as: lakes and creeks and rivers within the lakes," shared Dalton Smith, cofounder of the SMC Fishing Team/Club.
Fishing once involved a couple of poles, a few hooks and some bait…today the sport of fishing is expensive…boats, fish finders, rods, reels, lures, life vests, etc., and SMC is currently seeking sponsors to assist with these costs, and hopes that there are a few boats sitting idle in the water that would love to be donated to the college so that the time-honored American pastime of fishing has a future. For more information on sponsorship or boat donations, contact Yvonne Harper, harpery@smcsc.edu (864) 587-4278 or 266-7409.
###
SMC is South Carolina's only private, residential college exclusively for freshmen and sophomore students and one of only four colleges in South Carolina affiliated with the United Methodist Church. SMC's mission is to transform lives in a values-oriented, student-centered atmosphere in the Christian tradition that encourages academic excellence, intellectual exploration, social awareness, and character development within the liberal arts tradition. Spartanburg Methodist College, founded in 1911, is proud of its heritage of providing "the opportunity TO BE your best and the inspiration TO DO great things."
For more information contact:  Yvonne Harper,  Director of Public Information / O: (864) 587-4278 /harpery@smcsc.edu